Things to Do in Alaska
---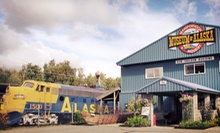 Visitors browse trains, cars, and other pieces of machinery that have contributed to Alaska's industrial past and present
---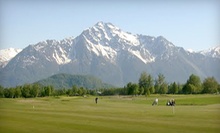 Mountains embrace a valley course that abuts the Matanuska River; power carts carry players and their clubs over bluegrass fairways
---
Recommended Things to Do by Groupon Customers
---
The thud of well-aimed balls precedes the satisfying crack of crashing pins, a sound that signifies victory for competitors spread across North Bowl's family-friendly lanes. A retreat for seasoned and novice bowlers alike, the alley keeps competitions balanced with lightweight balls and bumper lanes available upon request. Booming music and flashing disco lights herald a shift from open bowling to neon bowling—special sessions on Fridays and Saturdays when athletes face off or dance off in a nightclub atmosphere. Parties and leagues bond bowlers of all ages via lively recreation, and fundraisers enlist the sport to benefit worthy causes. On-site snacks and libations fuel sporty endeavors until closing time or the nachos gain self-awareness.
3250 Palmer-Wasilla Hwy.
Wasilla
Alaska
907-357-6600
A soldier hears a rustling in the distant trees. He turns his head expecting to exchange glances with a family of squirrels or maybe a bear. Then, he hears a quick burst of air, shifts his gaze downward, and finds a splatter of blue paint on his T-shirt. Ambushes by paint-slinging sharpshooters occur regularly at Wasilla SplatterHouse Paintball, where groups gather to stage colorful tactical operations on a woodsy landscape dotted with plentiful obstacles and hiding places. While ducking under paintball fire, players crawl through cement tubes and crouch behind walls to plot their next move or patch up their multicolored wounds with whiteout. Before being unleashed onto the battlegrounds, players are supplied with paintballs and Tippmann 98 and electronic-trigger Smart Parts Vibe equipment.
1241 W Melanie Ave., Suite 4
Wasilla
Alaska
907-373-3208
---