Beauty & Spas in Albany
---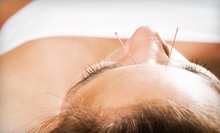 Srinika tests for imbalances in the body, then aims to rectify them with acupuncture or biomagnetics
---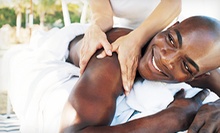 Massage therapist applies various levels of pressure to muscles to alleviate spasms and pain, especially in neck and lower back
---
Recommended Beauty & Spas by Groupon Customers
---
If the eyes are the windows to the soul, then nails are the doorways to the self. Important research suggests you can tell more about people from their fingernails than you'd expect—37% more. Fingernails riddled with bite marks indicate the person has run out of hot dogs. A bruised fingernail is evidence of someone with the deadly combination of an oral fixation and horse teeth. Nails decorated with painted-on Dolce&Gabbana logos likely belong to a person sponsored by Dolce&Gabbana. Prevent the unwanted broadcasting of personal information: go with a clean and simple style with a great manicure at Tiptoes Nail Spa.
300 De Haro St., Suite 336
San Francisco
California
US
Patrick Evan Salon's cast of hairstylists, described as "welcoming" and "responsive" by Examiner.com, unleashes their strand-straightening expertise on frazzled head threads during Brazilian Blowouts and keratin smoothing treatments that restore shine and moisture to lackluster locks. After surveying the coiffure's texture, volume, and quantity of snakes, a seasoned stylist determines which formula best suits the client's desired results—the Brazilian Blowout uses the formic acid-based Cadiveu and the smoothing treatment uses Coppola Keratin Complex. Over the course of 90 minutes to three hours, the hair humanitarian coats each strand with a nutrient-rich protein that fuses into coiffures with a brief blow-dry and iron. Both hair-smoothing treatments can yield a number of beautifying results that last up to three months, such as reduced frizz and damage from excessive heat styling.
55 Grant Ave., Level 4
San Francisco
California
US
415-421-1111
For dozens of years, the Chinese have practiced acupuncture, a healing method that corrects imbalances by stimulating specific points on the body that help energy, or qi, flow smoothly. During every visit, acupuncturists measure your qi pressure, which is similar to measuring your blood pressure except that inflatable thing is placed around your soul. Acupuncture will help reduce your dependence on medication for pain. Plus, after you take all those needles out of your body, you'll finally have a utensil set for those little squares of cheese! On Wellness Clinic's acupuncturist knows acupuncture. It's what she does. Her oldest patient is 354 years old.
211 Sutter St., Suite 800
San Francisco
California
US
The Light Fantastic Salonspa is an urban oasis of relaxation and beautification. More than just hair, the upscale salon spa is the only place in the Lower Haight to offer hair, skin, and body services. And The Light Fantastic isn't just the only combined salon and spa in the Lower Haight area—it's also one of the only salons in all of San Francisco to carry all-organic Phytologie and Phytomer hair and skin-care products.
146 Fillmore St.
San Francisco
California
US
With the motto "polish while they play," Mani + Nanny is an oasis for the chic urban mommy. The innovative spa offers a unique service: full-out pampering (recliners, rose-petal foot baths, warm lotion massages, and complimentary tea or white wine) while an on-site nanny supervises your kids' playtime. This Groupon is good for two pedicures, but by bringing it in, you also get half-priced nanny services (your 6-week-old to 6-year-old child can be taken care of for a mere $5 and each additional child for only $2.50 extra). If you're not a mom, go and enjoy the inviting and comfy Mani + Nanny space.
1722 Divisadero St.
San Francisco
California
US
Groom your body and freshen your mind at MR. Barbershop and Urban Lounge. With today's Groupon, $50 gets you two haircuts or two shaves with two shape-ups (light trims good for between cuts) and two drinks at the classy Financial District lounge, social club, and barbershop. MR. was founded by two Stanford Graduate School of Business grads who dreamt of an excellent haircut in a hip, elegant lounge. They created a sleek, ultra-modern space with monthly memberships and a classy wine bar—making the joint seem more like a social club than a barbershop. Follow @Groupon_Says on Twitter.
560 Sacramento St.
San Francisco
California
US
---