Beer, Wine & Spirits in Albany
---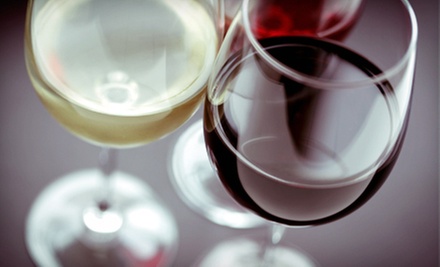 ---
Beer, Wine & Spirits Deals
---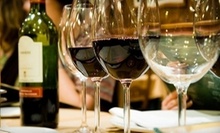 Retail wine store & bar delights oenophiles with knowledgeable staff & floor-to-ceiling racks filled with extensive, rotating stock.
Use Today 11:00am - 4:00pm
---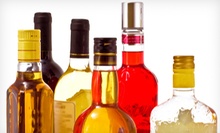 A five-course flight and two pints from a list of 22 rotating draft beers by brewers such as Stillwater Artisanal Ales and Firestone Walker
Use Today 11:00am - 11:45pm
---
Recommended Beer, Wine & Spirits by Groupon Customers
---
The Grapevine, a tasting bar with a rotating menu of boutique wines and cheeses, has a charming tasting room as well as a petite, elegant outdoor garden. Much like the sun in most medieval Italian conceptions of the cosmos, the wine bar's wine and cheese menu changes two to three times a month. The sort of fare you'll find is consistently savory and runs the gamut from gourmet grilled cheese sliders ($5 for three) to savory olé flatbread with basil, prosciutto, a balsamic reduction, and manchego cheese ($7), as well as the sweet marriage of imported brie and homemade fig sauce ($6).
1389 Lincoln Ave.
San Jose
California
Since 1995, Spencer and Daniels Premium Wine Outlet has been wetting the tongues of oenophiles with quality libations from every corner of the globe. Hundreds of vintages rest on racks under bright murals depicting rolling vineyards and mountains, and throughout the years, patrons of the boutique have opened more than 3 million wine bottles, almost half the amount needed to build a 500-foot-tall statue of Bacchus entirely from used corks.
1541 Polk Street
San Francisco
California
415-345-1623
Located in Napa Valley, Honig Vineyard & Winery produces flavorsome sauvignon blancs and cabernet sauvignons that can be found on restaurant wine lists across the country. Visitors to the winery's fancy tasting room have the chance to sample five of Honig's delicious wines. Sommeliers and thirsty Langoliers can sniff, taste, and carefully dissect the potable properties of the Rutherford sauvignon blanc, a 2008 vintage that starts fruity and ends with a crisp, minerally finish, as well as the 2006 Honig cabernet sauvignon, which features blackberry, cherry, and plum flavors developed over 18 months in an American oak barrel, just like old-timey cowboy hobos. The remaining three samples include the 2008 Honig Late Harvest sauvignon blanc—a refreshing dessert wine aged in new French oak barrels with lemony and grapefruity hints—Honig's single vineyard cab, and a library selection.
850 Rutherford Rd.
Rutherford
California
800-929-2217 x318
In the years following World War II, Dutch immigrant John Van Ruiten sought to fulfill his dream of owning a vineyard. With a simple handshake as his contract, he purchased the land that would help him turn that reverie into a verdant realty. More than a half-century later, the wine empire spawned by that handshake continues to sprawl as quickly as the vines of its zinfandel grapes. These grapes and more now stretch across the 800 acres that Van Ruiten Family Vineyards call home, earning the winery high accolades—including a nod in the Wall Street Journal proclaiming their 2007 old vine zinfandel among the top 12 wines in the world in 2009.
In Van Ruiten's tasting room, guests can sample the winery's signature zinfandel, chardonnay, and cabernet sauvignon–shiraz blend before retiring to shady corners of the courtyard or an outdoor patio overlooking the vineyards. Among the vines, nesting boxes house owls that—as an alternative to pesticides—hunt down rodents and use their bright eyes to scare away enterprising grape thieves.
340 W Hwy 12
Lodi
California
Though one could also call it a store, The Wine Club's name speaks to its staff members' passion for fine wines. Their passion and commitment to quality spirits at fair prices fostered the growth of the first singular club in 1985 into a trio of neighborhood wine and spirits stores by 1996. Shelves and display cases at each store are crowded by varietals from all over the world. During Friday happy hours and informal Saturday afternoon tastings, guests gather to discuss flavor profiles with fellow tasters, certified sommeliers, or vacationing extraterrestrials. The store also curates a variety of wine clubs for customers hoping to expand their palates.
953 Harrison St.
San Francisco
California
800-966-7835
The family of vintners at Sorelle Winery, established on the historic Dodge Estate, curate its original 1866 home, tend to their vineyard, and ferment a collection of choice vintages. Though in its nascence, the winery has already taken home a gold medal from the San Francisco Chronicle Wine Competition for its 2009 sangiovese. Inside, the wood-walled tasting room invites couples to sip from crimson and amber glasses, comparing flavors, aromas, and who can spit-take the farthest. Lush lawns and low trees surround the outdoor patio, which grants views of the historic Dodge House property, a land once roamed by Native Americans, Spanish conquistadors, and horses with a nose for a good sangiovese.
9599 N Hwy. 88
Stockton
California
209-931-4350
---