Golf in Albany
---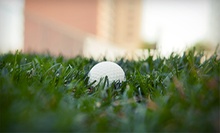 18-hole, 6,075-yard golf course is surrounded by lake and mountain views and challenges golfers with tight greens and elevation changes
---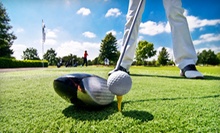 Groups head out for 18-hole rounds on a course designed through dense forest with rolling hills
---
Recommended Golf by Groupon Customers
---
Rolling hills, towering pine trees, and burbling streams convene on Shaker Farms Country Club's 18-hole course as it gently rises and falls across 6,285 yards of bucolic terrain. Golfers must be mindful of a tranquil creek that runs in a wishbone pattern throughout the course, as its rippling waters—which come into play on eight holes—are often camouflaged by grassy banks and waterfowl that snack on errant golf balls. The distinct farmland layout conjures a sense of rustic antiquity, a characteristic furthered by the presence of a dilapidated farmhouse on the par 4 second hole. Clubbers hoping to gain control over runaway swings can warm up at the driving range or tap their spikes together three times to summon seasoned ace Keith Ornelas, who roams the club's verdant hillsides on a never-ending quest to vanquish mulligans once and for all. Alongside its verdant golf course, Shaker Farms boasts tennis courts and a versatile array of dining options.
Course at a Glance:
18-hole, par 72 course

Length of 6,285 yards from the farthest tees

Course rating of 69.4 from the farthest tees

Slope rating of 119 from the farthest tees

Four tee options

Link to scorecard
866 Shaker Rd.
Westfield
Massachusetts
413-568-4087
The 18-hole course at Rainbow Golf Club takes players careening across a 6,287-yard layout carved into the foothills of the Northern Catskill Mountains. Players rip tee shots from one of five sets of tees per hole, allowing for an enjoyable yet challenging round for greenhorns to green-jacket holders. As rental carts transport players across the well-manicured landscape, they must take care to avoid tree-lined fairways, undulating greens, and feral caddies looking to stock up on golf balls for winter's hibernation. The course's signature hole is the 13th, a 135-yard, par 3 that forces golfers to carry their tee shot over water onto an island green, the only known island in New York. A pro shop, practice facilities, and a restaurant with an outdoor patio overlooking the course all provide entertainment when golfers aren't practicing their postputt struts.
Course at a Glance:
18-hole, par 71 course
Total length of 6,287 yards from the back tees
Course rating of 70.8 from the back tees
Course slope of 126 from the back tees
Five sets of tees per hole
3822 County Rte. 26
Greenville
New York
518-966-5343
Not every golf course can boast a visit from two of the game's titans, but Saratoga Spa Golf is one of them. In the late 1950s – some 20 years after the founding of the course – Arnold Palmer and Gary Player strolled among the majestic pine trees during a round to commemorate a major design overhaul. Fast forward to today, and players can walk in their footsteps and scuba dive for their waterlogged golf balls as they take on the 18-hole championship course. Stretching for a mighty 7,145 yards through Saratoga Spa State Park, the course was listed among the country's ten best courses under $55, according to the July 2012 issue of Golf Digest. Meanwhile, a nine-hole, par 3 course beckons to clubbers looking to hone their short game, and a driving range with grass hitting stalls fosters improvement and grass-eating competitions. Course at a Glance:
18-hole, par 72 course
Total length of 7,145 yards from the back tees
Course rating of 74.4 from the back tees
Course slope of 130 from the back tees
Five sets of tees per hole
60 Roosevelt Dr.
Saratoga Springs
New York
518-584-2006 x10
In continuous operation since 1945, Murphy's Golf Range and Mini Golf hosts off-course clubbing with a driving range and mini-golf course set amid fragrant flowerbeds. Windmills whir above the 18-hole putter's circuit, where balls must circumvent whitewashed wagon wheels, squeeze between equestrian starting gates, and power through loopty-loops without succumbing to motion sickness. At the driving range, players can choose to hit off artificial-turf mats or separate grass hitting bays as they send Srixon range balls into the stratosphere, raining down on targets labeled with their yardages from the hitting gallery.
3376 Rte. 9
Saratoga Springs
New York
518-584-1912
Hickory Ridge Golf Club's dense tree lines create tunnels of narrow fairways intersected by a meandering creek that comes into play on at least nine of the course's 18 holes. Players immediately find themselves myriad obstacles on the first hole, a 509-yard par 5 with a lateral hazard running the length of the left side and an elevated green with an out-of-bounds area summoning errant shots beyond the pin. After the initial hole, birdie opportunities abound on the front nine so long as players control their shots off the tee, make wise club selections on approaches to the green, and avoid penalty strokes for chop blocking unsuspecting caddies.
More difficult challenges await on the back nine, including tricky par 4s on holes 12 and 14 and long par 3s on holes 15 and 17. Before finishing the round, golfers must conquer the par 4 18th hole, which requires a long layup on the second shot and often sends unfocused golfers on their way with a bogey and a Kick Me sign as they complete the round.
Course at a Glance:
18-hole, par 72 course

Total length of 6,704 yards from the back tees

Course rating of 72.8 from the back tees

Course slope of 130 from the back tees

Four sets of tees per hole
191 W Pomeroy Ln.
Amherst
Massachusetts
413-230-3360
Golf courses are designed to compound players' mistakes. An errant tee shot winds up buried in the rough, on a side-hill lie, or shut out behind a tree—where golfers may not be able to take a full swing, let alone concentrate on how to correct their mechanics. In golf, the driving range is the only safe haven. Saratoga Springs Golf Range's all-grass hitting bays provide a smooth, flat surface that lets golfers concentrate on improving their swings and grants amnesty for past swing transgressions in the form of range balls and a course notary who expunges all mulligans from players' official records.
Saratoga Springs Golf Range helps swings enter into a harmonious relationship with their sticks through custom club fitting, loft and lie adjustments, and regripping services. The range's club technicians also offer various repair services for snapped club shafts and emotionally distraught drivers.
68 Weibel Ave.
Saratoga Springs
New York
US
518-986-2087
---