Golf in Albertville
---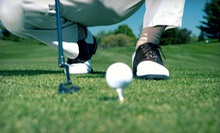 Golfers steer their carts through Pine Hill's 6,357-yard, par-72 course, lined with pines and dotted with ponds
---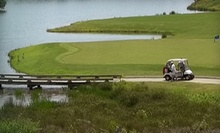 Balls sail over scenic traps of water & sand designed by Arthur Davis as pairs of players navigate 18 holes of undulating fairways
Use Today 9:00am - 5:00pm
---
Recommended Golf by Groupon Customers
---
Richland Golf Center summons clubbers of all stripes with its sprawling, multifaceted swing-honing facility and a staff of ace instructors. Revolving around a central pond, the nine-hole executive course helps players master their approaches with seven par 3s and two par 4s that ensure drivers won't start questioning their self-worth. Clients can groom their game in pressure-free sessions at the 40 all-grass hitting stalls of the driving range, at the 2-acre short-game area, or by enrolling in one many golf lesson options.
The center also encompasses an 18-hole mini-golf course, which eschews gimmicky clowns and windmills in favor of a calming layout with misting fountains and obstacles such as water hazards, bunkers, and out-of-bounds areas. Clients can pair renovated swings with brand-new clubs in the pro shop, which peddles gear from brands such as TaylorMade, Srixon, Cleveland, or enlist the center's experts to regrip their current clubs or replace driver shafts snapped during sand-trap pole-vaulting competitions.
10028 N Memorial Pkwy.
Huntsville
Alabama
256-858-6622
A golfer tees off at St. Andrews Links. A little leaguer sends a baseball soaring through the air. A confused family salutes each flag waving on a mini-golf course. These events could all take place at Southern Golf's indoor and outdoor facilities. The company's GolfAchiever simulator recreates the greens, fairways, and weather conditions of the world's most famous courses so players can whack balls toward a projected screen. At the pro shop, staffers fit clubs and sell gear from brands such as Bridgestone and Nike Golf; customers can then test out new equipment on an indoor putting green. Visitors can also practice their swings at the batting cages or on the 18-hole outdoor mini-golf course.
2613 Pelham Pkwy.
Pelham
Alabama
205-621-4653
The 18 holes at Frank House Municipal Golf Course embroil golfers in a test of skills and mental toughness as they guide orbs over a lush, emerald carpet. After completing the relatively straight front nine, players must adjust aim for shots on the back nine, where all but three of the holes make severe dogleg turns. One of these doglegs, the 18th, forces players to lay up short of a lake, and then approach over its width or try to freeze it over with an icy glare.
Course at a Glance:
18-hole, par 72 course
Total length of 6,346 yards from the back tees
Course rating of 69 from the back tees
Course rating of 119 from the back tees
Three sets of tees per hole
801 Golf Course Rd.
Bessemer
Alabama
205-424-9540
The golfing gurus at Edwin Watts Golf Academy diagnose and correct their students' poor swing and putting habits in an effort to help them improve their shots and lower their scores. In one-on-one swing-analysis sessions, students learn a repeatable swing that eliminates tendencies they may have to slice, hook, push, or pull the ball. A special laser attaches to the end of the player's club and tracks the swing path while JC Video swing-analysis software records the session from two separate angles, lest analysis be thrown off by only looking at the golfer's good side. Putting analysis employs Tomi technology to measure eight separate parameters of the putting stroke, from clubhead orientation at address to swing path and tempo. After swing and putting lessons, students may access the recordings on a password-protected website, so they can forward videos to friends or sports-documentary filmmakers.
5235 Hwy. 280 S
Birmingham
Alabama
205-991-5560
From their home base at Frank House Municipal Golf Course, the PGA pros at the Harper Miller School of Golf help golfers fix broken swings and patch up holes in strategic thinking. Lessons zero in on the fundamentals of grip, posture, and alignment—key components of a winning swing and textbook ice-cream-cone devouring. Short-game clinics help to develop confidence around the green with practice on the putting stroke, chipping accuracy, and bunker play. The pros also follow students out onto the course for playing lessons, which focus on such course-management tactics as how to choose the right club, when to lay up, and when to lie down and take a moment to enjoy the beauty of nature around you.
1553 Powder Plant Rd.
Bessemer
Alabama
205-585-1699
Sunset Landing Golf Course blankets the countryside with a 6,803-yard, par 72 course that incorporates the landscape's natural challenges into its design. Throughout the round, bentgrass greens await at the end of each hole, where golfers arrive after successfully steering their shots through Bermuda-grass fairways and avoid waking predatory sprinklers. With a course rating of 71.9 from the tips and 66.9 from the closest tees, the course caters to players across the handicap spectrum. Golfers can warm up for their round by hitting practice shots and dead lifting golf carts at Sunset Landing's driving range.
Six water hazards supply the bulk of difficulty at Cedar Ridge Golf Course, where golfers hunt pars across a relatively flat, 18-hole layout. Golfers must evade the course's waterways on 11 holes, giving advantage to those who trust their swings or designed tiny life vests for their golf balls. Dense trees lines loom on the edge of fairways on the back nine, and undulating greens challenge putters throughout the course. Cedar Ridge keeps its par-hunters energized for the round with an onsite snack bar.
346 James Record Rd., Huntsville
Huntsville
Alabama
US
256-464-5050
---