Restaurants in Albuquerque
---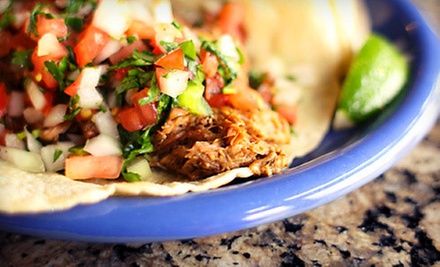 ---
Recommended Restaurants by Groupon Customers
---
You're probably thinking, "That sounds great, but I've never bought a car or a computer without first reading the Wikipedia definitions for car and computer—I'm not about to buy a Groupon either without a briefing." Well, neither would we, and since this is everyone's first Groupon, allow us to briefly explain how it works.
40 Tramway Rd NE
Albuquerque
New Mexico
Blades flick through cuts of tuna and salmon, their pink and orange sunset hues set off by cucumber, rice, and seaweed. In Aki Sushi's dining room, teriyaki dishes click onto tables and bowls of udon pour forth steam like a robot in a poetry-appreciation class. Glasses filled with beer, cocktails, or 1 of more than 20 wines meet in toasts above plates laced with curlicues of wasabi and pickled ginger.
2641 Coors Blvd. NW, Suite E
Albuquerque
New Mexico
Though Banana Leaf is owned and operated by a Vietnamese family, its menu also flaunts culinary influences from China and Thailand to ensure complex and well-rounded flavor profiles. Below hanging lights that glow like radioactive wizard hats, tables heave under the weight of pan-fried noodles and jasmine-rice entrees strewn with bamboo shoots, pineapple, and crunchy cashews. Morsels of beef, tofu, or shrimp simmer in thai curries infused with basil, coconut milk, and veggies, and Chinese classics such as sweet-and-sour pork and general tso's chicken glisten beneath tangy sauces. In the kitchen, one lone chef prepares all of these mouthwatering masterworks, ensuring that the dishes are consistently delicious and share the same jawline.
355 State Hwy. 528 SE
Rio Rancho
New Mexico
505-892-6119
Sushi making is both a martial art and a romantic venture to the chefs at Samurai Grill & Sushi Bar. In the kitchen, they build more than 80 types of sushi using deft knifework and fresh seafare such as squid, salmon eggs, and albacore tuna. To hint at interiors made of posh caviar and cream cheese, the chefs bestow several specialty rolls with racy names such as Playboy and Love Triangle. In addition to rousing taste buds with a spicy sauce, a chirashi of sashimi, veggies, and rice wows eyes with color and precision, like a breakdancing rainbow. Traditional fare such as chicken teriyaki and hot udon soup brims with comforting flavors that pair nicely with a bottle of beer or sake.:m]]
9500 Montgomery Blvd. NE
Albuquerque
New Mexico
505-275-6601
Within an adobe building, complete with ridged roof and tall windows, cooks at Kathy's Carry Out combine Mexican and American culinary influences. Burritos, tacos, and burgers coexist with dishes such as sopaipillas, a soft dough hiding fillings of meat or cheese. The Weekly Alibi lauded several of the eatery's other dishes, including the Kathy burger, two patties with red chili, cheese, and bacon, which is "well-worth the drive down to the South Valley." A spacious and shaded patio wraps around the building, allowing patrons to enjoy their enchiladas in the fresh breeze or pretend that their large novelty sombreros would have fit through the door.
823 Isleta Blvd.
Albuquerque
New Mexico
505-873-3472
---