Albuquerque Spa and Massage
---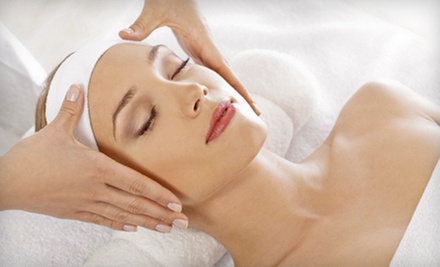 ---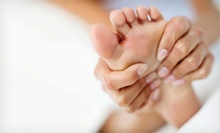 The foot treatment includes a sugar scrub and reflexology; hot-and-cold muscle therapy combines warming oil and cooling gel
---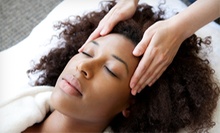 Herbal muscle cream reduces inflammation during the Muscle Melt massage; Swedish techniques boost circulation during the Urban Zen massage
---
Recommended Spa & Massage by Groupon Customers
---
Cloud Nine's hour-long Custom Massage is a hybrid muscle mediation that fuses Swedish, shiatsu, joint mobilization, and deep-tissue massage. The massage incorporates moist heat paks to allow the deeper work needed to relieve tension hiding inside bone caves. For those who can bear to let chocolate rest on their mug without offering their face to trick-or-treaters, Cloud Nine's 45-minute Organic Chocolate Masque feeds the skin antioxidants and gently exfoliates using organic cocoa powder. Cloud Nine's hour-long Twinkle Toe Salt Scrub drowns your oft-neglected floor pounders in a warm bubbly foot soak, massages out stress points, and douses them with nostril-arousing aromatherapy.
10555 Montgomery Blvd. NE
Albuquerque
New Mexico
505-298-9000
Hermosa Massage's licensed muscle manipulators aim to release the curative potential of massage with each customized session. Owner and handmaster Lauri Norton has specialized in treating pain with medical massage techniques and Chinese meridian therapy since 1984. As such, Hermosa's massages dig deeper than just simple relaxation in order to address traumatic injury, as well as chronic pain caused by physical exertion, an unbalanced posture, and attacks by ghosts of heavyweight boxers. At the beginning of each appointment, clients can team up with a therapist to design a kneading regimen that will ease tension resulting from recent deadlines, performance reviews, or wisdom teeth layoffs. During each massage, sinew soothers cull strokes from various traditional styles including Swedish, deep tissue, and medical massage. Each 30-, 60-, or 90-minute treatment strives to restore the body's natural ability to heal itself by increasing circulation and opening up subsidiary clinics in outlying appendages.
3419 Silver Ave. SE
Albuquerque
New Mexico
505-554-1114
Dedicated to promoting physical and emotional balance through therapeutic treatments, the staff at The Desert and Sky mitigates muscles with a variety of massage techniques. During hot-stone massage sessions, smooth, flat heated stones are strategically placed on areas of the body to alleviate deep-rooted tension and make tissue feel more limber than a sunbathing gummi bear. This fiber warming primes muscles for relaxation, improving circulation and allowing therapists to apply greater pressure for more effective kneads. In addition to relieving stress, heat therapies can help increase energy level. Nip anxiety in the bud before it causes you to sweat actual bullets by unwinding under the skillful supervision of a massage therapist.
202 Morningside Dr. SE
Albuquerque
New Mexico
505-268-5148
Time may be short before Doug Stevens' next client, but he can always find a moment to talk shop. "I love helping people," he declares. "Helping people look better, feel better. That's the most satisfying thing." Doug has been a nationally certified massage therapist and aesthetician for 15 years, specializing in a process he devised to reduce the appearance of cellulite while relaxing the whole body. The technique combines an endovibratory device oscillating at 35 times per second with ultrasonic heat and his signature bodywork methods. "After the cellulite treatment, the skin is firmer, the appearance smoother," he explains. "People generally really like it, so they'll rebook."
Before receiving certification in Las Vegas in 1997, Doug was in the construction business as a general contractor. But it wasn't giving him what he wanted. "I was looking for a profession that was less stressful, where I could help people. I wanted to be more hands on. And my friends always came to me for massages, so I decided to go into that." Over time, he's added other treatments designed to improve the mood while boosting beauty, such as a photon antiwrinkle light therapy.
Doug describes his studio as very relaxing, with low light and smooth music. Though the ambiance has an undeniable pulse-slowing effect, it's the treatments' results that he credits for his return business. "Some of my clients have been coming every week for six years," he says. "Only the wealthy can usually afford treatments like these. That's not the case here. I want people to focus on how good they're going to feel."
9204 Montgomery Blvd. NE, Suite A
Albuquerque
New Mexico
505-312-8728
Each of Planet Beach's 274 locations spread across the United States, Mexico, and other nations hums with electronic power as machines perform the delicate task of relaxing and beautifying bodies. After human attendants guide guests to their treatment rooms and help them find their preferred settings, automated tanning beds, red-light "reverse tanning" therapy beds, hydromassage tables, and cyber-relax massage chairs tirelessly tend to skin, muscle, and bone. Mental tension dissipates as lungs breathe in extra oxygen or air scented by aromatherapy candles in private relaxation rooms that shield the mind from the outside world or pitches from telepathic salesmen.
8201 Golf Course Rd. NW
Albuquerque
New Mexico
505-890-4070
Genesis Health Spa's professionals promote health, beauty, and wellbeing through treatments that are highly customized and performed in a relaxing environment. Along with facial, massage, and waxing services, the spa employs an experienced makeup artist to revamp exteriors with Jane Iredale mineral cosmetics during makeup applications, lessons, and special-occasion services for brides or eccentric ex-vaudevillians. For treatments in the tradition of oriental medicine, Dr. Heather Jones helps to balance body and mind with holistic Eastern healing methods. Acupuncture, cupping, and herbal medicine are just a few of the services offered to help alleviate bodily ailments without prescription drugs or a steady diet of sunshine, along with lesser-known services include Gua Sha––a massage-like technique that aims to release muscular tension by gently scraping animal horn, jade, or ceramic across troubled areas to release tightness.
8311 San Pedro NE, Suite 1
Albuquerque
New Mexico
505-821-1599
---