Alexandria Indoor Activities
---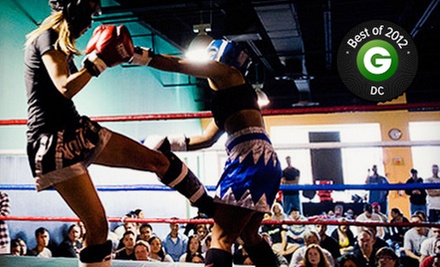 ---
Recommended Indoor Activities by Groupon Customers
---
Studio Body Logic accepts no fitness forgery in its offering of authentic and unchanged Pilates, the core-strengthening conditioning regimen created by Joseph Pilates in the 1920s. Build strength, elongate muscles, and improve flexibility with nine Pilates mat classes ($18 each). Over the course of this exercise ennead, students of all levels of experience can immerse themselves in the full-body workout pioneered by Pilates, taming torso tigers, straightening up spinal sloths, and pinning down postural platypuses. The nine Pilates mat classes offered in this deal take place during Studio Body Logic's summer session, from the week of July 5 through the week of August 30. Classes are offered throughout the week, starting as early as 6:15 a.m. and as late as 8:15 p.m.—perfect for the many Studio Body Logic students making commutes from Peru or parallel dimensions.
2417 Mount Vernon Ave.
Alexandria
Virginia
United Social Sports brings recreational athletes together to socialize and showcase their hand-eye coordination. Free agents or team-sized groups register for the organization's casual coed leagues dedicated to traditional sports such as softball and volleyball as well as carnival games such as cornhole and skee-ball. Each league hosts 6–8 weekly matches, which culminate in a final tournament and an end-of-season party—much like youth-sports leagues, but with postgame drink specials.
315 Evarts St. NE , Suite 111
Washington
Washington D.C.
In 2005, the Montreal Expos became the Canadian Expats, pledging a new allegiance and taking on a new identity as the first big-league club to inhabit America's capital since the Senators moved to Texas in 1971. In 2008, the team christened its new stadium, Nationals Park, which today welcomes up to 41,418 fans, its 4,500-square-foot HD scoreboard almost distracting from the panoramic views of the Potomac riverfront, the Capitol dome, and the Washington Monument. Accredited as a Leadership in Energy and Environment Design stadium, Nationals Park also sits 24 feet below street level, making its main concourse even with city sidewalks and saving many fans the danger of riding frozen, thin-aired escalators just to reach their seats.
1500 S Capitol St. SE
Washington
District of Columbia
202-675-6287
The clack of the balls. The rhythm of the roll. The satisfying thunk of a well-tossed bull's-eye. These are the sounds of skee-ball, the arcade mainstay that filled many adolescent dreams with visions of ticket-strewn glory. Thanks to the dedicated team at District Skee, these dreams don't have to die with high school graduation. From the sports-friendly confines of the H Street Country Club, these aficionados also translate this beloved childhood pastime into a fun, competitive rec league setting. Organized into teams, players send balls caroming up ramps towards point-filled targets, aiming for high scores and the everlasting glory that accompanies them.
2333 18th St. NW
Washington
Washington D.C.
Last year on Broadway, The Normal Heart won three Tony Awards for its honest, moving revival of playwright Larry Kramer's 1985 onstage wake-up call that alerted America to the urgency of the AIDS epidemic. Even with more than 25 years of history padded onto its premiere, the production still "blasts you like an open, overstoked furnace," the New York Times declares, aided by performances from The Good Wife's Patrick Breen, Brothers and Sisters' Luke MacFarlane, and thirtysomething's Patricia Wettig. The human consequences of the crisis unfold onstage as a doctor seeks answers for the growing number of sick gay men on her patients' list; a writer looks to warn the community about the epidemic; and a mayor's aide aims to deflect the political consequences of the disease. George C. Wolfe, a two-time Tony Award winner for Angels in America and Bring in da Noise, directs the drama, brewing up a stirring performance that shouts of anger, love, and hope.
1101 6th St. SW
Washington
District of Columbia
202-554-9066
Hot Yoga's name is a simple representation of a complex art. There, yogis gather students in warm rooms for 60- to 80-minute stretching sessions that limber up the body, purge toxins from the blood stream, and accelerate the natural healing process. They teach primarily Vinyasa-style yoga, which connects asana through flowing movements supported by deliberate breathing exercises. Beyond classes, the instructors also keep guests stretched and sweltering in private lessons or group yoga parties.
In addition to simple lessons, Hot Yoga's staff also unlocks the art of instruction itself, offering both a 200-hour and 500-hour registered-yoga-teacher certification in accordance with the teaching standards of the Yoga Alliance. These lessons involve both classroom time with senior instructors and personal study, and culminate in a test in which yogis must be able to describe what the bottoms of their feet look like when upside down and backwards.
3408 Wisconsin Ave. NW, Suite 205
Washington
District of Columbia
---