Aliso Viejo, CA Beauty and Salons
---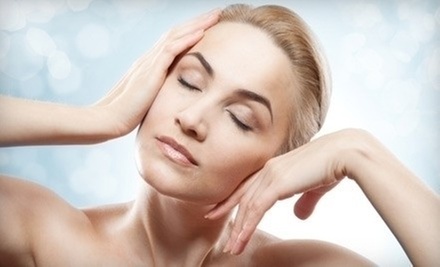 ---
Recommended Beauty by Groupon Customers
---
Since opening its doors, LaserAway has accumulated 12 California locations and the patronage of celebrities such as the Kardashian clan. At different settings, the clinic's state-of-the-art lasers can treat signs of sun damage, tattoos, body hair, and glued-on glam-rock wigs with comfort and efficiency. The clinic's medical professionals are all fully licensed to administer laser pulses, and fully glad to educate clients on the intricacies of skincare.
369 E 17th St.
Costa Mesa
California
949-548-2929
When people think of you, the first thing that comes to mind is most likely your face, closely followed by your puggle, then by a really weird commercial they saw on Monday Night Football. Make your mug memorably shiny-fresh and give your designer lapdog a run for its kibble with today's skin-restoring deal: $35 for a one-hour customized facial at Flawless Faces Makeup & Skincare Lounge (a $75 value).
124 Broadway, Suite D
Costa Mesa
California
While everyone's torso has enjoyed the warm embrace of another, only very short people with very tall friends have felt the pleasure of face hugs. Skin Technology's licensed aestheticians have more than 10 years of experience when it comes to pampering visages with premium exfoliation and hydration tactics. A microdermabrasion with facial shoos away the unwanted dead skin that congregates around an individual's cheeks, chin, and forehead, making way for happy parades of fresh and youthful new skin without invasive therapy.
1158 Sunflower Avenue
Costa Mesa
California
Legends' stylists are seers with scissors, mystics whose vision allows them to see the fashionable future hidden in your topside spindrift, coaxed into being with deft, daring, and gossip. The luxuriating handjitsu of their wash and styling will transport your hair into a realm of cosmic sexy, perfectly attuned to the vibrations of the Hairverse. The experienced hair artists are well versed in looks that run the gamut from modern to edgy to timelessly classic. They'll also apply a Kérastase conditioning treatment, specially chosen for your hair type, that perks and restores your hair with vitality and shine as if it were a parched desert plant dumped in a public swimming pool.
25612 Crown Valley Parkway, Suite L4
Ladera Ranch
California
During the no-chip manicure, a stylist paints nails with successive layers of a gel that, when exposed to UV light, becomes harder than performing calculus on a diamond. Once applied and treated, this glistering coating can only be removed by soaking in a hot tub of acetone or by a skilled micro-Zambonist.
2626 Dupont Dr., Suite A-30
Irvine
California
At Splitends, men and women are encouraged to experiment with their look, which may result in strangers' inaudible mouth gapes and excessive staring. Confidently pass off the reigns of your flashy hair-drawn chariot to one of the many aesthetically adventurous stylists. Call on owner and resident rock sculptor Christopher Hall, whose razor-sharp electro-clash cuts will have Grandma pulling her hair out and then selling her hair on the Internet to pay for an electro-clash cut. Or Gina, whose knowledge of high-end products will leave you with locks more flowing than a soccer star's, more volume pumped than a soccer crowd, and more sparkling than a freshly washed minivan belonging to one well-kempt soccer parent.
765 St Clair St., Suite A
Costa Mesa
California
---