Bowling in Aliso Viejo
---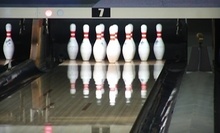 Use Monday 9:00am - 11:00pm
---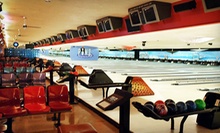 Use Thursday 9:00am - 5:00pm
---
Recommended Bowling by Groupon Customers
---
Forty gleaming hardwood lanes sprawl the length of Concourse Entertainment Center's 42,000-square-foot bowling gallery. Overhead screens keep score, and lane-illuminating lights lie in wait until 10 p.m. on weekend nights, when the audio-visual spectacle of cosmic tenpin induces squirrels to temporarily suspend hibernation and just dance. Larger parties can rent out one of the alley's VIP suites, which sequester lanes and lounge areas behind giant curtains to create fortresses of bowling solitude that can accommodate up to 320 simultaneous bowlers. When not immediately engrossed in clobbering pins, bowlers can seek out snippets of a sports game on 1 of the alley's 25 sports-tuned plasma screens, or scarf a slice of house-made pizza and an amber pint at Kingpin's Bar & Grill, located just aft of the bowling action.
3364 East La Palma Avenue
Anaheim
California
714-666-2695
As friends sup quietly in a private banquet hall, chaos reigns a floor below. There, stones hurtle toward the wall, forming piles of rubble soon swept away and forgotten in the clamor. Still, the friends dine peacefully, unaware of the destruction happening under their feet. At the two-story Irvine Lanes, bowlers topple pins on the first floor's 40 lanes while the second floor hosts private parties and catered events in an elegant setting. Of course, a snack bar lets bowlers eat downstairs, too, and a full arcade, bar, and smoking patio keep outings interesting as the machine whittles new pins between frames.
3415 Michelson Dr.
Irvine
California
949-786-9625
Bowlers gaze out at 24 synthetic lanes before picking up a pair of freshly sprayed bowling shoes, gripping a bowling ball, and letting it roll frame after frame. The sound of smattering pins and radio hits reverberate throughout Harley's Simi Bowl as bowlers prepare for rounds by typing alter-ego nicknames into the scoring console. During Atomic Bowl sessions offered Friday–Sunday, neon lights flash onto darkened alleys, illuminating multicolored bowling balls and neon-clad decor. Bowlers can take a break from their lanes to snack on American cuisine at the Simi Bowl Café, watch sporting events on one of four HDTV screens, or play classic games in the arcade.
480 E Los Angeles Ave.
Simi Valley
California
805-526-4212
At Jillian's, a nightclub ambiance pairs with modern décor and ample entertainment to host parties, catching the eye of Justin Bieber, who filmed the music video for Baby inside the colorful, 10-lane alley. An onsite restaurant and bar sates between-set hunger pains with a menu of American eats such as hot wings, burgers, and pizzas. On Fridays and Saturdays, Jillian's hosts club nights, during which a dance floor pumps music to let patrons perfect their strike-celebration dances, Thursdays host karaoke for amateurs to take the stage and croon their favorite tunes. Between songs or bowling frames, four billiard tables draw pool sharks, and an arcade of electronic games gets virtual adrenaline pumping. For birthday parties or interventions with a friend who refuses to give up granny-style bowling, a private suite hosts up to 50 people who can play Wii games on a giant projector screen.
1000 Universal Studios Blvd.
Universal City
California
818-985-8234
The clatter of toppling pins resounds through the walls of the 89 locations of Bowling Centers of Southern California, which are scattered across Southern California, Nevada, and Hawaii. Each alley abounds with modern lanes and equipment, and many boast concession stands, lounges, and game rooms. The family-friendly centers host regular public bowling sessions and league tournaments. Many of the centers also host private birthday parties, which science has proven to be more fun than birthday parties covered by the paparazzi.
40625 Big Bear Blvd.
Big Bear Lake
California
Mira Mesa Lanes encourages players to test their underhand accuracy and on-key singing voice with ample alley space and an on-site karaoke bar. The alley hosts open-bowling hours throughout the week, along with league opportunities for men, women, male children, female children, and grandparents. After open sessions on Friday and Saturday evenings, Mira Mesa Lanes also enlivens its space with the music and flashing lights of Rock 'n' Bowl. And once the last frame finishes, the alley keeps the fun rolling with an arcade, café, and full-service bar.
8210 Mira Mesa Blvd.
San Diego
California
858-578-0500
---