Day Spas in Aliso Viejo
---
Day Spa Rewards Deals - Use Anytime
---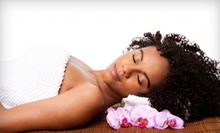 Staff wraps frames in herb-soaked fabrics to spur inch loss; other services include teeth whitening, tanning, and ion footbaths
---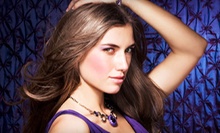 Hair, nail, tanning, and massage services swaddle clients in comfort and beauty within a studio decked in island-themed decor
---
Recommended Day Spa by Groupon Customers
---
Dedicated to customer service, satisfaction, and health, Aliso Optometry's peeper professionals will greet visitors with a glistening eye-smile before leading the way to a cozy office for a thorough eyeball investigation. During the comprehensive exam, a certified all-seeing eye will gaze into your gazers, using top-of-the-line ocular gadgetry to test visual acuity, pupil reflexes, eye pressure and alignment, peripheral vision, corneal curvature, anterior and posterior eye health, and the barometric pressure of your soul. Using a series of capital letters and queries, the doctor will also ascertain the current prescription needed to correct your sight. In addition to conditioning peepers for staring-contest championshiphood, receiving regular eye check-ups can prevent eye disease or catch pesky problems in their earliest stages.
27792 Aliso Creek Rd., Suite B-124
Aliso Viejo
California
Laguna Canyon Spa may be a touch off the beaten path—the wellness center rests at the edge of Laguna Coast Wilderness Park—but that just means the facility's surroundings match its tranquil interior. After all, it's there that massage therapists perform more than 10 massage styles, including the ancient techniques of Ayurvedic and shiatsu. It's also where yoga and Pilates instructors guide students through postures using mats, reformers, and wall tower equipment, and where aestheticians tend to aging, dehydrated, and acneic skin types using the muds and herbs of eight types of facials. But though the wellness center is usually as serene as a glockenspiel solo, it can still be a fun place to party. The center plays host to birthday and bachelorette parties, during which guests enjoy spa packages that can include jewelry making and henna tattoos.
3295 Laguna Canyon Rd., Suite F
Laguna Beach
California
949-715-0210
Once cited as a Spa to Get the Red Carpet Treatment in the Editor's Pick section of 944 Magazine, The Chocolate Day Spa indulges its clients with spa services as decadent as a box of chocolate truffles. During a whoopie-cream massage, the spa's signature shea-butter lotion softens skin and prevents friction as the massage therapist applies gentle pressure and performs gliding strokes. A treat for the senses, the chocolate-scented massage immerses clients in the aroma of cocoa to save them the trouble of visiting the great chocolate lakes of Appalachia. The spa even takes the guilt out of the indulgence it encourages by providing such slimming treatments as infrared-sauna sessions and Endermologie treatments. Inside the med spa, laser light works to lift faces, tighten eyes, and plump lips, and Botox and Juvéderm reduce the appearance of wrinkles.
2900 Bristol St., Suite J103
Costa Mesa
California
714-668-9660
C'Siren Day Spa's mother-daughter team treats troubled skin and tension-afflicted muscles with a cornucopia of sea-themed thalassotherapy services. Licensed massage therapist Torri Crider assuages corporeal aches and stress with a host of 10 different massages. Meanwhile, her daughter Shayna fights skin blight with facials and chemical peels that shower faces with natural, organic products from the sea. Translucent curtains allow natural sunlight to bathe the interior of the spa, whose bamboo-laden décor provides convenient raft material should the ocean inconveniently show up during a massage.
312 Avenida De La Estrella
San Clemente
California
949-498-7700
The Spa Gregorie team won Spa Finder's Reader's Choice award for Best Day Spa of 2011 for rejuvenating skin with Spa Gregorie's botanically enriched product line and encrusting toes with Swarovski crystals. In addition to brining beauty and relaxation within grasp, each location expands the reach of Western medicine with alternative therapies for pain relief and programs geared toward new mothers and oncology patients. Contributions to the Make a Wish Foundation and multiple cancer research organizations echo this allegiance to health care, and any nonprofit group or charitable organization may use the Del Mar spa's conference room for free. Attentive to both human and environmental health, Spa Gregorie's efforts to reduce waste, energy consumption, and chemical use earned OC Metro's 2011 Green Team award.
In 2011, the International SPA Association honored Spa Gregorie's CEO Angela Cortright with the Dedicated Contributor of the Year award. The press release cites her commitment to well-being and public service beyond her three eucalyptus-scented spas and reveals her favorite quote to be Muhammad Ali's maxim, "Service to others is the rent we pay for our room here on Earth." This attitude has earned the company an avalanche of awards, which document the good works of its expert aestheticians, hair designers, and massage therapists, as well as the saint bernards that dig them out from under piles of laurel wreaths each day.
22342 El Paseo Dr., Suite F
Rancho Santa Margarita
California
949-858-9455
V Nails Facial & Waxing Spa Boutique tends to skin needs and enhances facial features with spa services using products from such brands as Shira Organics, PCA Skin, Image Skincare and Lavish Lashes. Skincare services cleanse deep into pores and exfoliate the face to treat each client's specific needs. Nail services gild finger and toe tips with gel overlays and dramatic colors. Mink lashes rest along the lid, providing longer, thicker flutters that can convince traffic cops to let you off with a warning or borrow their badge.
418 North El Camino Real
San Clemente
California
949-361-1222
---