Theme & Amusement Parks in Allendale
---
Theme & Amusement Park Deals
---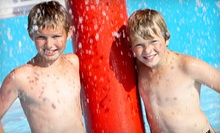 Lifeguards oversee indoor, safari-themed water-park fun; two extreme slides and heated ponds entertain all ages
---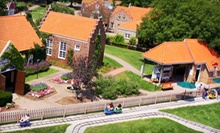 Brightly colored tulips sprawl across this Dutch-themed park that houses traditional Dutch art and food as well as rides and a petting zoo
---
Recommended Theme & Amusement Parks by Groupon Customers
---
In Gymboree Play & Music's most popular class, Play & Learn, tots master skills such as cause and effect, problem solving, and good communication through games and play. The notion that learning should be fun for the under-five set permeates all of Gymboree's classes. From music and art to sports activities, most classes are calibrated for development at six-month age intervals. Mixed-age classes teach cooperation, as kids play movement games or perform songs on musical instruments. Older children take the school-skills class to learn skills that will help them in school and during conference calls with the president. All of this takes place in a well-padded indoor playground with tunnels, slides, and bridges designed by nationally renowned playground designer Jay Beckwith to withstand tiny bare feet and the wrath of resident trolls.
1971 E Beltline Ave.
Grand Rapids
Michigan
616-365-0015
What began over 40 years ago as a bowling alley built in an old schoolhouse has since expanded into multi-level entertainment enclave known as RollAway Family Fun Center. In the second-floor roller skating rink, skaters glide across a glossy hardwood floor, cast in lights that flash to the beat of tunes spun by an on-site DJ. Below, on the first floor, players honor the center's original purpose, sending pins a-clattering in the updated bowling alley. Guests can also settle scores or start fun, new blood feuds with games of laser tag and outdoor mini golf.
805 E Main St.
Lowell
Michigan
Multiple rows of pinball machines manufactured from the early 1960s through today shelter plungers and flippers as they fling the silver spheres toward illumined targets. Entertaining guests between bouts of pinball, air hockey, and abundant arcade classics—such as Centipede, Ms. Pac-Man, and Asteroids —await with flashing lights infused with friendly competition. Klassic Arcade celebrates its impressive stock of more than 100 different varieties of glass-bottled soda pop during its annual Midwest Soda Pop Festival, which combines pop tastings and judging with live music and games. The arcade also spearheads the annual Pinball at the 'Zoo festival, at which attendees can play more than 100 arcade and pinball games for free in between tournaments, auctions, and seminars with the original 8-bit Mario and Luigi. Completing the lineup of exciting diversions is the outdoor M-40 Raceway track, which hosts off-road RC racers.
22711 M 40
Gobles
Michigan
---