Schools & Tutors in Aloha
---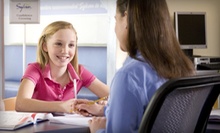 A skills assessment and report-card evaluation highlight a student's needs, which are then addressed during tutoring sessions
---
Recommended Schools & Tutors by Groupon Customers
---
Are you ready to take your Spanish to the next level? Just like a professional athlete has a personal trainer you can now have a personal Spanish instructor. Reserve a 50 minute lesson that fits your schedule then enjoy a Spanish lesson that is personalized just for you.
Online
Portland
Oregon
971-244-8813
After an eight-year career in minor-league baseball, Coach Victor Hernandez went on to instruct hitting in 1986 at Eastern Oregon University, where he helped the team set most of its hitting records that still stand today. These days, Coach Vic teaches youth baseball players the same philosophies that penned EOU into the record books. At his indoor facility, he perfects students' hitting techniques in a professional batting cage furnished with a Home Plate pitching machine that lobs baseballs at speeds of up to 90 mph. The multitalented pitching apparatus can throw fastballs, curveballs, sinkers, sliders, change-ups, and kitchen sinks with a slight rising action, emulating various in-game situations with pinpoint accuracy. Softball players can also hone their hitting fundamentals similarly with the cage's Atec fast-pitch softball machine.
During one-on-one or group sessions, Coach Vic unveils the elements of a homerun swing, including proper stance, bat grip, and load. Through a series of drills, he gets batters to focus on proper hand action through the hitting zone and teaches them how to repeat the motion in every swing. As an all-around baseball player himself, Coach Vic can also instruct pitching mechanics.
2600 NE Hyde St.
Hillsboro
Oregon
503-332-7521
Utilizing a time-tested curriculum devised by language teacher Maximilian Berlitz in 1878, Berlitz recruits fluent instructors to teach their native languages to pupils during in-person and online lessons. Instructors teach dozens of languages in accordance with the acclaimed Berlitz Method, which focuses heavily on conversation, active student participation, and knowing how to conjugate verbs while blindfolded. Each lesson builds upon skills taught during previous sessions, starting with essential techniques and eventually covering more intricate components to develop a confident command of the language. Berlitz further cultivates foreign-language wisdom with services for corporations, schools, and government agencies at more than 500 locations in 70 countries and three planetary systems.
1234 SE Morrison St.
Portland
Oregon
503-274-0830
Bearing the titles of Master of Photography and Photographic Craftsman from Professional Photographers of America, David and Ally McKay embody the keen vision and aesthetic prowess that separated good photographers from great ones. They share these skills during classes at McKay Photography Academy, where they train eyes, fingers, and imaginations to work in tandem as a snapshooting dream machine. Their classes help aspiring photographers progress from neophytes to seasoned pros; the Beginning Digital Photography course teaches students to harness the intricacies of their instruments, and the Pro Academy offers inside tips on how to successfully snap wedding portraits, pose recent grads, or tease out candid emotions. When not busy instructing the next generation of shutterbugs, David and Ally also devise photo safaris, which send small teams of photographers to capture shots of famed landmarks including San Francisco's Golden Gate Bridge; the Lincoln Memorial of Washington, DC; or Yosemite's 60-foot statue of Yogi Bear.
1333 NE MLK Jr. Blvd.
Portland
Oregon
---