Alpine, CA Outdoor Activities
---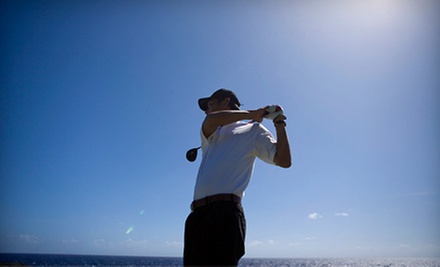 San Diego Country Estates
---
Recommended Outdoor Activities by Groupon Customers
---
Kayak and dive shop OEX La Jolla wrangles an experienced team of experts to escort patrons on scuba-diving and snorkeling tours. The shop as been lauded by publications including the Chicago Tribune for its exploration of the earth's watery expanses that offer glimpses of marine creatures such as sea turtles, sea lions, seals, dolphins, and cormorants. Kayak tours take paddlers out on a variety of adventures, including destinations such as seven sea caves, the paths of migrating gray whales, and underwater kelp forests. The PADI 5 Star–certified shop also rents out scuba-diving gear suitable for all experience levels, as well as kayaks, snorkel gear, surfboards, paddleboards, and saddles for baby belugas.
2243 Avenida De La Playa
La Jolla
California
US
858-454-6195
At La Jolla Water Sports, guides undergo extensive training before captaining snorkeling excursions into the calm, crystalline waters of the Pacific. The experts escort 6 to 12 patrons at a time on shark tours of the shallow, sandy flats where small-mouthed leopard sharks up to 5 feet long lounge on their easy chairs of sand. Snorkeling tours of the La Jolla cove grant participants, including beginners and kids, a siren's-eye view of rock formations, underwater flora, and marina critters including garibaldi fish, sea cucumbers, anemones, and starfish. The most action-packed of La Jolla Water Sports's offerings are the spearfishing tours in which leaders expound on the importance of safety and proper form as customers skewer fish before schlepping them home for dinner or as treats for pet grizzly bears.
1133 Coast Blvd.
La Jolla
California
619-788-6416
From his comprehensive dive shop, NAUI-certified scuba instructor Michael Simpson leads basic and advanced scuba courses as well as excursions into the deep unknown around the San Diego area. With the help of Simpson and his staff, Poseidon's Divers also organizes scuba-diving and snorkeling excursions that explore local aquatic gems such as caves, La Jolla Cove, wrecks, and beaches where groups may encounter playful seals, wildlife, and meditating octopi. Michael also gives surf lessons and cleans up the beach with the 1302 Dive Frogs, the dive club at Poseidon's Divers.
3735 Mission Blvd.
San Diego
California
US
858-568-2710
A surfing high-school teacher sounds like the stuff of wacky summer comedies. But for Rob Dubin, a teacher and surfer of several decades' standing, it's long been a reality. After discovering the core-strengthening sport during a visit to Hawaii, Dubin added standup paddleboarding to his areas of expertise and founded SUPstanding Paddle to share its serene pleasures. He draws on time spent on the waters of Costa Rica, Java, and Morocco to help his students build confidence, increase balance, and identify the spot where dolphins most like to have their bellies rubbed with a paddle.
111 Beach Club Dr.
Encinitas
California
760-436-5324
From the peaceful oasis of Camulos Farm—located on an 1,800-acre stretch of North County, San Diego—Sara Crafts dispenses equine knowledge amassed over a 40-year career to students ranging from novices to elite show riders. The facility boasts riding spaces surrounded by palm trees and flower bushes, set against views of rolling hills. During lessons, instructors review horsemanship principles, English and Western riding techniques, and safety measures, such as wearing a helmet and teaching horses not to play with matches. The farm also offers summer camps that provide kids with a comprehensive equine education and teach them about career options in the equestrian field.
1869 Adriana Ct.
Vista
California
760-484-6564
A crew of former athletes and passionate locals with a love for the outdoors wait beneath the bright-red awnings at each Bike & Kayak Tours location to guide more than 35 daily expeditions through the natural sights around San Diego. The 7 Caves and Ecological Reserve kayak tour sends paddlers on an expedition to a 75-million-year-old sandstone cliff with seven sculpted sea caverns that resound echoes in seven-part harmony. The La Jolla bike tour cycles past sightseeing destinations including the Pacific Beach Boardwalk and Crystal Pier. In the spring, snorkeling trips follow the seasonal migration of leopard sharks as students paddle in the shallow waters of the sandy flats with harmless predators.
2158 Avenida De La Playa
La Jolla
California
US
858-454-1010
---