Massage in American Canyon
---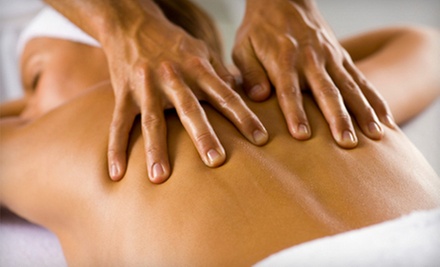 ---
Recommended Massage by Groupon Customers
---
Like the soothing syllables "tay", "ah", and "she" massage your vocal chords into a peaceful stupor, today's Groupon massages your body. For $45, you get a one-hour massage or a 45-minute foot massage at Teashi. It will return pristine humanity to your muscles and renewed energy through your blood stream. Reward your tired self for the endless blog posts you wrote about kittens and soup.Naturally, the world powers began jockeying for access to the potentially weaponize-able massage, by means both diplomatic and underhanded. Many international observers believe that the 1992 Summer Olympics were, in fact, a complicated ruse carried out by Russia and the United States to distract Sweden long enough to steal their massage, as evidenced by the fact that Sweden won an unexpected 904 Gold Medals that year. Still, the Swedes held tight to the massage until 1999, when Y2K-related fears caused Swedish officials to release classified details of the massage, believing that the world would likely end. Today, the Swedish massage is practiced all over the world, though rumors that the Swedes are secretly working on an even better massage run rampant.
2340 Polk St
San Francisco
California
US
Today's side deal kneads nefarious aches into a euphoric massage elixir of euphoric massage at Karuna Healing Arts. Owner Jennifer Chien's special brand of holistic bodywork is an individualized approach that helps heal hurts, relieve pain, and de-stress stressed stresses. An SF Examiner reviewer calls Chien's touch "equivalent to feeling the warmth of the sun after many days of rain."
2120 Market St #201
San Francisco
California
US
Swedish massage soothes and calms through a variety of strokes and manipulations, while the deep-tissue massage penetrates the muscles with consistent finger pressure to salve chronic accumulations of pain. Bliss Massage's clean rejuvenation space provides a peaceful sanctuary with a heated memory-foam massage bed where patrons can recharge and don a new suit of loosened, uninhibited self-assurance.
862 Folsom St.
San Francisco
California
Spirit of Health's trained massage therapist, Cara Schwartz, thwarts clients' swelling anxieties and bolsters their overall well-being through a variety of kneading techniques. During the one-hour hot-stone massage, smooth, basalt rocks thaw taut tissues and prepare bodies for adventurous volcano-exploring expeditions or checking a car's underbelly while on a volcanic mountain. Cara arranges the flat, heated rocks around spinal cords to slacken tight muscles before tenderizing them with nimble digits. Alternatively, patrons can luxuriate under the human touch during a hot-oil massage, which opens pore doors while making skin as soft as a windswept schnoodle.
21730 Stevens Creek Blvd. , Suite 104
Cupertino
California
Choose between one of three relaxing massage techniques including the deep tissue, Swedish, or signature. The deep tissue is a pressurized, full-body technique that seeks the deepest knots and unties them with the proficiency of a Boy Scout with adult hands. Go with the Swedish if you prefer traditional, long strokes tied to a gentle muscular overhaul. The signature treatment includes a total body pampering with extra attention given to comforting the hands and feet using heated spa treatments.
377 Santana Row, Suite 1060
San Jose
California
Give backs a wicking and limbs a tickling with a soothing massage that lasts for sixty golden minutes inside Nailphoria Day Spa's stress-melting confines. Kick back and extend out, offering extremities to the graceful hands of a skilled muscle molder that will provide an informative consultation before and after kneading body dough. Opt for the long, soothing strokes of a Swedish massage, the focused, tension-blasting pressure of a deep-tissue massage, or the muscle-rejuvenating touch of a sports massage. A foot-reflexology massage transforms stiff soles into loose and limber shoe-fillers, similar to squirrels snoozing in a pair of fermented pumpkins.
1212 Broadway , Suite 910
Oakland
California
---