Things to Do in Ames
---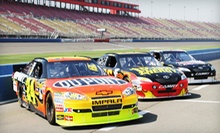 Professional drivers sate passengers' need for speed in stock cars during exciting ride-alongs and racing experiences
---
Recommended Things to Do by Groupon Customers
---
Blank Park Zoo educates the public about the wonders of the wild by re-creating far-flung habitats and ecosystems that house more than 1,000 animals and 104 different species ranging from Siberian tigers to hissing cockroaches. Zookeepers lead special behind-the-scenes tours of the indoor rainforest or the African barn to establish deeper connections between people and animals without forcing them to read each other's dream journals. Both of these exhibits include hands-on feedings that allow humans to go face-to-face or nose-to-beak with hungry giraffes and parakeets. Recent new arrivals welcome curious kids to commiserate with the growing pains and early bedtimes of young wallabies, camels, and seal pups, setting a foundation for learning that may be continued in classes designed for those aged 6 months to 5 years.
In addition to raising awareness about the environment, Blank Park Zoo contributes to conservation efforts to preserve the future of native animals and their natural homes. The zoo participates in seven endangered-species breeding programs and donates a portion of admissions proceeds to several different wildlife initiatives.
7401 SW 9th St.
Des Moines
Iowa
Sticks sprung from humble origins when, in 1992, Sarah Grant began carving ornaments and candlesticks from birch, poplar, and driftwood in a small studio in Des Moines. As her work began to attract national interest and demand for it grew, Sarah enlisted the aid of other local artists and expanded her inventory to include handcrafted heirloom-quality furniture, whimsical sculptures, and intricate keepsakes.
Today, the artists' work is showcased in more than 100 galleries across the country. Their installation projects have even decorated the walls of Blank Children's Hospital, the Animal Rescue League of Central Iowa, and the student center at Iowa State University.
Sticks artists can often be spotted by the shores of local rivers, gathering driftwood for their work. They assemble the wood into custom-designed tables, beds, and armoires within their spacious, light-filled studio before painting them with colorful, whimsical designs, from smiling suns and moons to lush landscapes. The versatile artists even take their tools and paintbrushes to homes, businesses, and underground mad-scientist labs to craft custom art installations and interiors.
5445 Mills Civic Pkwy.
West Des Moines
Iowa
515-222-5930
After selling his farm-equipment business in 1972, Dale W. Brady sought the counsel of his three sons to determine what should be done with the 200-acre plot of land originally used for testing out his new products. The three resolved to turn their land into a golf course. After a test green survived the winter and they earned the blessing of the region's lawn-mower king, son Tom devised a layout from an aerial drawing and the team set to work, sculpting the rugged earth and opening the course in August 1973. A family-run enterprise ever since, the course bobs and weaves over 6,224 yards of rolling terrain that feature sparse tree lines, water hazards in play on five holes, and scenic views of the verdant landscape.
Since its relatively humble beginnings, Toad Valley Golf Course has grown to include a full-length driving range and the Field of Greens Mini Links, an 18-hole miniature-golf course that challenges players with realistic putting surfaces, including bunkers, water hazards, and contoured greens. The range's grass tees offer practice on an organic surface similar to course conditions, and the putting surfaces emulate the tricky slopes of real greens and even include rough, sand traps, and water features that add to the scenery and allow putters to bob for wayward golf balls.
Course at a Glance:
18-hole, par 71 course

Length of 6,224 yards from the farthest tees

Course rating of 69.1 from the farthest tees

Slope rating of 114 from the farthest tees

Four tee options

Link to scorecard
237 NE 80th St.
Pleasant Hill
Iowa
515-967-9575
Cedar Pointe Golf Course's 18-hole layout unfurls across 6,647 yards of pristine fairways cleaved into a landscape of mature trees and rough-side waterways. The course eases golfers into the round with eight relatively straightforward holes before testing swings at the ninth hole, where tee shots must clear a pond on their multishot journey to a windswept flagstick 543 yards in the distance. The intervening water at the end of the front nine foretells an upsurge in aquatic obstacles in the course's second act, where a slender pond runs between the 12th and 13th holes and two ponds loom menacingly at the junction of the 10th, 11th, and 18th holes, tempting many hydrophobic golf balls to forge doctor's notes allowing them to stay in the dry bag. An adjacent driving range prepares players and gun-shy three-woods before the round, and a revamped clubhouse and bar await just beyond the 18th green, where pin-hunting posses can recap their round over a frothy beverage.
Course at a Glance:
18-hole, par 72 course

Length of 6,647 yards from the farthest tees

Course rating of 71.1 from the farthest tees

Slope rating of 120 from the farthest tees

Four tee options

Download scorecard
601 S Cedar St.
Boone
Iowa
515-432-6002
---