Theme & Amusement Parks in Amesbury
---
Theme & Amusement Park Deals
---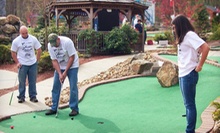 Miniature links surrounded by trees with nine water features, 12,000 square feet of new carpets, and a 201-foot-long 13th hole
---
Recommended Theme & Amusement Parks by Groupon Customers
---
Click above to buy tickets for Jonny Lang, August 9, 7:30 p.m. Click on the links below for tickets to other performances.
130 Sohier St.
Cohasset
Massachusetts
US
Buckle into the transformative vests and prepare to be transported into another dimension. Laser tag is an affordable way to live out video-game dreams, work out tensions with your roommate, or live out your fantasy of starting a ragtag militia of space marines with Erik from accounting. Instead of cartoon re-runs, treat the kids you babysit or your actual kids to a more active adventure for the imagination. Get a small group together and make it a social excursion—laser tag is great for double dates, office outings, or post-dental cleaning parties.
330 N Main St.
Randolph
Massachusetts
At Paradise Mini Golf, friends and families guide colorful golf balls through an 18-hole oasis of zigzagging putting greens and tropical obstacles. The course's river exposes orbs to the treachery of a flowing stream on multiple holes, and a 35-foot-tall tree house gives local birds a chance to cheer on putt-putters or stock up on nourishing golf balls for winter's hibernation. After a round, golfers can stop by the koi pond and feed the fish at the feeding station or visit the ice-cream stand. Visitors looking to expand their golf game beyond the mini domain can drop by the Paradise Driving Range to hone lengthier swings.
25 Lonergan Rd.
Middleton
Massachusetts
978-750-4653
Pump It Up's indoor inflatable arenas launch socked striplings into the air with a plethora of kid-friendly bounce pads. Staffers supervise fun-filled visits, during which adult counterparts leap around with their kids through gargantuan bounce houses, skip down air-filled slides, and slither like snakes covered in bacon grease through an inflated obstacle course.
The colorful venue also hosts custom birthday parties and private team parties, each themed to please the partygoers in question. These soirees immerse children in a schedule of interactive activities befitting a pirate or a superhero while melting off youthful energy faster than ice cubes thrown into a running DVD player. The birthday boy or girl even gets to blow out the candles on their cake seated in their blow-up throne. Occasionally, the staffers switch off the lights, arming the roomful of players with glow sticks and bracelets as they navigate the air-cushioned obstaclescape. Relying on the staffers' vigilant, watchful eyes, guardians can rest assured that their charges will stay safe, and each piece of the inflatable playground is held to the floor and ceiling by a complex series of anchors installed according to strict safety standards.
Pump It Up, 5 B Webster Street
Peabody
Massachusetts
978-532-5867
Jump Trax's menagerie of inflatables plays host to kids of all ages for parties and open-play sessions. Sock-footed youngsters can explore two climate-controlled arenas filled with bounceable attractions, such as Spongebob's pineapple house and a prehistoric obstacle course overseen by a tyrannosaurus rex. Other activities abound, such as tyke-sized push cars, a slide shaped like the Batmobile, or an inflatable Scooby Doo Mystery Machine. To prevent the inflatables from becoming vitamin D deficient, Jump Trax's location is used for block parties, barbecues, and birthday parties. Their menu consists of pizza and sodas, as well as goodie bags. Check out their FAQ for more info.
1245 General Edwards Hwy.
Sharon
Massachusetts
781-793-9500
At the center of The Water Hazard Mini Golf's three-acre course, a 35-foot geyser erupts, knocking away incoming golf balls and sprinkling sun-baked putters with a refreshing mist. The expansive course owes many of its obstacles to the natural layout of the Holliston landscape. Flourishing bushes sit between holes and three large ponds break up the terrain while giving golfers glimpses of the sunbathing turtles and soft-shoeing frogs dotting its banks. A waterfall system nearly 500 feet in length also meanders throughout the property. Rolling hills, ridges, and a grand 120-foot slope also challenge golfers. The Water Hazard Mini Golf also features a full-service concession stand, which serves hot dogs, hamburgers, and homemade ice cream from Bliss Dairy.
750 Concord St.
Holiston
Massachusetts
508-740-0014
---