Fitness Classes in Amherst Center
---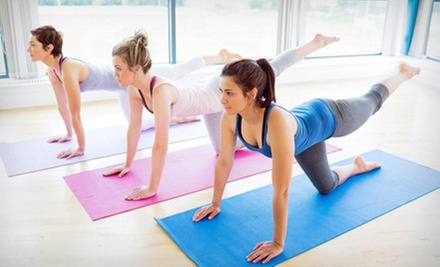 ---
Recommended Fitness Classes by Groupon Customers
---
After Brian Ayers earned his degree in fitness management and went to work in a corporate fitness setting, he discovered a new kind of training—one that involved challenges such as boxing, mud races, and obstacle courses. "I moved away from using machines and dumbbell exercises to exercises that will get people in shape for more athletic things," he says. In June 2011, he decided to open a studio dedicated to the philosophy of embracing challenge, and Rugged Fitness was born.
Traditional machines do not exist at Rugged Fitness. Instead, there's plenty of space for boot-camp workouts, a pull-up area with TRX bands, and 11 heavy bags for boxing classes, which never exceed 11 pupils. Outside, giant tires patiently wait to be lifted and flipped, and an obstacle course with monkey bars, army-crawl netting, and a climbing wall dares visitors to push themselves to their limit. During the interval-based boot camps, students might heft sledgehammers one minute and drop for pushups the next. Because activities focus on increments of time, rather than specific weights or numbers of reps, everyone can calibrate the exercises to their ability level. And the students do have a range of abilities—some are fitness aficionados, whereas others are complete beginners, and one student dropped more than 100 pounds.
To challenge and encourage students, Brian gathered a staff of experienced coaches, which includes a former professional boxer and an amateur mixed-martial-arts fighter. "Our coaches are all very hands-on," he says, "Everything they they're putting you through, they've done. It's not just someone sitting back with a cheeseburger telling you to do pushups." That spirit of camaraderie extends throughout Rugged Fitness's clientele. "You're all struggling through these crazy workouts we're going to put you through," Brian says. Even outside the gym, members frequently band together to complete mud runs, obstacle courses, and marathon Macarena sessions.
To supplement the classes—which include kickboxing, kettlebell conditioning, and the once-a-week Rugged Boot Camp challenge—the trainers offer one-on-one nutrition counseling. An online nutrition program helps steer guests toward healthier diets, analyzing what they're eating based on the calories, nutritional components, and number of Flintstone vitamins hiding in foods.
1870 Berlin Tpke.
Wethersfield
Connecticut
860-436-9777
Though Fitness By Design houses a collection of cardio and weight-training equipment, it isn't a typical gym. Rather, it's a workout studio, where personal trainers and clients meet in private areas to strive toward fitness goals free from the crowds and exhausted dumbbells associated with larger venues. Besides one-on-one coaching, the team of trainers can also provide custom nutritional plans and illustrated workout regimens. Their 5K race prep helps newcomers dart with confidence, as a Boston Marathon–qualified trainer guides runners through plans and then runs races alongside them.
1263 Berlin Tpke.
Berlin
Connecticut
860-828-5851
The Cardio Corner's nine certified instructors propel exercisers toward fitness goals during classes teeming with kickboxing moves, Latin-inspired dance steps, and other dynamic methods of sculpting the physique. During cycling classes, they help up to 12 stationary riders envision the towering hills, freeing descents, and detours through enemies' flower gardens that are fundamental to an outdoor bicycle ride. Filled with deep breaths and slow, graceful poses, all-levels yoga classes provide a calming alternative to cardio classes' vigorous tempos.
173 Grove St.
Worcester
Massachusetts
No matter the weather outside, the conditions are always right at Extra Innings, a 15,000 square foot indoor baseball and softball training facility. The facility includes four batting and pitching tunnels, each of which is 70 feet in length and equipped with an adjustable pitching machine, an L-screen for live batting practice, and a pitching mound. If players want more help, they can turn to Extra Innings' instructors, many of whom are former or current professional players and college all-stars. These experts use a uniform step-by-step teaching system to help students develop their swings, improve their fielding, and learn to only exclaim "I got it!" if they're about to catch a fly ball or have just been told a joke. For a break, players can visit an on-site pro-shop full of name-brand gear, or they can even arrange a shindig in the party area to celebrate birthdays and special victories.
38 Southbridge St
Auburn
Massachusetts
US
508-459-2269
Facilities at the more family-orientated Powerhouse Gym and Family Fitness enlist nurturing personal trainers to man their workout floors and group classes, which run the gamut from intense Les Mills routines to rhythm-fueled Zumba sessions. In line with the Powerhouse Gym credo, employees strive to foster each member's individual strength, whether they want to complete a single pull-up or do so while dangling from the tusk of an enraged mammoth. To make working out more enjoyable and convenient, amenities such as mounted TVs and childcare stations might complement the throngs of cardio and strength machinery at varying locations.
37 Sutton Rd.
Webster
Massachusetts
US
508-949-0100
At Studiomixx, owner and trainer Shandi Rooney applies the principle of muscle confusion—adding variety to a workout's exercises—to help her students avoid plateaus as they evolve through her intense, calorie-burning Mixx fitness classes. Her main class, Mixx, keeps muscles guessing and stimulated under the influence of Pilates, yoga, and callisthenic exercises. Rooney, who has trained with Bravo channel personal trainer Jackie Warner and _The Biggest Loser_'s Jillian Michaels, also offers a handful of spinoff classes such as Mixx Lite for less advanced students, CardioMixx, and Circuit Mixx, as well as grueling, detoxifying Xtreme Barre classes that can burn hundreds of calories per session, or one pile of freshly raked leaves.
146 Mill Street, Berlin
Berlin
Connecticut
US
---