Yoga in Amherst Center
---
Recommended Yoga by Groupon Customers
---
"Torture chambers"—that's how many students of Bikram Yoga would describe the studios where they practice their craft. It's an apropos name for places set at a blazing 105 degrees that feature students twisting their bodies into 26 yoga postures. However, these hatha-inspired positions heal rather than hurt; as students flow through the therapeutic positions, the simmering heat soothes away chronic aches, boosts flexibility, and encourages everything from increased circulation to healthier lymphatic flow.
230 Farmington Avenue
Farmington
Connecticut
US
860-674-8098
Quiet is the first stop on the road to inner peace, according to Ramona Crabtree-Falkner, owner of Ananda Center for Yoga and Massage, LLC. At her tranquil studio, clients engage in active modes of relaxation such as yoga and passive forms such as massage therapy and reiki. During private and group yoga instruction, students venture inward by pairing deep breathing and meditation with ancient poses that stretch and strengthen the body. One-on-one sessions propel yogis toward specific goals such as weight loss and injury recovery, and group classes build community while releasing recently acquired stress and eye rolls stored up since high school. Bodywork services spotlight therapies from around the world, including the long, gliding strokes of Swedish massage and the stretches and acupressure of Thai foot reflexology.
41 Russell St., Suite F-3
Hadley
Massachusetts
US
413-563-6314
Although Ananda Yoga's introductory classes begin by teaching new students how to master the fundamental asanas, the studio's practice strives to promote more than physical development. Self-actualization and personal, spiritual growth lay the foundation, and the instructors help attendees work toward these goals by incorporating enlightening affirmations, breathing exercises, and centering meditation into the classes. These classes may vary in physical intensity as advanced students challenge their strength and stamina with deeper, longer stretches, but each sequence encourages the attendees to focus on their mind-body connection and calm their thoughts while trying to remember the middle name of their kindergarten teacher.
41 Russell St., Suite F-3
Hadley
Massachusetts
US
413-563-6314
At Ananda Yoga Scotts Valley, permanent and visiting teachers welcome students of all ages, abilities, and body types. The non-profit studio hosts classes such as private sessions, those that are coupled with meditation, and chair yoga. Additionally, the studio also hosts open hours, where guests are welcome to explore calm and peace in their own practice.
41 Russell St., Suite F-3
Hadley
Massachusetts
US
413-563-6314
---
---
Yoga Deals - Recently Expired
---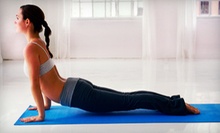 Yoga-loving couple helms friendly studio filled with calming Hatha poses, vigorous Vinyasa sequences & core-bolstering Pilates exercises
---
---