Yoga in Amherst Center
---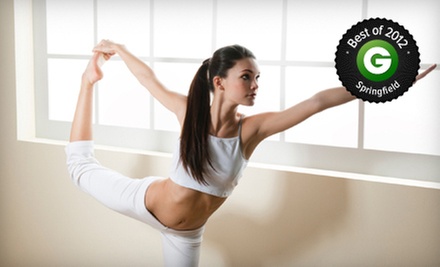 ---
Recommended Yoga by Groupon Customers
---
Armed with certifications from the celebrated yoga guru, Bikram Choudhury, Bikram Yoga Glastonbury's band of yoga instructors guides students of all abilities through the 26-posture practice. Students begin the 90-minute workout with a deep-breathing exercise before moving into a sequence of standing and seated postures designed to improve strength, flexibility, and balance. Balmy temperatures help students sink into deep stretches, eliminate harmful toxins from the body, and keep confrontational snowmen at bay. Though challenging, students of all experience and fitness levels can tailor the poses to meet their needs, with the idea that through dedicated practice, students may see a decrease in weight, improved sleep, and greater flexibility.
31 Concord St.
Glastonbury
Connecticut
At Second Wind Yoga, students unroll their mats in a carpeted studio lit by soft lamps. Instructors walk them step by step through the poses and breath work of various styles, including Hatha, Vinyasa, and gentle yoga. They also offer chair yoga and hot yoga, whose high temperatures induce sweating to help flush out bodily toxins.
327 Walnut St.
Agawam
Massachusetts
413-363-2326
"Torture chambers"—that's how many students of Bikram Yoga would describe the studios where they practice their craft. It's an apropos name for places set at a blazing 105 degrees that feature students twisting their bodies into 26 yoga postures. However, these hatha-inspired positions heal rather than hurt; as students flow through the therapeutic positions, the simmering heat soothes away chronic aches, boosts flexibility, and encourages everything from increased circulation to healthier lymphatic flow.
230 Farmington Avenue
Farmington
Connecticut
US
860-674-8098
Quiet is the first stop on the road to inner peace, according to Ramona Crabtree-Falkner, owner of Ananda Center for Yoga and Massage, LLC. At her tranquil studio, clients engage in active modes of relaxation such as yoga and passive forms such as massage therapy and reiki. During private and group yoga instruction, students venture inward by pairing deep breathing and meditation with ancient poses that stretch and strengthen the body. One-on-one sessions propel yogis toward specific goals such as weight loss and injury recovery, and group classes build community while releasing recently acquired stress and eye rolls stored up since high school. Bodywork services spotlight therapies from around the world, including the long, gliding strokes of Swedish massage and the stretches and acupressure of Thai foot reflexology.
41 Russell St., Suite F-3
Hadley
Massachusetts
US
413-563-6314
At Ananda Yoga Scotts Valley, permanent and visiting teachers welcome students of all ages, abilities, and body types. The non-profit studio hosts classes such as private sessions, those that are coupled with meditation, and chair yoga. Additionally, the studio also hosts open hours, where guests are welcome to explore calm and peace in their own practice.
41 Russell St., Suite F-3
Hadley
Massachusetts
US
413-563-6314
Before a month of yoga trains your muscles to massage themselves while at rest, you can use a massage to get your mind and body in the right frame of relaxed existence. Depending on your choice of a one-hour Swedish or one-hour deep-tissue massage, one of Ananda's certified massage therapists will knead, rub, smooth, and stimulate your muscles with varying levels of pressure and intensity, preparing both your spiritual and corporeal forms for a triumphant warrior pose during class.
41 Russell St., Suite F-3
Hadley
Massachusetts
US
413-563-6314
---