Restaurants in Anacortes
---
Recommended Restaurants by Groupon Customers
---
Raincity Grill's chefs embrace the essence of British Columbia by forging seasonally rotating menus with the region's organic and locally grown crops. They regard their cuisine as "a tribute to the local farmers, fisherman and producers" from whom they source their ingredients, highlighting the farm-fresh vegetables and proteins in meals that Zagat rates as "very good to excellent." Though the menu changes, dishes may shine a spotlight on wild salmon in carrot sauce, dry-aged bone-in rib eye, or pappardelle pasta with wild and cultivated mushrooms.
The restaurant's signature 100 Mile tasting menu almost exclusively incorporates ingredients from within 100 miles, the exact distance that the prep chefs can rollerblade in one day. Even the wine selection consists almost entirely of carefully vinted bottles from the Pacific West Coast. By partnering with the Vancouver Aquarium's Ocean Wise conservation program, the chefs also demonstrate their commitment to sustainable seafood and environmental responsibility.
1193 Denman St.
Vancouver
British Columbia
Canada
604-685-7337
Mad Magazine's freckled mascot, Alfred E. Neuman, once said: "We are living in a world today where lemonade is made from artificial flavours and furniture polish is made from real lemons." This quote can be read at the top of Sauce Restaurant and Lounge's menu, whose many dishes, which span small and large plates meant for sharing, serve as evidence of the eatery's commitment to serving natural, seasonal ingredients from local sources. The evening tapas menu hits every major food group: startch, beef, veggies, poultry, and seafood. Guests share bites of phyllo wrapped brie and a bistro chicken sandwich, which stars the poultry of island farmouse in cowichan bay. The kitchen also prepares brunch every Sunday, fortified by steaming mugs of Oughtred Coffee.
1245 Wharf St.
Victoria
British Columbia
250-382-8662
With its soaring 15-foot ceilings, Show Case Restaurant and Bar evokes images of airy cathedrals where guests dine on white tablecloths among a wall of windows, white oak pillars, and spindly floor lamps. In contrast to the streamlined dining room, chef Frank Gort prepares a complex, exotically spiced menu of upscale fare. He and his kitchen crew drizzle succulent cuts of beef tenderloin and free-range chicken with flourishes such as a lemongrass kefir emulsion, which ties each bite into an artistic and decadent package. Additionally, the restaurant uses Ocean Wise-approved sustainable seafood almost exclusively. The restaurant is also open for breakfast and lunch, whose menus take the stage with the same emphasis on unique flavour combinations.
1128 W Hastings St.
Vancouver
British Columbia
604-639-4040
The chefs at Red Pagoda Bistro stock platters with savoury tastes of Asia, including spring rolls, chicken and pork brochettes, and vermicelli salad. Diners also hover over steaming bowls of Vietnamese pho, known to clear the respiratory system faster than a fledgling comedian clears a banquet hall.
1408 Commercial Dr.
Vancouver
British Columbia
604-569-1919
Sporting the half-timbered siding and narrow windows of the traditional English Tudor style, the Tudor House Pub provides a nostalgic neighbourhood meeting place for diners and revellers. The kitchen staff concocts traditional English and Scottish recipes, which grace tables alongside dishes with American, Thai, and Japanese influences in an eclectic mélange as multicultural as the contents of the U.N.'s vending machines. Traditional pub snacks sate small appetites, and dishes containing high-profile ingredients such as AAA sirloin beef assuage more persistent hunger pangs. Sports games regularly grace TVs, and the pub's space hosts live DJs on Wednesday and Friday nights, free-for-all karaoke on Thursday, and live bands playing varied musical genres on Saturdays. Tudor House Pub's adjacent licensed liquor store stocks bottles of spirits and grants discounts to active and retired military members.
533 Admirals Rd.
Victoria
British Columbia
250-382-5625
New executive chef is preparing to debut a new dynamic menu featuring upscale pub food for breakfast, lunch, and dinner. The West Coast Tap House plans to continue it's already prestigious reputation, selected one of the Times Colonist's favourite restaurants in 2010, by offering a menu of items prepared by one of the most talked about chefs in Victoria.
Tall leather chairs encircle the tap house's large bar, whose centre is wrapped in flatscreen TVs. Hockey jerseys adorn the walls, a fitting touch for a bar that claims to have Wayne Gretzky's favorite spaghetti and meatballs—which are actually meat pucks.
829 McCallum Rd.
Victoria
British Columbia
---
---
Restaurant Deals - Recently Expired
---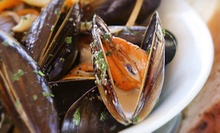 This astrology-inspired restaurant and music lounge serves a menu of mussels, pizza, pasta, and specialty burgers
---
---