Anaheim Spa and Massage
---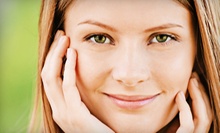 Therapists use Swedish, deep-tissue, shiatsu, and sports techniques to relax bodies; a custom facial leaves skin healthier and brighter
---
Recommended Spa & Massage by Groupon Customers
---
Some say not to judge a book by its cover, but others say a carefully covered romance novel is the ticket to a thrilling train or airplane travelsperience. Dust your cover's corners with today's deal: a European facial at Mi Medical Rejuvenation Center in Chino Hills. Mi's staff of highly trained aestheticians combine personalized care with the latest techniques and products to revive and restore skin.
4200 Chino Hills Parkway, Suite 910
Chino Hills
California
Like bonsai trees, eyebrows require loving attention and skilled care if they're to shade a face with beautiful good fortune. The talented brow artists at Vinita's Beauty and Threading Studio won the 2009 honors of Best Cheap Brow Job from Los Angeles magazine. The cleanly kept salon utilizes safe and sanitary threading practices to quickly shape and exfoliate the brow without using chemical solutions or hot wax. Threading is a gently administered ancient art that lasts longer than other shaping techniques and won't leave you with sore side effects such as bumping and redness. Skilled brow stylists rave that the technique gives them more control than waxing and delivers a more precise look.
16426 Beach Blvd.
Huntington Beach
California
The Chinese mapped a network of channels through which energy, or qi, flows through the body. Tentatively naming it The Inter Net before discarded the name as silly, practitioners discovered that an uneven or dammed flow of energy through a channel could cause disease, pain, and sprinkles. By inserting small, thin needles in particular points where this natural energy has backed up, licensed and highly trained acupuncturist "Yuki" Itaya Martin can restore a healthy flow from toenail to eyebrow. This treatment includes a complimentary assessment to determine your exact needs and an application of aromatic essential oils.
2500 Alton Pkwy. , Suite 208
Irvine
California
Skin Perfect's hair-despising laser was sent back through time to terminate unwanted hair quickly and safely using handcrafted photons that harmlessly pass through the skin to directly dissipate hair follicles. Technicians can evict pesky hair from the bodily zones of both men and women with high precision. They handle light lassos like hair-wrestling cowpokes, with each beam carefully calibrated for empathy and small talk. Laser hair removal often bequeaths a longer-lasting hairlessness than waxing or shaving, and while not completely painless, it's less painful than laser hair addition.
6501 Greenleaf Ave.
Whittier
California
The experienced staff at Nova Vita Salon and Spa banishes hair from delicate epidermal regions with quick and effective waxing sessions. Clients recline as a skin-smoothing specialist paints skin with warm wax and uproots hair in a fluid motion reminiscent of a segway barreling down newly waxed floors. Post-waxing, smoothed skin can don skimpy bikinis without fear of stubble or straggling hairs making an appearance. Regular waxing can erode and damage hair follicles over time, dispiriting them until they've given up their dreams of future hair growth and admittance into '80s hair bands. Clients must redeem both waxing sessions within 60 days of activation, streamlining the benefits of satiny smoothness.
13011 Newport Avenue
Tustin
California
714-832-8900
Latisse is an FDA-approved prescription drug that was developed to treat inadequate eyelash growth; be sure to carefully review the safety information on the Latisse website. If Celibre's experienced medical professionals and beauty wranglers decide after your initial consultation that the Latisse treatment is not suited for you, a full refund will be offered, or you can use the $99 you spent for the Groupon toward another service at the office. Celibre's eyelash consultants can spot a Latisse candidate from across the street—though they conduct a comprehensive exam attentive to your individual needs and eyelash dreams just for the fun of it.
431 S Batavia St., Suite 202
Orange
California
---