Restaurants in Anchorage
---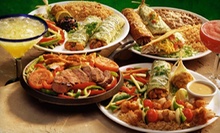 Carne asada made with new york strip steak and tender carnitas simmered for four hours pair with housemade margaritas
---
Recommended Restaurants by Groupon Customers
---
Kinley's Restaurant & Bar's loyal patrons often confide to owner and head chef Brett Knipmeyer that his almond-crusted halibut all but guarantees return visits. As such, Brett keeps the dish a constant on his menu, which changes twice yearly and has earned the eatery a place on Gayot's 2012 Hot 10 Anchorage Restaurants. Named after Brett's daughter, Kinley's contrasts crisp white tablecloths with vibrantly colored and spiced plates of fish, lamb, duck, and filet mignon. Fresh oysters, ahi tuna, calamari, and crab all find their way onto starter plates, which patrons complement with bottles, flights, or antique thimbles of wine or with sips from an extensive catalogue of seasonal and specialty beers.
3230 Seward Hwy.
Anchorage
Alaska
Frommer's described the food at Sacks Cafe And Restaurant as "terrific," saying, "the cuisine defies categorization but is consistently interesting and creative." It's an impressive achievement for an eatery that switches up lunch and dinner options on a daily basis, offering hearty sandwiches, local-seafood entrees, and plenty of vegetarian and meaty choices.
Diners perched at the tables or tapas bar also feast on weekend brunch options such as poached eggs on crab and scallop cakes and omelets clutching tiger prawns or Alaska-reindeer sausage. Mimosas with freshly squeezed orange juice and freshly popped champagne make getting out of bed almost as easy as not getting out of bed.
328 G St.
Anchorage
Alaska
Since 1989, Phyllis's Cafe & Salmon Bake has injected their traditional steakhouse lunches and dinners with local Alaskan charm. Elk, buffalo, and reindeer meat are served alongside traditional steaks and burgers and a selection of large salads that provide a lighter meal. Seafood ranges from the eatery's eponymous salmon—in red, silver, and king varieties—to their signature chowder, infused with clams, hearty chunks of halibut, shrimp, and crab and served in a sourdough bread bowl. Alaskan beers, along with wines culled from the Pacific Northwest, round out meals with coastal flavors more robust than the area beaches' palate-cleansing sand.
436 D St.
Anchorage
Alaska
A third-generation Alaskan native, Mike Dodge is proud of his roots through and through. This dedication shines through in his cooking; he insists on using as many fresh and local ingredients as possible in order to support Alaskan businesses. Yet as the executive chef and owner of Hott Stixx, Mike isn't afraid to look elsewhere for inspiration. He often blends his local raw materials with recipes plucked from all over the world. His appetizer selection—including ginger black-bean tacos, steamed pork buns, samosas, and spicy thai peanut wings—provides insight into the eclectic assortment of dishes. Incorporating international flavors throughout his menu, Mike also uses cooking techniques he learned from his parents, who taught him at a young age to cook baby formula from scratch.
525 W 4th Ave.
Anchorage
Alaska
907-276-7116
The chefs at Ruby's Cafe pepper their menu with a delicious mish-mash of dishes starring the tastes of both Asia and America. Brimming with cabbage and mushrooms, Chinese specialties such as mu shu pork and shanghai spring rolls fortify meals with garden-grown vitamins as the works of featured artists chime in with appetizing splashes of color. Steaks range from a petite filet mignon drizzled with savory truffle oil to a hearty cowboy rib eye saddled with blue cheese and onion straws. Before plunging into lunch or dinner, palates can bask in pints of local beer, cups of Japanese sake, or dunk tanks of wine from around the world.
101 W Benson Blvd., Suite 101
Anchorage
Alaska
907-339-9393
At Chiang Mai Ultimate Thai Restaurant, it's all about finessing four fundamental flavors: hot, sour, sweet, and salty. When in balance, these elements forge the cooking styles common to Thailand and Southeast Asia––and to Chiang Mai Ultimate Thai Restaurant. The restaurant has recently revamped its lengthy menu, which is populated with a slew of curry, fried rice, and seafood dishes. Long, faux-marble tabletops on wooden legs bare steaming housemade soups, as well as morsels of fresh lamb, duck, and scallops over stir-fried noodles. After sopping up the last of a traditional curry entree, patrons can recline in a cozy velvet booth to enjoy homemade banana dumplings or build a log cabin out of chopsticks to avoid ever having to leave.
3637 Old Seward Hwy.
Anchorage
Alaska
---