Professional Services in Anderson
---
Professional Service Deals
---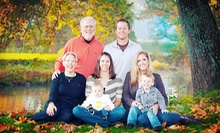 An accomplished photographer stages stunning family portraits inside or outside the studio's idyllic estate
---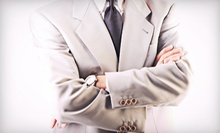 Dry cleaning for clothing including pants, blouses, skirts, two-piece suits, and dresses
---
Recommended Professional Services by Groupon Customers
---
Capable of charming vampires into appearing on fillm, Mandy Leonards is, as the name suggests, the primary photographer at Mandy Leonards Photography, though she sometimes works with her husband Jerry, also a professional soul-stealer. Her specialties include engagement and family photography, and as a result, she's versed in numerous human prototypes, from nervous high-school seniors to surly babies. Her goal is always to get to know her subjects, weaving personalities through image pixels with the craft and skill of a bearded, robe-clad alchemist. With today's Groupon, the eagle-eyed experts at Mandy Leonards Photography will immortalize a group of up to six people in your prints or imbue your solo shots with all the soul and personality needed to convince commercial casting agents you'll be great at selling sodas and cereals.
9458 Tanhurst Dr.
Indianapolis
Indiana
Staff members process thousands of items per day, meticulously preparing each suit, dress, or newspaper hat for next-day pickup. The economical venture even earned a visit from Scott Jones of Fox 59, who spoke with employees and several satisfied customers in a brief news clip.
7007 US Rte. 31 S
Indianapolis
Indiana
317-865-2500
At its three locations, Martinizing Dry Cleaning gives linens and clothes no excuse to remain unbathed thanks to a mélange of grime-obliterating services. Caked-on dirt and hotdog-shaped mustard stains leap from blouses, skirts, and suits thanks to a waterless solution that leaves garments pristine. Martinizing Dry Cleaning's team of experienced and meticulous cleansers handles each task with care, preparing newly revivified items for pickup, delivery, or teleportation.
7049 Yankee Rd.
Liberty Township
Ohio
Astra Creative Photography & Design's newly-married founders, Tabitha and Armando, team up with camera sharpshooters to capture weddings, families, high-school seniors, and newborns with a fashion-inspired photojournalistic style. On-location or in-studio, the team creates richly saturated and detailed images using selective focus, creative compositions, and expert lighting—techniques that they expound on during workshops. They then transform the collected photographs into custom books, retouched digital images, and prints that patrons can display on living-room walls or paste into history books.
622 S Rangeline Rd., Suite U
Carmel
Indiana
317-603-4460
Artistic pursuits eat up most of Janné Peterson's time each week. That's because she's an elementary art teacher with a master's degree in graphic arts, fine arts, and art education; a specially trained portrait artist belonging to the Professional Photographers of Ohio; and the founding photographer of Janné Photographics. Janné snaps family portraits with a contemporary style, capturing loved ones linked arm-and-arm against the rich colors of scenic outdoor expanses where many of her on-location shoots take place. In studio, Janné makes use of colored backdrops, lighting setups, and talcum powder-scented air fresheners that cater towards baby photo sessions.
5628 Liberty Pass Dr.
Middleton
Ohio
Think of boudoir photography outfits and you probably think of lingerie. And though there are plenty of black lace corsets and fishnet stockings on display in the Haute Mama Photography gallery, there are also less conventional choices: a loose men's dress shirt and tie, an off-the-shoulders motorcycle jacket, even a strategically placed basketball that serves as a sort of top. It's partly a reflection of the diversity of the photos' subjects, whose figures range from slender to voluptuous, and partly a testament to the creativity of studio owner Leah Severson, who has designed it so that even the studio's most basic package allows for multiple outfit changes. Severson has so thoroughly mastered the boudoir photo business that she holds both group workshops and one-on-one mentoring sessions, during which she shares with other photographers tips for posing subjects, establishing the right mood for shoots, and getting their work to appear on the first page of Google results without taping anything to their monitors.
2223 W 166th St.
Westfield
Indiana
317-867-3723
---