Ann Arbor Outdoor Activities
---
Recommended Outdoor Activities by Groupon Customers
---
A skydiver descends toward the earth, his red-and-white parachute contrasting against a picturesque scene of azure sky and the springtime grass. It's just another day at Skydive Tecumseh, where instructors have been taking first-time jumpers and experienced skydivers on exhilarating freefalls for nearly 50 years. Manning aircrafts such as a Quest Kodiak and a Cessna 182, Skydive Tecumseh's flight team ushers parties 7,500 feet into the clouds for tandem and solo jumps that reach speeds of up to 120 miles per hour, much like a cheetah on roller skates. A drop zone with three separate landing areas awaits skydivers on the ground, and a picnic area allows visitors to watch their friends glide safely back to earth. In addition to organizing jumps, the instructors—all certified through the United States Parachuting Association—operate a ground school, where they help clients earn skydiving licenses.
9305 Tecumseh-Clinton Hwy.
Tecumseh
Michigan
A hundred paintball warriors in Spartan gladiator costumes hoist their shields and eye the horizon. In the distance, countless enemies play the role of the Persian army, waiting, believing victory is assured due to sheer force of numbers. But the Spartans don't give up so easily, and in the true spirit of their historical forbears, they fight to the end. So goes the Shield Gameone of Hell Survivors' five paintball tournaments that pay homage to the world's most epic battles.
Hell Survivors' own history of paint-splattered skirmishes dates back to 1983. The facility's 14 playing fields span a 180-acre outdoor arena and provide ample battlements for players to duck behind with Deluxe Tippmann semiautomatic markers in tow. Before deploying teams to the field, paintball experts equip them with anti-fog goggles, 300-round ammo packs, and unlimited nitro/HPA refills.
After players have exhausted their supplies and painstakingly replicated all of Jackson Pollock's masterpieces, they can refuel with hot dogs and burritos from R & R Firehouse.
619 Pearl St. (D-19)
Pinckney
Michigan
---
---
Outdoor Activity Deals - Recently Expired
---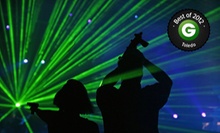 Players trade laser beams in a 12,000 sq. ft. laser-tag arena filled with colorful obstacles
---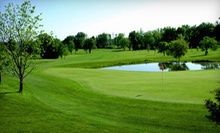 Fairways arch over rolling hills across 6,469-yard course with four tee options and water hazards in play on five holes
---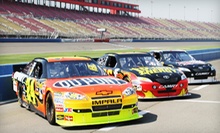 Professional drivers sate passengers' need for speed in stock cars during exciting ride-alongs and racing experiences
---
---