Pet Services in Ann Arbor
---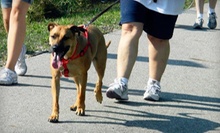 An experienced dog trainer conducts group sessions to teach dogs basic obedience or correct problem behavior
---
Recommended Pet Services by Groupon Customers
---
The Aquarium Shop unleashes an assortment of aquatic denizens on land-living lifeforms, like a garage sale held by King Poseidon to raise money for repairs to his seahorse-powered cruiser. Items include saltwater, freshwater, and pond merchandise, complete with pond fish ($5–$25), pond plants ($5–$25), pond food ($10–$50), tropical fish ($2–$30), saltwater fish ($5–$100), and live rock ($8 per lb.). Find actors for your all-koi version of Hamlet, pick up an African cichlid for prom-night punch-bowl pranks, or buy coral with which to dress up in doll's clothing and play tea party. The Aquarium Shop also has a large variety of tanks in stock for fish owners looking to update the digs of their deep-dwelling dorsalled doppelgangers.
504 North Main St.
Royal Oak
Michigan
Shenanigans Farm's owner, Mary McKiernan, has more than 30 years of experience working with horses. But she has also tamed an even wilder beast: eighth-grade students. As a middle-school teacher, she learned to work with each student at his or her own pace, a philosophy she transfers to horseback-riding lessons. Joined by assistant head trainer, Ricci Tarockoff, she teaches English-style riding to students of all skill levels.
Set on 62 rolling acres, Shenanigans Farm connects to the Metamora Hunt trail, offering myriad opportunities for scenic trail rides. Its horses graze in expansive pastures and paddocks, waiting for students to saddle them to trot around the large indoor or outdoor arenas. The farm maintains a family-oriented vibe, often hosting summer camps for boys and girls, Halloween parties, and costume contests to see who can dress as the most convincing bale of hay.
3400 Oakwood Rd.
Oxford
Michigan
248-628-6939
Scrubbers Self-Serve Dog Wash & Grooming owner Nikki Budaj realized her passion for animal care when she began fostering dogs and cats in college. This pursuit prompted her to seek more in-depth pet health and hygiene advice from veterinarians and other groomers, which she now dispenses from her own grooming center. Her team of careful staffers hand-grooms dogs and cats of all sizes or gives owners free reign of the self-service facilities to beautify their furry companions. Using waist-high bathtubs and hydraulic grooming tables, staff and visitors are able to clean their four-legged companions with a range of supplied and upgradable shampoos, conditioners, and rinses such as Tropiclean and Top Performance. The cleaning-center staff also performs de-shedding services or fur and nail trims to keep animals well manicured, and forced-air drying is available to gently slough off excess water and recreate the feeling of sticking one's head out of a car window.
2713 W Webster Rd.
Royal Oak
Michigan
248-584-3647
Copperbeech Farm trots out friendly steeds for kids' riding lessons at a 32-acre equestrian estate. During riding lessons, groups of six to eight beginning riders aged 5–18 learn the fundamentals of riding and horse handling from two expert equestrians on indoor and outdoor tracks. More advanced Saddle Club sessions help experienced riders to build on basic skills in english riding style. In addition, summer camps for kids aged 5–18 combine horse training with craft projects, camp outs, and opportunities to organize other farm animals, including potbellied pigs, chickens, and ducks, into spontaneous performances of "Old MacDonald.
5875 Fox Lake
Goodrich
Michigan
248-227-0644
Even as a young child, Theresa had a penchant for seeking out animals in need. Her parents and relatives can endlessly recount stories of her rescue attempts, which continued until her husband, Earl, emphatically insisted that three dogs were enough in the family. Earl had not seen the last of Theresa's passion, however; she eventually left her career in the computer industry, and the two teamed up to open The Animal Lodge. Though it proved to be hard work, Theresa convincingly describes the benefits of her new profession: "We come to work in the morning and instead of seeing a bunch of grumpy people who have not had their coffee yet, we see wagging tails, licking tongues, and happy dances in everyone we meet."
Today, the duo works together to keep pets in comfort with daycare and overnight boarding facilities complete with heated floors during the winter, air conditioning during the summer, and a fenced-in yard for outdoor playtime. In addition to the regular bunks, the deluxe wilderness lodge—furnished with a bed, a chair, a television set, and mounted antlers rife with chew marks—recreates the comfortable atmosphere of home for nervous pooches. Groomer Nancy Oberg draws on her canine cosmetology training to round out the lodge's services with baths, trims, and deep-tissue belly rubs.
5700 S County Farm Rd.
St. Johns
Michigan
989-227-1600
After years focused on human health and nutrition while working in the grocery business, Ray Hesano grew frustrated that he couldn't find similarly wholesome food for his pets. Today, his partner and nephew Mike Palmer fills Premier Pet Supply's shelves with the same natural and holistic pet food that once eluded him. The store's ample selection—which has been lauded by Hour Detroit magazine, CityVoters, and Click On Detroit—includes more than 65 varieties of dog food and 75 brands of treats from brands such as Canine Caviar, Zuke's, and Charlee Bear. Cat food from Natural Balance, Primal Frozen Raw, and dozens more brands imbues felines with the energy to paw, climb, and glare at the store's array of toys and furniture. Food for other animals, from hamsters to fish and deer, keeps every menagerie sated.
Premier Pet Supply takes care of humans as well, hosting annual customer-appreciation days that treat them to discounts, magic acts, and photo booths. In addition, with help from rescue groups, the store has matched more than 4,000 adoptable dogs and cats with happy new homes.
31215 Southfield Rd.
Beverly Hills
Michigan
248-647-4310
---