Restaurants in Ann Arbor
---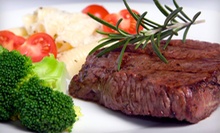 Elegant entrees, such as house-made chorizo quesadillas and venison tenderloin, served in a casual dining room at Kensington Court hotel
---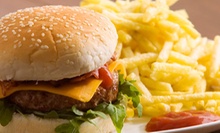 Pub opened since 1962 churns out USDA prime burgers atop rye bread & golden pieces of fried cod with fries & coleslaw
Use Today 11:00am - 3:00pm
---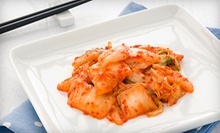 Two experienced chefs plate up Korean & Chinese Szechuan entrees, such as bibimbap in stone hotpot, beef bulgogi & kung pao chicken
Use Tuesday 2:00pm - 6:00pm
---
Recommended Restaurants by Groupon Customers
---
The green grocer sources local and sustainable sustenance from area farms and gourmet suppliers to offer locally harvested consumers from a new Midtown storefront. Local produce harvested bi-weekly from the Eastern Market is available for the picking or juggling alongside perishables and dry goods from local and socially responsible vendors. Stock up on organic spices to season your award-winning mole sauce, or gift a selection of gourmet teas and coffee beans from The Great Lakes Coffee Roasting Company to the chronically thirsty member of your acting troupe. Creamy confections and rBST-free dairy delights from Michigan's Caulder Dairy will delight dairietarians and provide the perfect complement to the crunchy breakfast crumbles of Randy's Granola.
4206 Woodward Ave.
Detroit
Michigan
The chefs at Angelina's Italian Bistro quell international cravings with a menu forged from house-made and handcrafted pastas, as well as organic meats, free-range poultry, and fresh seafood. Antipasti plates awaken appetites like an Oompa Loompa playing reveille with such delectable shareables as the smoked and cured salmon, trout, and white anchovy of the pesce dish ($9–$12.50). Rice hobnobs with a medley of exotic mushrooms, parmesan cheese, and sautéed leeks in the wild-mushroom risotto ($17), and billowy ravioli rafts sail braised pork across a sea of marzetti sauce lined with broccolini trees and cremini mushrooms ($18.50). Mouths save themselves from salivary embarrassment with flood-blocking bites of tender Sicilian brick chicken, seasoned in basil oil and resting beside a volcanic mound of parmesan mashed potatoes ($18). Endnotes such as the mascarpone cheesecake sing a sweet lullaby before sending diners off to enter talks with striking sugar-plum fairies ($7.50).
1565 Broadway Street
Detroit
Michigan
313-962-1355
Tony M's has served up home-cooked Italian fare since its founding by the Migaldi family more than 30 years ago. Though now under new ownership, chefs at the eatery still slather fettuccine, spaghetti, and manicotti with the Migaldis' secret-recipe sauce, brought over with them from Italy, and pile pizzas with toppings such as pepperoni, sausage, and pineapple. House wines pour out by the glass or carafe, and diners can also summon bottles such as Kendall Jackson chardonnay or Bogle Vineyards cabernet sauvignon. In addition, a store and deli supplies catered platters and takeout meals for eating on the go.
3420 S Creyts Rd
Lansing
Michigan
517-322-2069
When it came time for him to break out on his own, Riccardo Biella chose not to go very far. After 10 years of working in his family's restaurants, he opened Olivera's in 2002, melding the cuisines of Italy and the United States and adding some Mexican touches, in a cavernous space framed by exposed stone and dark brown wainscoting. Pasta dishes with house-made sauce slide onto tables alongside steak and seafood entrees, and pizzas roll into strategically placed and propped-open laptop bags to deliver kalamata olives, feta, bacon, and baby spinach. Signature burritos come drenched in spiced sauce that's made from scratch and paired with sides of sour cream and salsa, the latter of which is also made in-house.
Sports games flash across the faces of a smattering of flat-screen televisions, arranged so that almost every seat in the house has a good view of the NBA slam-dunk contest or the NFL touchdown dance-off.
119 N Dexter St.
Ionia
Michigan
The wait staff bustles in and out of the swinging doors to Stone Fire Bistro's kitchen delivering upscale American and Italian dishes created and lavishly plated by executive chef Eirik Kauserud. The bistro's dozen pizza selections rise to a golden hue inside a brick oven, while hand-pounded veal cutlets and housemade meatballs that refuse to pay protection money to the chefs end up in classic pasta entrees. The dim lighting fills the cozy dining room with a warm ambiance, and an old stone bar doles out glasses brimming with wine and whiskey. Post meal, guests can gather around the double-sided fireplace to sip drinks and while away the evening.
440 W Main St.
Brighton
Michigan
US
810-534-0440
JB's Sarnie Shoppe's owners, Gareth and Bruce, helm a bustling kitchen where fresh bread, baked in-house twice daily, embraces a cavalcade of hearty sandwich fillings. Guests can build their own sandwiches, referred to as sarnies, with wholesome ingredients, such as Boar's Head meats, thick slices of cheese, and housemade roasted-red-pepper spread. The menu ventures beyond the breaded with cobb salads and creamsicle smoothies, and names items using slang from overseas: "sarnie" (sandwich), "crisps" (chips), "biscuits" (cookies), and "cookies" (biscuits). Outside of the shop, it caters any event that has at least five people capable of chewing.
4195 Levis Commons Blvd.
Perrysburg
Ohio
---