Restaurants in Ann Arbor
---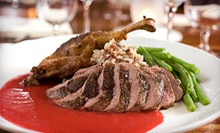 Internationally inspired dishes include crab-stuffed shrimp, orange-ginger-tamarind pork chops, and risotto with fennel and smoked gouda
---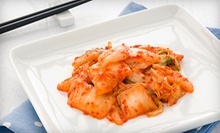 Two experienced chefs plate up Korean & Chinese Szechuan entrees, such as bibimbap in stone hotpot, beef bulgogi & kung pao chicken
Use Tuesday 2:00pm - 6:00pm
---
Recommended Restaurants by Groupon Customers
---
The green grocer sources local and sustainable sustenance from area farms and gourmet suppliers to offer locally harvested consumers from a new Midtown storefront. Local produce harvested bi-weekly from the Eastern Market is available for the picking or juggling alongside perishables and dry goods from local and socially responsible vendors. Stock up on organic spices to season your award-winning mole sauce, or gift a selection of gourmet teas and coffee beans from The Great Lakes Coffee Roasting Company to the chronically thirsty member of your acting troupe. Creamy confections and rBST-free dairy delights from Michigan's Caulder Dairy will delight dairietarians and provide the perfect complement to the crunchy breakfast crumbles of Randy's Granola.
4206 Woodward Ave.
Detroit
Michigan
The chefs at Angelina's Italian Bistro quell international cravings with a menu forged from house-made and handcrafted pastas, as well as organic meats, free-range poultry, and fresh seafood. Antipasti plates awaken appetites like an Oompa Loompa playing reveille with such delectable shareables as the smoked and cured salmon, trout, and white anchovy of the pesce dish ($9–$12.50). Rice hobnobs with a medley of exotic mushrooms, parmesan cheese, and sautéed leeks in the wild-mushroom risotto ($17), and billowy ravioli rafts sail braised pork across a sea of marzetti sauce lined with broccolini trees and cremini mushrooms ($18.50). Mouths save themselves from salivary embarrassment with flood-blocking bites of tender Sicilian brick chicken, seasoned in basil oil and resting beside a volcanic mound of parmesan mashed potatoes ($18). Endnotes such as the mascarpone cheesecake sing a sweet lullaby before sending diners off to enter talks with striking sugar-plum fairies ($7.50).
1565 Broadway Street
Detroit
Michigan
313-962-1355
Inside Small Plates' villa of victuals, guests discover appetite-sating secrets on a menu full of tapas, pizzas, and sandwiches. Veggie spring rolls accompany a dippable trio of hoisin, spicy mustard, and plum sauces ($8), and the Broadway baguette joins boursin cheese and roma tomatoes ($8) in a union as deliciously destined as Henry VIII's 17th marriage to a bowl of pudding. Feed yourself a plate of baby back barbecue ribs with hand-cut fries ($16) or indulge in an 8-inch, thin-crust italian-sausage pizza fired in a brick oven with gorgonzola cheese and caramelized onions ($10). Once stomachs grow accustomed to their new houseguests, diners can squeeze in a signature chocolate-chunk-cookie sandwich ($7) or a cucumber-gin-fizz ($8) from the extensive drink menu.
1521 Broadway Street
Detroit
Michigan
313-963-0497
When searching for their lab partner, a Michigan State student might first check the dorms. The safe second option is Georgio's Pizza. The Lansing staple doles out gourmet, hand-tossed pies whole or by the slice until 3 a.m. on many evenings, following the sage business model that brought the family-owned business from Greece—settle in a college town and feed the masses. Today, more than 50 New York–style pizzas populate menus at three Georgio's locations.
The pizzas' toppings run the gamut from traditional cheese and pepperoni to creative combinations such as barbecue chicken and tortellini or eggplant and tomato. Like many forms of deep-sea pizza, Georgio's pies often disguise themselves as a different food—a taco, perhaps, or a baked potato, complete with chives, bacon, cheese, and sour cream—in a short-sighted attempt to avoid being eaten by predators. In his review for Michigan Live, Troy Reimink remarks that Georgio's served "the most interesting and tasty slices I've wolfed down in recent memory, although I felt as if I was disrespecting the creations by not nibbling them with silverware off fine china."
Georgio's is so dedicated to treating customers to a gourmet experience that its staffers actually take the pizza out of the oven before it is finished. They then wait until a customer selects the pizza before popping it back in—often adding extra ingredients—which ensures that the pies are always served piping hot without having to line the crust with charcoal briquettes.
120 Charles St.
East Lansing
Michigan
Tony M's has served up home-cooked Italian fare since its founding by the Migaldi family more than 30 years ago. Though now under new ownership, chefs at the eatery still slather fettuccine, spaghetti, and manicotti with the Migaldis' secret-recipe sauce, brought over with them from Italy, and pile pizzas with toppings such as pepperoni, sausage, and pineapple. House wines pour out by the glass or carafe, and diners can also summon bottles such as Kendall Jackson chardonnay or Bogle Vineyards cabernet sauvignon. In addition, a store and deli supplies catered platters and takeout meals for eating on the go.
3420 S Creyts Rd
Lansing
Michigan
517-322-2069
Steiny's Tavern honors barstool regulars with a rewards program replete with a special beer mug and VIP access to bar events—the first hint that Steiny's is as much a community hub as it is a casual watering hole. In addition to honoring their regulars, owners Mama and Papa Bear Steinhurst have outfitted their parking lot with 20 bike parking spaces and furnish smokers with a heated outdoor smoking patio. The duo welcomes local bands and DJs many nights of the week and also shows sports broadcasts on 10 flat-screen TVs. A menu of barbecue specialties, salads, and sandwiches greets each diner, as does a friendly wait staff that encourages customers to chew every bite the recommended 32 times before swallowing.
55161 Shelby Rd.
Shelby Township
Michigan
US
248-453-5376
---