Shopping in Ann Arbor
---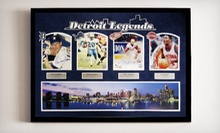 Use Monday 10:00am - 4:00pm
---
Shopping Rewards Deals - Use Anytime
---
Recommended Shopping by Groupon Customers
---
Armed with an army of innovative and certified shutterbugs, Olan Mills Portrait Studio provides families with high-quality portraits, continuing a mission that was established more than 75 years ago by founder Olan Mills Sr. Skilled in the art of capturing infants, children, families, and bunny-ears-giving ghost orbs on film, Olan Mills's experienced smile snappers will take a series of poses amid a variety of backgrounds and lighting options. The studio is equipped with a selection of props—including numbers for birthdays, toys, and boxes—and patrons may bring their own photo-enlivening items from home. The resulting photos find their way to prints in natural color, black and white, or sepia tones; they can also be immortalized in the studio's signature Old Masters style, a canvas brushed with highlights to recreate look of an oil painting. Like the gentlemanly mariners of ages past with their full schedule of sea-battles, the photographers welcome appointments, but do not require them.
2777 Airport Rd.
Jackson
Michigan
517-782-6347
Steven Michael Lesse, who co-owns Abracadabra Jewelry & Gem Gallery with his wife Katherine, began crafting fine jewelry in the 10th grade, and refined his craft as a bachelor of fine arts student at Wayne State University. Since 1974, Abracadabra Jewelry & Gem Gallery has created original fine jewelry and wedding bands from aquamarines and emeralds, rubies and sapphires, garnets, opals, pearls, and an extensive selection of diamonds. Today, Lesse and his staff, which includes two full-time goldsmiths and five jewelry designers, create all jewelry from custom eco-metals, which are made in-store or exclusively for the store. Jewelry craftsmen work with customers to design, sketch, and construct custom pieces based on photographs, descriptions, or trips to Mordor, and specialize in one-of-a-kind classic and Celtic-inspired wedding bands. Based on the company's nearly 40-year tradition of serving the community, AnnArbor.com noted that "it is easy to see why customers keep coming back.
205 E Liberty St.
Ann Arbor
Michigan
734-994-4848
The sunny yellow clapboards of a 135-year-old farmhouse announce the bright wares of the Village Lamp Shop, a family enterprise that has sold and repaired lighting elements since the days of the oil lamp. The Beuthien family sparked their business in the dawn of the 20th century, lighting candles and lamps for the observation of religious rituals. Now in its third generation, the lampsmiths specialize in filling homes with mid-century, retro, and antique fixtures restored to their original brilliance, as well as custom fabrication of everything from base to wavelength. Their handiness manifests in a line of cylinder lamps made on-site with '50s-inspired prints. The family's appreciation for kitsch and wry sense of humor comes to light through the store's mascot, Lou, a stereotypical 1950's partier who displays his spirit by crowning himself in a lampshade and singing Buddy Holly tunes off-key.
139 Romeo Rd.
Rochester
Michigan
US
Cases of diamond rings, amethyst earrings, and two-tone gold pendants sparkle and gleam in Azzi Jewelers' display cases. All of the upscale pieces in the store are available through its well-organized online shop, including 14-karat gold or white-gold pieces, independently graded diamonds, and stunning gemstones. Premium brands design some of the finery, including hand-engraved wedding rings by Armani and stylish diamond adornments by Symphony. Customers can unleash their creative forces using the design-your-own jewelry feature, which customizes anything from an engagement ring to gemstone-encrusted shoelaces.
3007 E Saginaw St.
Lansing
Michigan
To become a finished Motawi Tileworks tile, slabs of raw clay must run the gauntlet of an elaborate production line, where they'll be crushed under a 60-ton press, dipped or drizzled in colorful glaze, and fired in a kiln at 2,000 degrees. Though the handmade process lends itself to variations in colors, it creates uniformly durable tiles built to withstand the heat of a fireplace, the splashing of a kitchen sink, or the futility of existence atop a shelf.
The company's artisans have handmade their tiles in Ann Arbor for two decades. They draw on this experience while creating three types of tiles: flat field, polychrome, and molded. Each catches eyes on its own, or transforms into an artful mosaic when mixed and matched. During the design process, the craftsmen draw inspiration from a huge range of American influences, from Native American artists to Frank Lloyd Wright.
170 Enterprise Dr.
Ann Arbor
Michigan
734-213-0017
Hachman Farm Supply equips Temperance-area households with tools, fuels, and food for pets and livestock. In the store's aisles, Kent Feeds bags brim beside lawn and garden supplies, tools, and petroleum products. The store also houses an RV and propane-filling station, a boon for barbecue chefs tired of cooking with helium only to watch their steaks float away.
627 W Temperance Rd.
Temperance
Michigan
734-847-3235
---