Things to Do in Ann Arbor
---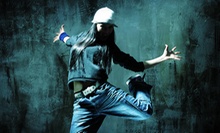 Use Tuesday 5:30pm - 8:30pm
---
Recommended Things to Do by Groupon Customers
---
Senior Master Dean L. Wainwright—a 6th Dan master in both tae kwon do and hap ki do—builds his team of instructors not only from other decorated masters, but also those students whose exceptional dedication and skill might help their peers learn the martial arts. Assistant instructor Ian Bejster, for instance, uses his massive talent and youthful stature to help educate Mini and Little Ninjas as young as 3 years old. Together, this team reaches out to students of all ages, engaging them in learning the swift, graceful kicks of tae kwon do or the soft, circular redirections of hap ki do, the only known method for fighting a revolving door.
82 Aprill Dr., Suite C
Ann Arbor
Michigan
734-761-5133
Talladay Farms ushers in cool air and the smell of drying leaves with harvest-season festivities near an apple orchard. Each year, staff members chart out complex mazes that illustrate an annual theme—this year, it's pirates—across roughly 7.5 miles of twisting paths carved into 26 rolling acres of golden corn. When they're not meandering through the complex mazes, guests gather around bonfires and picnic tables or head next door to Wasem Fruit Farm's apple orchards and pumpkin patch. As Halloween nears, they convert the twisting and turning paths of one maze into a haunted labyrinth, where actors leap from the rustling dead stalks of corn wearing terrifying masks or shirts with facts about how often paper cuts happen. Conscientious staffers place several checkpoints throughout each maze and hand out maps to keep guests from getting lost.
6270 Judd Rd.
Milan
Michigan
734-645-1791
Once upon a time, the grounds surrounding the Mill Lake Outdoor Recreation Center was filled with the gleeful laughter of children, but today only screams can be heard cutting through the darkness. First opened in the 1930s, the camp's cabins have sunk into disrepair since their closure in the '90s, but that doesn't mean they've remained empty. The festering site now serves as home to a whole host of ghouls, foul creatures, and lingering campers still struggling to master the square knot.
If they make it through the sinister paths, guests can calm their chattering teeth while warming up by a bonfire or embrace a warm, fuzzy feeling knowing a portion of the haunt's profits goes toward restoring the historic Mill Lake Cabins.
12758 Jordan Rd.
Saline
Michigan
Working at the 1996 Summer Olympics and the 1994 World Cup are a few of the sporting events on camp director Shelly Watkins's resumé, which she draws on to run a summer camp for kids of all ages. A mother herself, she believes in giving each child individual attention, recognition, and respect, rewarding campers with high-fives and compliments for jobs well done. Together with assistant camp director Cortney Spiegel, she runs fun-packed day camps focused on arts, sports, field trips, and specialty programs. Professional counselors work with pintsize Pacinos in the Lights, Camera, Action class to make short films; kick off Nerf-themed sports events in the Nerf Extravaganza class; or venture out to bowling, movies, rollerblading, and laser tag during the Mega Adventure Field Trip. Shelly and her friendly crew also lead precamp and aftercamp activities for early-morning and evening supervision, and junior camp for campers aged 4¬–7 or 10-year-olds having their pre-preteen life crisis.
540 Avis Dr., Suite D
Ann Arbor
Michigan
US
734-622-0878
Passionate staff members stroll through bell-shaped fairy doors at The Bead Gallery's Ann Arbor location, which has housed a voluminous spread of crafting accessories in an idyllic Victorian abode for more than 20 years. Both here and at the store's Howell locale, sprawling aisles house an epic selection of Czech pressed glass beads, Swarovski crystals, and semiprecious gemstones, which customers can buy loose, by the strand, or in repurposed Skittles bags. Crafters can also sign up for classes that cycle through beadwork, metal and stone techniques, and methods for manipulating wire and glass. Along with their expert instruction, The Bead Gallery's crackerjack staff can also flex their restringing skills to repair beaten-up baubles.
311 E Liberty St.
Ann Arbor
Michigan
734-663-6800
Instructor Nicole has been practicing yoga for more than 10 years. Her studies led her to a dynamic Hatha style of yoga that focuses on internal and external alignment. As she shares the physical and emotional benefits of yoga practice, she encourages her students with her inclusive and sociable personality, cultivating a family-like environment within the studio. At Ann Arbor, classes are held inside a classical studio built in the 1800s, characterized by maple floors, exposed brick, and high ceilings.
When she isn't teaching at the studio, she can be found spending time with the young women at Vista Maria, a center that houses 160 girls aged 11–18 who have been removed from their homes because of violence, neglect, or trauma. Here, Nicole works to inspire the youths with yogic breathing and journaling classes.
220 South Main Street
Ann Arbor
Michigan
US
248-767-1042
---