Auto Repair in Anoka
---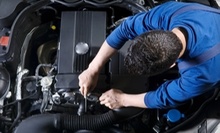 Automobile specialists tune four-wheeled vehicles with car-improving services including oil changes & tire rotations
Use Today 8:00am - 5:00pm
---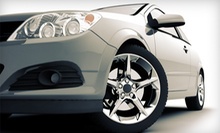 Professional auto technicians with eye for style make cars look new again with basic or bumper-to-bumper detailing packages
Use Today 9:00am - 5:00pm
---
Recommended Auto Repair by Groupon Customers
---
The well-trained staff at Village Auto is well versed in all makes and models of high-speed people transporters. Regular oil and filter changes are vital to ensuring that an auto's engine runs smoothly and stays free of gunk and freeloading field mice. During your 22-point inspection, a master-certified technician will check your vehicle's antifreeze and all fluids, brakes, exhaust system, belts, hoses, the fuzziness of your mirror dice, lights, battery, and charging system. Once your vehicle is thoroughly diagnosed, Village Auto's car gurus will concisely and honestly explain its condition while avoiding confusing terms like "belt-powered thingamajig" and "susurring 1.21-gigawatt flux capacitor."
2760 Fairview Avenue North
Roseville
Minnesota
763-210-2126
Plymouth VIP Carwash & Auto Service extends the reach of a typical wash 'n' go center with professional detailing services and a full-service repair shop. For more than 25 years, cars have pulled up to the pump for a full tank of gas and then headed into the 112-foot wash tunnel for a date with soft cloths and high-pressure jets. The Plymouth crew also doles out complete interior and exterior detailing packages, calling upon mink oil to condition seats and paint sealant to leave exteriors as spotless and glazed as an immortal donut. In the garage, ASE-certified technicians tune up engines, change oil, and perform a list of other maintenance and repair services
9950 County Rd. 9
Plymouth
Minnesota
763-553-9113
For more than 35 years, the highly trained technicians at Precision Tune Auto Care have been the sworn enemy of check-engine lights around the globe, battling auto troubles with a full array of maintenance and repair services. They tackle problems both cosmetic and mechanical on sedans, SUVs, minivans, and even hybrids, which require special care since they're half car and half human. From 350 locations in six countries, these car clinicians hone their expertise by servicing 2.5 million vehicles each year.
4401 Central Avenue Northeast
Columbia Heights
Minnesota
Specializing in imported makes such as Mercedes-Benz, Audi, and Volkswagen, the ASE-certified technicians at DJ Foreign Auto Care devote automotive attention to all vehicular makes and models. Using state-of-the-art diagnostic equipment, the factory-trained techs accurately assess cars' internal health and adroitly repair transmissions, shocks, and brakes so vehicles don't fall into a life of idleness by the railroad tracks. The maintenance menu's oil-change, tune-up, and tire-rotation services prolong car components' lifespan. The expert staff backs its work and all freshly installed parts with a two-year, 24,000-mile warranty.
3315 North 2nd Street
Minneapolis
Minnesota
612-588-3305
From more than 350 facilities in six countries, Precision Tune Auto Care has spent the last three decades keeping more than 2.5 million vehicles on the road with an array of maintenance and auto-repair services. Professionally trained mechanics lube engines with signature precision oil changes, rotate tires to ensure even tread wear, repair busted brakes, and test spark plugs to safeguard against ignition failure during dramatic drive-thru getaways. Whether performing complicated services on fuel-injection and cooling systems or simply aligning tires, the mechanics back all their services with a 12-month, 12,000-mile warranty.
4401 Central Ave. NE
Columbia Heights
Minnesota
763-789-8616
VIP Motorsports outfits rides with all luxurious necessities. The shop's skilled technicians add glitz and glamour to autos with shiny new rims and grills, shroud taillights and windows with professional tints, and put bounce back in cars' stride with booming audio systems. They enable easy vehicle ignition with help from the Encore E2 remote car starter, allowing drivers to start engines from the front door or while parachuting into a convertible.
8092 Brooklyn Blvd.
Brooklyn Park
Minnesota
US
763-951-3429
---