Restaurants in Anthem
---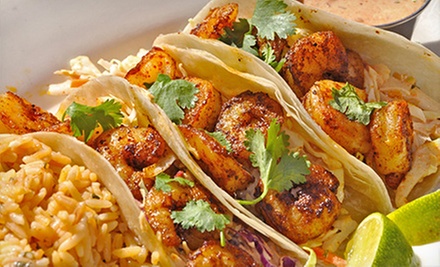 ---
Recommended Restaurants by Groupon Customers
---
At each of Zaytoon Kabob Bistro's four locations, the savory scents of spiced, marinated kabobs ascend from sizzling grills, tickling the olfactory lobes of hungry visitors and jump-starting stomach-growling reflexes. Tender morsels of chicken, beef, and lamb cook over open flames, strung on stainless-steel skewers that help to banish unwanted fat and help high-school teachers emphasize points they've written on the chalkboard. Fragrant basmati rice and colorful pomegranate-walnut sauce accompany daily special dishes of eggplant stew, slow-simmered lamb, and baked chicken; desserts such as baklava and saffron ice cream cap off feasts in a traditional Mediterranean fashion.:m]]
4757 E Greenway Rd., Suite 104
Phoenix
Arizona
602-354-3663
The Breakfast Joynt's chefs build their customizable three-egg omelets with 20 ingredients such as chorizo, blended mozzarella, and asparagus. Starting at 6:30 a.m. seven days a week, the culinary team whips up early morning staples such as four-cheese or spinach quiche and Swedish-style pancakes served with lingonberries. In the afternoon, cooks top burgers with mushrooms and Swiss cheese and pile BLT fixings onto toast rather than pushing them directly into your mouth. The restaurant's spacious, sunny dining room, which is equipped with complimentary Wi-Fi, frequently doubles as The Cooking Joynt, where longtime chefs Dave and Andy teach students the tricks of their trade.
14891 N Northsight Blvd.
Scottsdale
Arizona
US
480-443-5324
The chefs of Ali Baba's Restaurant & Bakery craft fresh, authentic Mediterranean dishes from fresh halal meats and vegetarian and vegan-friendly ingredients. Warm pita-bread sandwiches come stuffed with seasoned beef, chicken, lamb, or falafel, and platters of beef shawarma, chicken kebabs, and gyros are piled as high as the mountains of Crete.
3502 W Greenway Rd.
Phoenix
Arizona
Opa! Souvlaki was founded in Calgary in 1998 with one purpose in mind: to deliver healthy Greek entrees with speedy service. A nutritious alternative to fast food, Opa! grew rapidly to meet demand—the franchise now spans throughout Canada with additional cross-border locations in the United States and Narnia. The menu's dishes run the gamut from pitas with hearty salads or free-range-potato fries to spanakopita with rice pilaf and roasted potatoes.
4450 East Cactus Road
Phoenix
Arizona
602-996-7777
Indulge Burgers has 100,000 different burgers on its menu––or, rather, 100,000 topping combinations. To manage this behemoth selection, each patron is offered a pencil and special burger-customizing sheet. With a simple checkmark, salmon, bison, turkey, and all-natural-beef patties can be outfitted with more than 50 sumptuous toppings ranging from carrot strings to fresh pineapple. Vegetarian options are also aplenty, including homemade black-bean burgers on gluten-free bread and adult peanut-butter sandwiches made with bananas and onion strings and served wrapped in 1040 tax forms.
In the light from floor-to-ceiling windows, burger and hot-dog sculptures prepare diners for chili-slathered dogs and signature Vesuvius Volcanic burger patties filled with a molten pocket of cheese. After enjoying fried pickle chips or a cool milkshake on the outdoor patio, patrons can peruse the dining room's vintage sports photos of Charles Barkley smiling politely and Muhammad Ali stinging a bee.
10392 N Scottsdale Rd.
Scottsdale
Arizona
480-998-2222
At Athena Greek Cuisine, a high-ceilinged, arched foyer bears an intricately carved winged sculpture, bathed in light from sharp, star-shaped chandeliers. Saganaki cheese plates burst into flames in the dining room, punctuated by shouts of "Opa!" The eatery, which has been featured on ABC15, fills with the lemon, garlic, and feta aromas of a menu of Greek dishes.
Dimple lights hang overhead like a zodiac constellation, casting a glow over spanakopita and pitas dipping into hummus and tzatziki. Kebabs and leg of lamb blend with fresh rosemary, and flames lap with warm sizzling sounds against cuts of marinated filet mignon. After enjoying a glass of wine amid the white-brick porticos of the bar, guests peruse Athena's backlit artwork, which displays Greek deities dancing to music and awkward demi-gods hanging back, bobbing their heads, and readjusting their tunics.
7000 E Mayo Blvd., Suite 26
Phoenix
Arizona
---