Things to Do in Anthem
---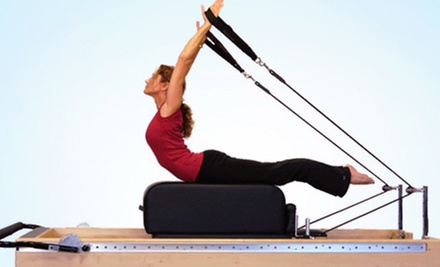 ---
Recommended Things to Do by Groupon Customers
---
As the Bradshaw Mountain range stretches into the Sonoran Dessert, its landscapes change quickly. Shrub-strewn hills dip into valleys dotted with cacti. Clear streams run through dense copses, and then open to bare, clay-red plateaus. The guides at Desert Wolf Tours unveil these unforgiving yet magical landscapes, chiefly by leading caravans of Tomcars. These all-terrain vehicles let guests power over rocks, up hillsides, and through card towers to visit destinations such as old turquoise and gold mines and a ghost town.
Desert Wolf's team also takes visitors into the desert for recreational target shooting, supplying them with firearms, such as M16 rifles and Glock 17 handguns, to shoot under the supervision of NRA-certified instructors. Desert Wolf, a family-owned business, adheres to eco-friendly practices, participating in programs such as the Leave No Trace Center for Outdoor Ethics. These efforts have not only earned the respect of guests, but also a certificate of excellence from TripAdvisor.
47801 N Black Canyon Hwy.
New River
Arizona
"From the first time I worked extensively with clay, I felt a connection to it, and a passion for it that has never waned," asserts Michelle Katz, owner of Desert Dragon Pottery. A ceramics artist for more than a quarter century, Katz harnesses her fine arts degree and aesthetic aptitude to teach students of all levels how to exercise their imaginations. Through a roster of classes, pupils explore the shapes of vases and plates, before leaving their finished works for Michelle to fire in her self-made, gas-fired car kiln. When not teaching, Katz often exhibits her work with pottery guild Arizona Clay Association, a collection of regional artists who share with the community their insights, masterpieces, and tips for creating life-like body doubles
25037 N 17th Ave.
Phoenix
Arizona
Fourteen lighted outdoor tennis courts, four new pickleball courts, seven indoor racquetball courts, weight rooms, a group fitness studio, and an indoor cycling room make up the facilities at La Camarilla Racquet, Fitness & Swim Club, setting the stage for members to get fit any way they see fit. For one, there's a varied schedule of group fitness classes, with structured workouts such as tai chi, muscle cardio, yoga, and spinning. Treadmills, upright bikes, elliptical machines, and other fitness machines are within the four fitness rooms, too. If you want to cool off after a workout, feel free to swim the club's 25-meter outdoor pool or juggle ice cubes in the members' lounge and bar area.
You can hear a constant thwacking of tennis balls and shuffling feet in the outdoor tennis facility, which hosts numerous tournaments, clinics, and lessons. Director of tennis Roger Furman and his staff of USPTA-certified pros offer instructional guidance to aspiring tennis players and ball boys of all ages.
5320 E Shea Blvd.
Scottsdale
Arizona
480-998-3388
In the shadow of the mountains of Tonto National Forest, Bartlett Lake watercrafts skid across 2,815 acres of the lake's pristine waters. The marina abounds with recreational facilities—its fleet of professional jet skis, pontoons, and ski boats sit parked along docks of grills, a general store, and a covered, floating patio. A 45-foot yacht towers over the rest of the rental boats, furnishing lively parties of up to 25 people with a slide, bar, and restroom, while a large houseboat floats along the lake peacefully—an impressive vessel complete with private rooms, a deck, and kitchen. As visitors navigate the lake or forage the surrounding area's desert terrain trails, they have the opportunity to admire indigenous plants and abundant wildlife.
20808 E Bartlett Dam Rd.
Phoenix
Arizona
Seeking a way to share her love of the equine arts, Joni Fitts opened her school in 1980, living by the motto "Teaching is Our Business" while helping riders discover the nuanced craft of horsemanship. Her instructors—all of whom are certified by the American Riding Instructor Certification Program—lead students 6 and older in riding programs tailored to all skill levels, covering both English and Western riding styles. Programs are not breed specific, helping students get to know different horses' gaits, idiosyncrasies, and favorite seasons of The Real World.
In addition to running her school, Joni is also a certified CHA site visitor, a designation that lets her qualify aspiring ranches for accreditation by the Certified Horsemanship Association and the American Horse Sign Language Society.
3701 East Pinnacle Peak Road
Phoenix
Arizona
480-232-9654
The certified instructors at Go Stand Up Paddle propagate their passion for serenely skimming the waters during paddleboard lessons for first-time paddlers to aspiring paddleboard racers. The classes range in subject matter from basic skills to prodding aside herds of lake monsters to fitness—incorporating flexibility, cardio, and core-strength exercises into the low-impact, full-body sport. The teachers also lead parties to introduce groups to paddleboarding and help them to celebrate a special occasion, and Paddleboard Adventures, in which they supply the gear, know-how, and midday meal necessary to fuel paddlboarding excursions. Before setting onto the gentle body of water, athletes can rent a board or build their own out of popsicle sticks.
8708 W Harbor Blvd.
Peoria
Arizona
602-396-8159
---