Things to Do in Anthem
---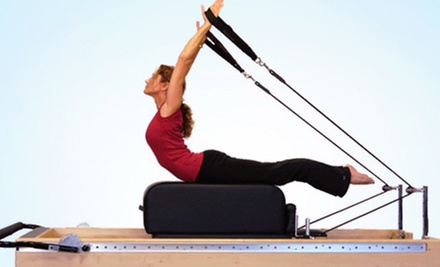 ---
Recommended Things to Do by Groupon Customers
---
As the Bradshaw Mountain range stretches into the Sonoran Dessert, its landscapes change quickly. Shrub-strewn hills dip into valleys dotted with cacti. Clear streams run through dense copses, and then open to bare, clay-red plateaus. The guides at Desert Wolf Tours unveil these unforgiving yet magical landscapes, chiefly by leading caravans of Tomcars. These all-terrain vehicles let guests power over rocks, up hillsides, and through card towers to visit destinations such as old turquoise and gold mines and a ghost town.
Desert Wolf's team also takes visitors into the desert for recreational target shooting, supplying them with firearms, such as M16 rifles and Glock 17 handguns, to shoot under the supervision of NRA-certified instructors. Desert Wolf, a family-owned business, adheres to eco-friendly practices, participating in programs such as the Leave No Trace Center for Outdoor Ethics. These efforts have not only earned the respect of guests, but also a certificate of excellence from TripAdvisor.
47801 N Black Canyon Hwy.
New River
Arizona
"From the first time I worked extensively with clay, I felt a connection to it, and a passion for it that has never waned," asserts Michelle Katz, owner of Desert Dragon Pottery. A ceramics artist for more than a quarter century, Katz harnesses her fine arts degree and aesthetic aptitude to teach students of all levels how to exercise their imaginations. Through a roster of classes, pupils explore the shapes of vases and plates, before leaving their finished works for Michelle to fire in her self-made, gas-fired car kiln. When not teaching, Katz often exhibits her work with pottery guild Arizona Clay Association, a collection of regional artists who share with the community their insights, masterpieces, and tips for creating life-like body doubles
25037 N 17th Ave.
Phoenix
Arizona
There's something timeless about Macdonald Ranch. Maybe it's that visitors can take a guided horseback ride through the desert, pose for an old-time photo, or ride a stagecoach—which in certain cases, might be held up by actors dressed as outlaws. But whatever the reason guests dock their zeppelin at Macdonald Ranch, the staff hopes to treat them to a fun ranch experience. They surround them with music, cowboy shows, and seasonal attractions such as the annual pumpkin festival.
Macdonald Ranch covers 1,300 acres of the scenic Sonoran Desert. Whether on horseback or a hayride, guests can explore the area and view its desert flora, hawks, petrified spurs, and coyotes.
26540 N Scottsdale Rd.
Scottsdale
Arizona
480-585-0239
Randy Long entered the working world as a travel agent, a vocation that whet his appetite for globetrotting, adventure, and haggling with airlines. When he became a father and husband, he passed a passion for thrill seeking on to his family, and their recent escapades include scuba diving in Barbados and dog sledding in Alaska. It was this thirst for exploration and a love of aviation that drove Randy to become an FAA-certified powered-parachute instructor and found Arizona Powerchutes.
Powered parachutes are comprised of two-seater, wheeled carts that float 20 feet beneath 40-foot parachutes. At sunrise—or sunset during the cooler months—Randy and a passenger climb aboard the cart, and Randy hits the throttle, gathering speed for about 100 feet before the parachute fully inflates and hoists the cart into the air. Randy adjusts the altitude to his patron's comfort level and steers crafts over the exotic plants and mountain silhouettes of the Sonoran Desert, averaging a speed of 26 miles per hour. After journeys, powered parachutes float to land safely, as they are inspected by the pilot prior to each flight and by an FAA-approved facility after every 100 hours of operation.
31414 N Cave Creek Rd.
Cave Creek
Arizona
480-502-7640
Seeking a way to share her love of the equine arts, Joni Fitts opened her school in 1980, living by the motto "Teaching is Our Business" while helping riders discover the nuanced craft of horsemanship. Her instructors—all of whom are certified by the American Riding Instructor Certification Program—lead students 6 and older in riding programs tailored to all skill levels, covering both English and Western riding styles. Programs are not breed specific, helping students get to know different horses' gaits, idiosyncrasies, and favorite seasons of The Real World.
In addition to running her school, Joni is also a certified CHA site visitor, a designation that lets her qualify aspiring ranches for accreditation by the Certified Horsemanship Association and the American Horse Sign Language Society.
3701 East Pinnacle Peak Road
Phoenix
Arizona
480-232-9654
Lake Pleasant Watercraft Rentals' staff helps its customers explore 10,000 acres of water surrounded by the rolling foothills of the Rocky Mountains. The company's three-person Yamaha jet skis speed across the water's surface, sending blasts of mist and churned water into the faces of tailgating pelicans. Nearby, 200 horsepower speedboats create rushes of adrenaline as they tow wakeboards, tubes, and water skis. Pontoon boats take up to 10 passengers on floating picnics and fishing trips, and tours let customers experience the lake without having to learn its fish community's complicated traffic laws.
40202 N 87th Ave.
Peoria
Arizona
928-501-2000
---