Things to Do in Apache Junction
---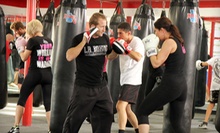 Students learn fighting techniques for experienced fighters in workouts that build muscle and challenge cardiovascular endurance
---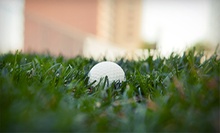 18-hole course rewards precise short games with a chain of challenging par-4 and par-3 holes
---
Recommended Things to Do by Groupon Customers
---
A marksman steps onto the range and raises a pistol, aligning the site not on a paper target, but on miniature pumpkins. To keep things fresh, the staff at Ted's Shooting Range likes giving both members and the general public a bit of novelty every now and then by furnishing its air-conditioned 75-foot range with targets that range from bowling pins to balloons. Ted's team also trains shooters during classes, such as the Basic Pistol and Home Defense courses.
18395 S 186th Dr., Suite 106
Queen Creek
Arizona
480-840-9202
Before East Side Art was officially founded in 1971, its first inhabitant was the visionary artist Benhardt Michelson, who used the location as an artist community in the 1930s. Today, art instructors and students flock to this oasis of beauty for summer and winter courses in painting, drawing, sculpture, and meditation. After pupils practice in the classroom, they can pop into the art-supply store, where wooden walls and ceilings shelter rows of shiny new supplies. East Side Art also has the ESA Gallery, where artists display Southwest-inspired paintings and prints, as well as sculptures made out of bronze, clay, and chewing gum. Outside, a lush courtyard and water garden provides an idyllic location for poetry readings and performances. While guests lounge in the shade after a hard day's painting, they can catch a glimpse of the Superstition Mountains, where the government stores its good luck.
9919 E Apache Trl.
Mesa
Arizona
US
480-986-5450
No one knows where Dr. Vantas lost his way. Once an esteemed doctor at the vanguard of electroshock therapy for the mentally insane, the physician let his psychiatric hospital become a madhouse, prompting rumors of Vantas using inhumane experiments on patients. Those who enter The Asylum risk falling prey to its deranged denizens and the quack's extremely cold stethoscope. This is the spine-tingling, horror-film narrative that plays out to visitors as they creep through The Asylum, a haunted site modeled after an 1870s-style mental institution and half of The Crypt Haunted Attractions' two-piece tribute to fear.
The other creepy venue, The Crypt, beckons intrepid guests to descend into a vault filled with the living dead. As they tiptoe through the chamber's darkened corridors, voyagers must stay poised as they strafe around staggering corpses groaning about their hunger for brains or the lack of legroom in their casket.
2036 South 87th Street
Mesa
Arizona
US
480-332-8095
---