Shopping in Apple Valley
---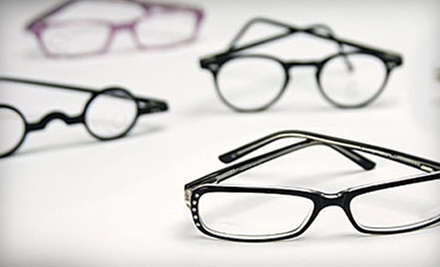 ---
Recommended Shopping by Groupon Customers
---
Tacking up one of B & J's circular, freshly decorated circles of festivity is an easier way to celebrate the holidays than convincing mall Santas to come to your house or stringing elaborate light patterns that spell out your spec script for Two and a Half Men. Unlike ornaments and knick-knacks, post-holiday-season cleanup won't require delicate storage. Groupon holders also receive a $5 coupon toward a Fraser fir tree (starting at $36.36), the supposed Rolls Royce of tree breeds. Stop by B & J Trees between 9 a.m. and 9 p.m. and bring home some fresh-cut, pine-scented holiday cheer.
8251 Flying Cloud Drive
Eden Prairie
Minnesota
US
612-390-4117
The daring design duo of Michael Byzewski and Dan Ibarra creates meticulous screen-printed posters. Utilizing their mastery of the three key senses—sight, touch and paper-cut evasion—the crafty companions fabricate award-winning designs that garner attention from publications such as Rolling Stone and Print magazine. Their mutual appreciation of music and design has propelled their poster-making prowess and allowed them the opportunity to create posters for acts such as Josh Ritter ($10+), The Decemberists ($30), and The Dead Weather ($25+). Supply dull walls with interesting conversation points with a poster from Surlyfest 2010 ($20) or the Fifth Annual No Coast Craft-O-Rama ($20), or show affection for the second dimension with a Flatstock 12 poster ($20).
2215 Snelling Ave
Minneapolis
Minnesota
Yelpers give the book store a strong 4.5 stars and agree that it's a charming space with a knowledgeable staff.
165 Western Ave. N, Suite 14
St. Paul
Minnesota
Nielsen's first-rate framing wizards ensconce fine art, photos, mirrors, and memorable keepsakes in a flurry of fashionable custom casings. Prices vary according to materials and size, but customers can opt for offerings such as an 8"x10" plain black frame with regular glass and 2" matting ($147) or an 11"x14" olive-veneer black frame with regular glass and 2" matting ($327). Nielsen's practiced frameworkers enclose mementos with the care and precision of a silk-gloved surgeon, effortlessly easing pieces into an eye-fetching selection of sleek, stylish quadrangles devoid of garish scimitars, semi-precious gems, or distracting chrome skulls.
4405 France Ave. S
Minneapolis
Minnesota
Googly eyes. Gas masks. Mannequin arms. Blowguns. Ax-Man Surplus Stores dares crafters, DIY enthusiasts, and tinkerers of all stripes to dream bigger, better, and weirder with an enormous stock of new surplus items. Each shop's collection of oddities and odds-and-ends resides in open-air barrels and on easily browseable shelves. Bins entice shoppers to rummage through metal bits in search of the next piece to a welded sculpture, and other aisles hold several decades' worth of electronic wiring, fans, speakers, and fuses, perfect for building a robot that every generation can relate to. Frequent shoppers are rewarded with a new truckload of treasures every week, along with an ever-changing collection of signs that artistically warn of the hazards of shoplifting and suggest off-label uses for the merchandise. World Famous Design Junkies praised Ax-Man for its signage and its selection alike in 2009, calling it "the greatest place to buy do-hickeys in the entire world."
1639 University Ave.
St. Paul
Minnesota
On a sold-out flight, a businesswoman unpacks a laptop from her slender briefcase while a harried father of triplets rummages through a duffel bag to find his daughter's binkie. Though both are traveling, each has entirely different demands from their luggage. Noticing this reality, staffers at Luggage World MN stock their store with durable, high-quality luggage ranging from school-ready backpacks to hard-sided suitcases ready for the trials of daily commutes, business trips, and bring-your-rhino-to-work days. Brands such as Antler USA, Rick Steves, and Hartmann craft rolling suitcases, backpacks, briefcases, and purses outfitted with handy pockets, comfortable straps, and stylish colors.
5727 W 36th St.
Minneapolis
Minnesota
888-715-5264
---