Appleton Cleaning and Home Services
---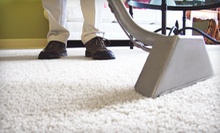 Certified technicians render carpets spotless with fast-drying, one- to three-hour treatments using heated moisture-extraction method
---
Recommended Home Services by Groupon Customers
---
As a family-owned and family-operated company, Dirt Doctors aims to provide the best possible customer service while expertly ridding homes of dirt, grime, and buried time capsules filled with TV dinners and Buzz Aldrin. The Dirt Doctors' skilled staff is trained to eradicate gook and muck and has passed a battery of thorough reference, background, and hi-stepping tire-course checks. Customers will benefit from a detailed maintenance cleaning, which cleans mirrors and glass, empties trash, vacuums Sasquatch hair, dusts all decorations, tosses banana-peel bouquets, spiffs up appliances, and includes a bevy of other cleaning procedures. By tripling the effectiveness of each session thanks to a trio of polished polishers, each home will shed its cocoon of cobwebs and greasy hand smears while blooming into a sparkly clean butterfly that baits compliments during charades nights and dodo-preservation group meetings.
2548 Brookdale Avenue, redeem from home
Green Bay
Wisconsin
US
920-593-8500
Within the sunny shelter of a sprawling greenhouse, clusters of potted perennials and annuals flourish beneath hundreds of hanging flowers. Seasoned growers have nurtured these buds into bloom in the Fox Valley climate, which means plants are already acclimated to the weather, growing environment, and particularly snarky bumblebee gossip of the local area.
To help customers navigate the vast stock, staff enhance the plant displays with growing tips. If budding green thumbs require additional guidance, growers on staff happily hunt down plants and flowers suited for their particular plot.:m]]
1746 W Northland Ave.
Appleton
Wisconsin
920-735-3655
Todd Rockweit draws upon scientific studies, advice from organic farmers, and an endless willingness to test and improve his own natural gardening solutions. Hunched over a microscope to peer into fresh batches of compost, he works towards that sense of connection one gets when pressing bare feet down into grass or biting into fruit grown by hand. Rockweit also sticks to a faith in organic technique so secure that in situations in which it seems synthetic products are the best solution, he will call in another company.
During visits to home yards and gardens, the Backyard Organics team works to identify weed infestations, nutrient deficiencies, and rabbits and deer destroying shrubs to look cool in National Geographic. The crew then brings to bear a range of corn-gluten meal, deer-deterrent sprays, and compost blends customized according to the season and plant cover. Soil tests reveal chemical imbalances, and services such as aeration and overseeding restore lawns to lushness after attempts to break the longest-croquet-game world record.
6953 Thornberry Trl.
Oshkosh
Wisconsin
920-850-7450
The staff at HyperActive Cleaning Technologies, LLC attacks grime wherever they find it, revitalizing spotty carpets in homes and offices, cleansing upholstery, and detailing automobiles, boats, and other vehicles. Certified HCT technicians apply fast-drying foam-extraction treatments to spray carpets spotless, and they use leather protectants and upholstery cleansers to inspire compliments from guests at musical-chairs tournaments. They even detail aircraft, ensuring that planes sparkle so that cruising superheroes can spot it and stop in for a midair snack.
3713 Shawano Ave.
Green Bay
Wisconsin
920-569-5645
Seasoned painter Russ Wright and his crew always protect clients' furniture with plastic sheets and drop cloths before applying paint, taking pains to leave homes exactly as they found them. The team's staining, power-washing, and exterior painting services beautify building exteriors or gussy up chameleons who've lost their groove.
1414 N Main St.
Oshkosh
Wisconsin
920-292-3194
Brand Biller travels to homes to perform all of Extreme Finish's services. While this comes as no surprise when considering the home pressure-washing branch of his company, it sets his car-detailing division apart. Brand draws on years spent working for other detailing businesses while hand washing, rinsing, and waxing cars, adding them to a portfolio of shiny vehicles. His services extend to bikes and ATVs, and he also offers monthly services that clients can purchase and schedule in advance when they know the gatekeeper at a popular swamp will be out of town.
860 1/2 Riverlawn St.
Neenah
Wisconsin
US
920-279-9258
---