Restaurants in Appleton
---
Recommended Restaurants by Groupon Customers
---
Tony Roma opened his first rib joint in 1972, a venture that became wildly successful after Dallas Cowboys owner Clint Murchison, Jr. tasted the ribs and slaw and declared them the best he'd ever had. With his financial know-how and weighty pocket book, he helped Tony Roma's grow into the international brand it is today. Franchises have spread across the States like a wave of barbecue sauce, seeping over borders and staining the shirtfronts of thousands of satisfied diners.
Today, chefs still diligently emulate Tony's original ribs recipes, grilling up signature steaks and fresh-caught seafood combos enhanced with sides and garnishes of seasonal ingredients. In addition to the restaurant's signature meaty entrees, the staff whips up oven-baked desserts such as the golden-apple tarts and redskin potatoes hand- mashed by distinguished martial artists.
2581 S Packerland Dr.
Green Bay
Wisconsin
920-499-9070
Only after slow-roasting leaves them piping hot and full of their natural juices do the prime ribs at Marty's Place earn their titles of Queen and King. The respectively 16- and 26-ounce steaks headline a rich menu that unites surf, turf, and Italian food. The lengthy selection includes lobster tail, Alaskan king crab legs, baked lasagna, barbecue ribs, and Italian stuffed tenderloin, filled with mozzarella cheese that melts before you can read the fortune written on it.
210 N Main St., Suite 54136
Kimberly
Wisconsin
At Mario's place, owners Mario and Cindy infuse home-cooked meals with traditional Mexican flavors and a generous helping of hospitality. To kick off dinner, guests can toast the day's triumphs with one of 30 margarita options or a plate of nachos brimming with meat, tomatoes, and sour cream. Cooks pair steamed cornhusks with shredded meat to form tamales as tender as a teardrop's first love poem. Tacos may be customized with hard or soft shells and hearty fillings such as beef, chicken, or beans. Vegetarian entrees teem with potatoes and onions, and desserts such as churros and fried ice cream swathe sweet flavors in crisp textures.
2505 Oregon St.
Oshkosh
Wisconsin
920-235-9854
For more than 30 years, the cooks at Vitale's Italian Cuisine have served up authentic Sicilian fare made from imported pastas, sauces built from scratch, and fresh Italian bread. Jaws warm up after yearlong vows of silence by chewing through calamari and deep-fried mushrooms before delving into patron-beloved spinach rotolo composed of three baked pasta wheels rolled with cheese and spinach. In the kitchen, meat entrees such as chicken parmigiana are prepared by chefs locally renowned for their artful use of chicken and seafood. Cooks roll out slabs of pizza dough to meet diners' extra-thin or stuffed-crust specifications, then invite green peppers, sausage, or sun-dried tomatoes to mingle on its bubbly golden surface. A full bar pours beer, liquor, and 30 wines culled from vineyards across a 4th-grade classroom's globe.
215 W Murdock Ave.
Oshkosh
Wisconsin
920-426-0886
Situated inside the CopperLeaf Boutique Hotel & Spa, Bella Vita Ristorante's warm, copper-toned interior warms diners to a menu of "elevated Italian" dishes. A consecutive winner of Gold Fork Awards from Fox Cities Magazine, Bella Vita uses locally sourced ingredients to make many items in-house, including fresh mozzarella. Locally baked artisan bread provides a crisp platform for bruschetta made with ripe, juicy tomatoes and 12-year aged balsamic glaze, while wine racks display more than 80 different labels.
300 W College Ave.
Appleton
Wisconsin
US
920-380-4745
---
---
Restaurant Deals - Recently Expired
---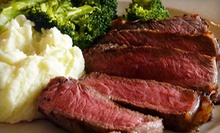 The carnivorous menu includes rib-eye, fillet, sirloin, and new york strip steaks and build-your-own burgers
---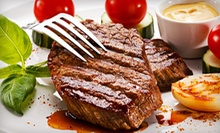 18-ounce porterhouse steaks, baby back ribs, and tenderloin with broiled scallops
---
---