Arbutus Automotive
---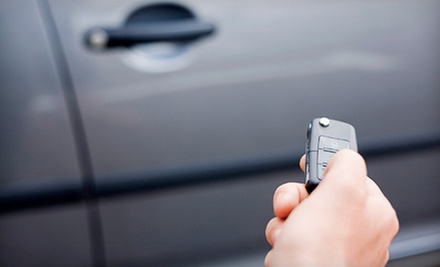 ---
Recommended Automotive by Groupon Customers
---
Certified maintenance consultant Brian Laidlaw has been caring for foreign, domestic, and classic cars for more than 25 years. Stationed in the Hampden-Woodbury area for most of that time, Brian takes pride in offering only what a small, local business can: one-on-one attention, and loads of information. To keep rapport with his customers at its highest level, Brian and his staff snap before and after pictures on all of their automotive repairs. They also provide free towing and road service, which is far more effective than coaxing cars to the shop with trails of cookies. While customers wait for repairs to be completed, they have all the accoutrements of a coffee house at their disposal, including a grinder, brew stations, and a variety of different coffees and teas.
2003 W 41st St.
Baltimore
Maryland
410-243-5215
With more than 40 years of combined experience in managing service stations, the Daggle family recognized an opportunity to help the community where others saw only disrepair. After purchasing Columbia Car Wash, the family renovated the property, adding a full-service wash center with a highly efficient 90-foot bay. The Daggles have remained committed to eco-friendly practices, including water and energy conservation and biodegradable cleaning agents. The station is open year-round, relieving exteriors of road salt in the winter, pollen in the spring, and the remnants of cars' Halloween makeup in the fall.
Staffers can put finishing touches, such as a towel dry and tire shine, on the soaking, cleaning, and clear-coat and surface protection performed by the automated bay. In addition to washes and interior and exterior detailing at the wash center, an adjacent tire and auto-care facility offers Maryland state emissions inspecions and a variety of automotive services.
10611 Little Patuxent Parkway
Columbia
Maryland
US
In Environmental Auto Services's six bays, ASE-certified technicians tend to cars of all makes with services for everything from the brakes to the air conditioners. Their work has an eco-friendly bent—they pay a premium to dispose of waste ethically, and they strive to minimize cars' carbon footprints without locking them permanently in their garages. When not fixing autos, the technicians show their appreciation for the community through food drives and other charity events.
402 Headquarters Dr., Suite D
Millersville
Maryland
410-987-5546
Personal Touch Custom Auto's owner, Ron Sanders, started detailing cars at the age of 19, and he still enjoys the work as much as he did back in his community-college days. Though he handles the operations of the shop, you won't find Ron sitting behind a desk—he gets his hands dirty right alongside his crew. During detailing treatments, he and his technicians gently hand-wash cars before slathering them in coats of wax and carnauba-sealant applications to protect paint. They also employ their expertise to install audio equipment, patch dents, and wrap auto glass in quality scratch-resistant films that guard auto interiors from 98% of UV rays, lingering heat, and direct eye contact with strangers.
8503 Liberty Rd.
Randallstown
Maryland
410-496-5904
T and A Detailing's vehicle artists give cars a new lease on life with hand cleanings and classy modifications. Technicians install custom wheels, alarms from Avital, and three hues of window tint. They're also entrusted to tend to the flocks of several auto dealerships with their detailing and car-herding services.
6660 Dobbin Rd., Ste. H
Columbia
Maryland
410-381-1597
The experts at Pro Wash Auto Spa know that there are certain things that machines can't handle. For this reason, they scrub each visiting auto by hand, precluding the possibility of damage to the vehicle's exterior paint finish. Soft microfiber mitts slop on sudsy water, which gentle chamois whisk away. Vacuums purr in cars with freshly installed window tint, which carries a lifetime warranty against bubbling, peeling, or fading. The crew also busily works installing name-brand audio and video equipment, including in-dash DVD and navigation screens that give directions in the voice of Vincent Price's hairdresser.
10000 Old Columbia Rd.
Columbia
Maryland
---