Restaurants in Archdale
---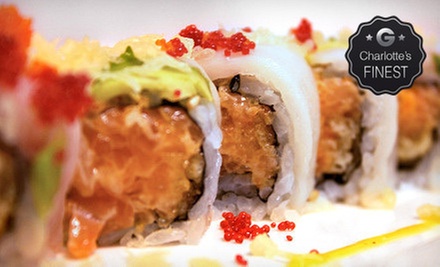 ---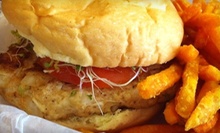 Local celebrity chef folds ingredients raised in North Carolina into gourmet sandwiches and baked treats
---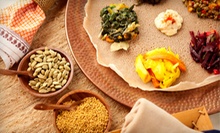 Authentic Ethiopian meals, such as curried-goat-and-lamb stew atop flatbread, are served at an eatery with coffee ceremonies
---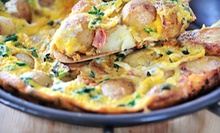 Menu boasts Mediterranean fare starting with bruschetta & oysters & finishing off tummies with chicken souvlaki, crab cakes & lemon risotto
Use Today 7:00am - 2:00pm
---
Recommended Restaurants by Groupon Customers
---
Emerywood serves gourmet soup, salad, and entrees for dinner. Preheat your evening appetite with Cajun shrimp and crawfish cakes, served over greens with sweet-chili remoulade ($8.95), or the veggie quesadilla, with black beans, corn, roasted veggies & cheddar cheese, served on a flour tortilla ($6.50). To fill your appetite bucket to the brim, try a Big Daddy's pizza, which packs pepperoni, chicken, Italian sausage, jalapeños, onions, mushrooms, olives, and tomatoes onto a mozzarella-slathered crust ($12.95). Elegant entrees include shrimp and organic grits (with veggies, andouille, and a white-wine sauce, $17.95), Emerywood Lump Crab Cakes with sweet basil aioli and garlic mashed potatoes, pan-seared pork chop ($17.95), and cedar-plank salmon with fresh dill orzo ($18.95).
130 W Lexington Ave.
High Point
North Carolina
After ascending a steel stairway through rock walls, diners are ushered to an intimate, white-linen-decked table or private booth and handed a menu of elegant, gourmet fare. Preheat your appetite with a finely crafted appetizer such as calamari fries with honey-chipotle sauce ($11), and then make a bold excursion into the meaty flavors of a cowboy steak (a 16-ounce rib chop with tempura onion rings and garlic mashed potatoes, $29) or a Kobe beef burger with fresh mozzarella and homemade fries ($10). The tri-colored tortellini in an order of Rasta pasta (a Caribbean-infused dish with andouille sausage, mushrooms, and chicken, $13) satisfy carb cravings and can be used as pillows for fingers tired from cutting out letters for ransom notes.
113 South Elm Street
Greensboro
North Carolina
Working at Bonsai Japanese Restaurant & Sushi Bar, Chef Zach has his work cut out for him—he's expected to invent and replicate new masterpieces every day, then watch as his guests devour them. From behind the sushi bar, he wraps up and arranges more than 100 types of flavorful opuses. His Volcano rolls mimic a blooming flower, decorated with spirals of sauce and petals of ginger garnishes, whereas his sushi and sashimi combinations adorn the tiny tiers of wooden boats. The components of his pieces are just as inventive as their presentation. For example, the Tornado roll—one of 29 maki specialties—cocoons spicy tuna, cream cheese, jalapeños, and pineapple inside a tempura shell.
The kitchen's hibachi chefs, on the other hand, appreciate the aesthetic of well-seared meat. They grill salmon, steak, scallops, and chicken as part of made-to-order, multi-course entrees, all of which arrive with ginger or mustard sauce, meant for spilling on shirts. The traditional Japanese meals match the spirit of the surrounding decor: colorful parasols, pictures, and even fabric kimonos hang from the walls, and paper lanterns cast a cozy glow over tabletops.
1315 Bridford Pkwy., Suite A
Greensboro
North Carolina
Flat-screen TVs display the game at Corner Slice's wood-paneled bar, where 10 bottled brews and 14 drafts, such as SweetWater IPA and Duck-Rabbit milk stout, fuel game-day cheers. Specialty pizzas including the Archer—with roasted red-pepper sauce, chicken, bacon, and red onions—anchor the menu (diners can also build their own or order by the slice). Though appetizers include sports-bar classics such as chicken wings and potato skins, the kitchen also sends forth innovative starters, such as baked breaded mac 'n' cheese bites and three flavors of crab dip. Patrons are welcome to munch oven-toasted subs, saucy wings, and pita wraps out on the patio tables, which are shaded from the jealous stares of passing birds by umbrellas.
600 N Elm St.
Greensboro
North Carolina
At The Secret Tea Room, 30-year restaurant veteran John L. Magee and his family of bakers and waiters serve gourmet lunch fare and elegant Queen's teas. On linen tabletops, pots of jasmine fannings green teas, peppermint herbal teas, and South African red teas rest beside bone china and three-tiered trays of sandwiches and English-style scones. The café's specialty Crab Cake YaYa, served with fried green tomatoes, napa-cabbage-green-apple-bacon slaw, and housemade rémoulade sauce, headlines a menu of salads and sandwiches. In addition to its parties and luncheons for adults, The Secret Tea Room hosts tea parties for 4- to 8-year-olds, featuring kid-size servings and teacups that transform into robots.
412 State St.
Greensboro
North Carolina
336-271-2998
Saffron Indian Cuisine is named for saffron, a precious and flavorful spice that has been seasoning traditional Indian dishes since ancient times. In the restaurant's kitchen, chefs fold this and other exotic spices into a variety of time-honored recipes, from creamy paneer to savory tandoori items to piquant curry dishes. They bake juicy morsels of chicken, lamb, and shrimp in the fiery flames of their authentic clay tandoor oven, right alongside naan, kulcha, and roti breads. Pots of lentil soup and fragrant biryani rice simmer on the stove.
Servers bring plates of Indian dishes and cups of chai tea into the elegant dining hall, where light streams in through tall windows. Artwork speckles the pristine white walls, depicting traditional Indian scenes such as an exotic bird drinking from a jungle stream and a long-haired sitar player who used to work at an advertisement agency in Cleveland.
1500 Mill St., Suite 104
Greensboro
North Carolina
336-574-3300
---