Arden-Arcade Gyms and Fitness
---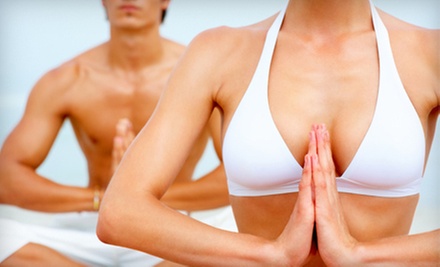 ---
Gym, Exercise, Weightloss Deals
---
Recommended Gym, Exercise, Weightloss by Groupon Customers
---
There are no mirrors inside the Bodytribe Fitness gym. When explaining this to reporters from Sacramento News & Review, founder Jeff Conrad explained, "I don't care about what people look like when they come to my gym. And I want them to not care either, at least for that hour." A freethinker, musician, and fitness aficionado, Jeff challenges current fitness trends and their emphasis on aesthetic appearance inside his unique gym, where he requests that clients silence any cellphones or Theremins they may have on them. Amidst the kettlebells, free weights, and pull-up bars, Jeff and his trainers guide students of all fitness levels through functional workouts that focus on building strong and fit athletes rather than what he calls "pretty little flesh packets".
The seasoned and dedicated trainer is also an avid writer—you can find his fitness philosophy and workout advice in magazines, newspapers, and in his book, Lift With Your Head.
920 21st St.
Sacramento
California
916-752-1498
Losing weight typically requires self-discipline and sacrifice, but that doesn't mean you can't treat yourself along the way. Integrative Care Wellness Center erases the line between weight loss and pampering with relaxing, noninvasive techniques designed to reduce cellulite and fat cells. The center's ultrasonic-cavitation treatment is a perfect example: it uses low-frequency sound waves to dissipate stubborn fat cells in as little as 20 minutes.
As its name implies, Integrative Care Wellness Center specializes in more than just weight loss. Detoxifying wraps improve circulation and enhance skin's appearance, and therapeutic massages ease tension and discomfort. Among these massages is a signature Bamboo Fusion treatment that uses heated bamboo sticks to stimulate lymphatic drainage and attract cuddly pandas.
2030 1/2 H St
Sacramento
California
US
916-494-3185
Sacramento Pole Dance Studio transports ladies out of their gym routine and into a sultry, comfortable environment painted in opposing tones of pink and black. The sassy curriculum aims to transform ladies of all ages into shapely, self-confident performers. Inhibitions melt away and ponytails fall out of scrunchies as women get in touch with their seductive side while twirling around dance poles or strutting around chairs, or unleash their inner Hulk as they rip the pole from its foundations with newfound upper-body strength. Instructor-led choreography sneaks into sessions to strengthen muscle groups, improve flexibility, and imbue spines with a confident posture
2057 Arena Blvd., Suite 130
Sacramento
California
US
916-419-6464
The boring conventionalism that plagues traditional gyms does not find a home at Try7Fitness. Instead, a slate of boot-camp workouts that keep clients guessing manage to be both challenging and fun, like playing a sport or tickling the president. In the name of variety and constant fitness progress, boot camps present workouts such as free-weight exercises, calisthenics, ab and core training, jump-rope drills, and speed and strength training.
At the helm of this program is certified personal trainer Karen Johnson. She makes the obliteration of the sibling fitness scourges—boredom and stagnation—her first priority. Karen also partners Try7Fitness with Max Muscle, a local sports nutrition business that offers assessments, nutritional counseling, and supplements.
6400 Jacinto Ave.
Sacramento
California
916-519-7077
Members of the Army, Navy, Air Force, Marines, and Coast Guard come together at the starting line of The Armed Forces Day – Five-Mile Mud Run. It pays homage to military men and women at almost every turn—it takes place on Armed Force Day, and it is designed to support military charities. Participants will even barrel through boot camp-style obstacles such as mud pits, tunnels, walls, and a push-up station. And while the first wave of the first wave is reserved for military men and women, subsequent waves are open to everyone else, including kids and Swamp Things.
66 Clarksville Rd.
Folsom
California
Paul Matsumoto has earned black belts in the striking art of kempo karate, the subtle moves of hapkido, and the stick-fighting form known as arnis, and he incorporates elements of each into the education of his students at WarriorMMA. Starting as young as 3, little would-be warriors study martial skills and the virtues of discipline inside the Warrior Training Center. The program emphasizes important character traits such as confidence and work ethic while laying the foundation for increasingly complex combat skills for more advanced classes. To broaden the horizons of fist and feet, Paul teaches mixed-martial-arts training with an emphasis on the grappling art of Brazilian jujitsu and the devastating knee, elbow, and air strikes of muay thai.
4551 Gateway Park Blvd.
Sacramento
California
916-285-9135
---