Arden-Arcade, CA Health and Fitness
---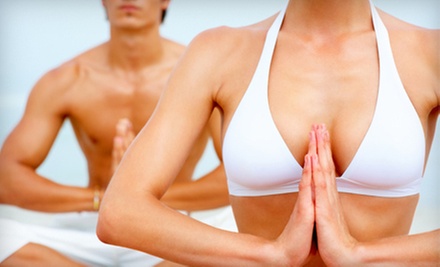 ---
Recommended Health & Fitness by Groupon Customers
---
Image Health aims to simulate the experience of working out—and reap the benefits—with none of the hassle. Noninvasive Electro-Slim technology stimulates the muscles of the body with specific frequencies, causing the rapid tightening and releasing of muscles. The treatment can result in stronger musculature, increase metabolic activity, and improve blood flow, thus contouring the body and treating cellulite. Image Health also promotes patients' well-being via services such as Kangen ionized water devices and Redox Signaling supplements.
1411 Secret Ravine Pkwy., Suite 100
Roseville
California
916-786-0200
Bicycle Plus's staff, a group of avid cyclists, brings an acute awareness to bike sales and tune-ups, garnering the store a series of awards for excellent bicycle retailing. Veteran mechanics work their magic on ailing frames throughout basic tune-ups and complete overhauls in the service department while finding time to teach curious DIYers how to fix a flat tire with peanut butter during free weekly bike-maintenance classes. The sales team pairs up shoppers with glossy rides from Trek, Specialized, and Colnago using the doctor-devised Body Geometry bike-fitting system to ensure maximum riding comfort.
705 Gold Lake Dr., Suite 320
Folsom
California
916-355-8901
The certified laser technicians at Central Valley Laser Center, under the guidance of Dr. TJ Maroon, help slenderize patients with the Lipo-Light laser. During the headlining treatment, patients don light- and heat-emitting pads on problem areas. The laser prompts the fat cells to release their contents for later removal through the lymphatic system—a process that can be expedited through light exercise or speed walking away from the center's pet grizzly bear. In addition to contouring physiques, the treatment can help diminish the appearance of cellulite.
300 Harding Blvd., Suite 114
Roseville
California
916-759-2281
Under the direction of Dr. Paris E. Royo, a board-certified ophthalmologist and refractive surgeon, the staffers at Royo Eye and Laser Center dedicate themselves to bringing the world into focus for their clients. They bring years of experience to every service, from basic eye exams to more intensive procedures such as LASIK, reconstructive surgeries, and implanting 3-D glasses. After meeting with doctors, patients can browse an optical department that sells name-brand frames or tend to the rest of the face with cosmetic services, including Botox and dermal fillers.
1524 Eureka Rd., Suite 100
Roseville
California
916-783-7696
During her college years, Kristin Walton—like most students—gave into the lure of alcohol and fast food, which led to the dreaded freshman 15...and then some. With her jeans fitting a bit too snuggly, the former competitive synchronized swimmer knew she needed to make a change. She started with yoga a few times a week, but it wasn't downward dog that sparked her weight-loss—it was a local boot camp. From there, Kristin cleaned up her diet, enhanced her muscle definition, eventually shed 40 pounds, and gained a NASM personal training certification.
Today, she returns the favor by running her own boot camp and personal training facility, where she coaches students of all ages and athletic abilities through circuit-style training that uses body-weight exercises, kettlebells, and TRX training machines. Unlike traditional boot camps, Kristin trades in a hoarse throat and steam-emitting ears for heart-pumping music and constructive motivation; she never lets a student perform a move incorrectly and always helps less experienced exercisers make adjustments. She also doles out one-on-one advice and motivation during personal training sessions and directs clients to a blog full of healthful recipes.
1920 T St.
Sacramento
California
916-296-0131
Dr. Fred Silveria, a graduate of the Palmer College of Chiropractic, has been gently adjusting patients and soothing pain for more than 30 years. Drawing on this experience, Dr. Silveria can find the source of back pain by probing the back gently by hand, using x-rays to identify imbalances, or asking if you've starred in a series of popular trampoline-accident videos. Once he has discovered potential issues, he draws on a range of treatments. These can include physical therapy and supplements to help strengthen the body or orthopedic supplies designed to counter the tiny imbalances in the feet that lead to back pain.
7777 Sunrise Blvd., Suite 3300
Citrus Heights
California
916-721-5677
---