Ardmore, OK Outdoor Activities
---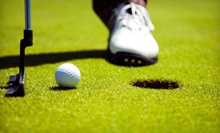 Solo shankers ride over rolling hills & pastoral greens in rental cart, arcing shots over 18's water hazards & practicing with range balls
Use Saturday 10:30am - 3:00pm
---
Recommended Outdoor Activities by Groupon Customers
---
Drag Racing every Friday and Saturday. Fantastic food concessions. Fun for the whole family. Kids 12 and under get in free.
3236 Memory Ln.
Denton
Texas
US
940-482-9998
As one of the original 10 members of the MLS when it began in 1995, FC Dallas has had plenty of time to build a few storied rivalries. Every year, the team faces off against its Texan brethren, the Houston Dynamo, and competes in the heated (and fan-promoted) Brimstone Cup with the Chicago Fire—a tradition ignited in the days when FC Dallas was known as the Dallas Burn. The shouted blessings of steadfast supporters echo among the 20,500 seats of FC Dallas Stadium, which has had attendance records broken last year and season ticket holders double each of the last two years. The club's stars dismantle opponents with the spectacular footwork that earned them a trip to the 2010 MLS Cup and an honorary stint in Riverdance.
9200 World Cup Way
Frisco
Texas
214-705-6700
Originally a 9-hole course upon its opening in 1978, community-owned The Bridges at Claresholm expanded into an 18-hole course in 2005 after designer Les Furber spent four years expertly crafting a back nine. Four tee boxes and attachable Gadget arms precede each hole, allowing patrons to adjust their distance to the green and driving angle to better avoid obstacles such as 12 water hazards. The Bridges at Claresholm also employs golf expert Lyle Broderson to offer private, semiprivate, or group lessons to golfers looking to make improvements, and hosts tournaments and male, female, and gopher leagues. Additionally, an on-site pro shop supplies participants with essential gear such as balls, clubs, and golf-suitable clothing, and Mac's Diner in the facility's clubhouse satiates visitors with weekly specials such as the Wednesday Chinese buffet and the Friday-night all-you-can-eat fish fry.
2400 Fred Couples Dr.
Gunter
Texas
US
903-696-0022
Your bulging basic tandem package includes classroom instruction, gear rental, and a shiny first-jump Certificate of Extremeatude, Cum Laude. From the private, closed drop zone in Whitewright, the sky is clear for unbelievable views of impossible flatness. As you plunge from up to 13,500 feet in the air, safely tethered to an expert instructor, you'll experience during the one minute of freefall what Wilber Wright called a "perfect peace mingled with an excitement that strains every nerve to the utmost, bra." People who skydive say the feeling of pure freedom is unparalleled, the adrenaline rush is addictive, and facing one's fears is satisfying. For frequently asked questions, see here.
1039 PR 438
Whitewright
Texas
A coalition of ice arenas endorsed by the Dallas Stars, Dr Pepper StarCenters help nurture athletes of all ages and skill levels with activities on or off the ice. Dr Pepper StarCenters house NHL-regulation ice-hockey rinks that host hockey leagues for players of all ages, eradicating the need to play on dangerous frozen lakes dotted with irritable frozen geese. StarCenters' skate schools instill students with the fundamentals of ice hockey or figure skating, allowing them to progress to hockey leagues and local skating competitions if they choose. To warm up after laps around the Euless ice rink, skaters can check out the onsite baseball stadium, batting cages, soccer fields, and Texas Star Golf Course. All locations are open for birthday parties and special events; see each location's website for details.
6993 Stars Ave.
McKinney
Texas
Supreme Golf makes maintaining an oft-pricey golf addiction a bit easier on the wallet by granting golfers discounts at golf courses and golf schools, as well as cutting the price of books, golf clubs, and nutritional supplements. Golfers can enjoy relaxing, discounted rounds at area courses in cities across the country including such area courses as Bear Creek Golf Club in Dallas, Gateway National Golf Links in St. Louis and St. Andrews Golf and Country Club in Atlanta, soaking in the sights and badgering local pros for analysis of the annual caddie draft.
Rte. 1 Box 694
Thackerville
Oklahoma
---