Dance Lessons in Ardmore
---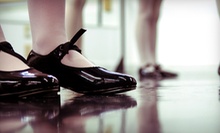 Use Tuesday 2:30pm - 5:30pm
---
Recommended Dance Lessons by Groupon Customers
---
Seven days a week, First Position Dance Arts offers a Swan Lake's worth of dance classes for agility-seeking adults. Under the tutelage of the studio's graceful guides, students will take on the fearsome foes of rhythm, balance, and poise through a well-coordinated attack of box steps, chassés, and pops/locks. Class options include ballet, modern/jazz, and hip-hop, all of which can improve cardiovascular systems, aid in weight loss, and provide a good icebreaker should you happen to meet the ghost of Martha Graham.
10 E Athens Ave., Suite 204
Ardmore
Pennsylvania
Ornate railings flank the steps to one of BlueBallRoom Dance Studio's two spacious dance floors, whose hardwood-maple surfaces mask springy, joint-cushioning subfloors. The studio's team of talented teachers leads classes in a monthly rotation of social dances ranging from Argentine tango and various ballroom styles to intermediate touchdown dancing. Group classes encompass these styles as well as cardio-centric Zumba, famed for its easy-to-follow steps and driving Latin beats. Private-lesson subscribers, meanwhile, get closer attention and a chance to hone their footwork at regularly held free dance parties.
1601 Concord Pike
Wilmington
Delaware
Julie Berger's memories are saturated with images of dancers— teachers who inspired her, students she worked with, and professionals she revered. Entranced by the beautiful and transformative art form, Julie practiced dance throughout her life, attending intensive dance programs, performing in competitions, and teaching at local dance centers. Julie discovered salsa dancing while studying in England, and she instantly fell in love with its sultry movements and lively steps. Determined to share the newfound style with others, Julie founded her own salsa-dancing studio.
At Salsa in the Suburbs Dance Studio, Julie and her staff of passionate dancers lead classes in a variety of styles, including salsa, ballroom, and belly dance. The instructors work with students of all levels, helping them master form, technique, and rhythms. The teachers also offer children's classes in ballet, tap, and Zumba, ideal for youngsters trying to be more active or hoping to include a lively dance section in their next chemistry presentation.
1245 North Providence Road
Media
Pennsylvania
610-800-8182
At two locations, Top Hat Dance Studio's passionate team of nationally certified teachers inspires dancers of all skill levels to shuffle off to Buffalo while hustling, salsaing, and waltzing across the dance floor. During group lessons, skilled instructors teach guests to untangle left feet while performing intricate, stylized choreography in the Lancaster location's two-step, ballet, and West Coast swing classes or the Philadelphia location's salsa, bachata, and advanced-level chicken-dance classes. Fledgling fleetfooters can supplement group sessions with private lessons, during which feet will learn to tap out Morse-code messages to a far-away dance partner while sharpening skills with one-on-one instruction. In addition to these dance classes, instructors also specialize in preparing engaged couples for their first dance and offer a number of specially designed youth programs.
357 W Main St.
Leola
Pennsylvania
717-556-8283
Inside La Luna Dance Studio, students whirl like colorful tops, salsa dancing, tango dancing, or swing dancing atop a 5,000-square-foot dance floor as a crystal-clear sound system pumps tunes. Encouraging instructors stand nearby, breaking down the music and the steps of each style, as friends, partners, and the newly acquainted bond over each tap of their toes. While the studio specializes in these adult Latin-dance courses, junior-level programs welcome kids aged 3 and older, and all classes are scaled to beginner, intermediate, or advanced levels. In addition to their comprehensive month-long programs, the sashayers host special events and dance parties, such as BYOB Salsa Friday every second and fourth weekend, and an annual symposium on the safety risks of holding roses in your teeth.
4610 Bensalem Blvd.
Bensalem
Pennsylvania
US
215-638-0418
At Step II Dance Center, the teachers help to transform their students into polished performers with an array of classes, laying the foundations for future dancers, singers, and actors. They teach students as young as 3 and as old as 82 to move their bodies in styles such as ballet, soft shoe Irish dance, and hip-hop, as well as in theater dance, which students put to use as they star in renditions of musicals such as 42nd Street and Annie. Independent filmmakers and companies such as Forman Mills have hosted auditions for commercials and movies at Step II Dance Center, giving students a chance to break out in the business without plastering their headshots all over a film producer's cartons of milk.
8941 New Falls Rd.
Levittown
Pennsylvania
215-946-4530
---