Things to Do in Ardmore
---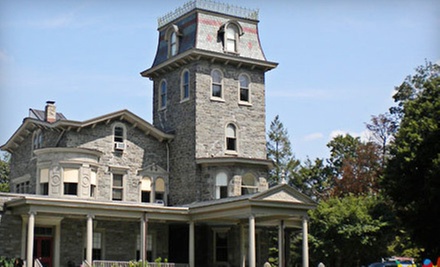 ---
Recommended Things to Do by Groupon Customers
---
Knowledgeable, friendly locals enlighten visitors on their city's rich history, art, culture, and dining scene during Philadelphia Urban Adventures' informative walking excursions. Following a philosophy of responsible travel—which aims to support local businesses whenever possible—the guides steer sightseers through intriguing neighborhoods and districts such as Center City, the 9th Street Italian Market, and the campuses of Drexel University and the University of Pennsylvania. Along the way, they make pit stops at local pubs, cafés, galleries, and food trucks, working to cultivate an authentic experience for all guests. They also dispense helpful tips, such as how to talk to locals and where to find good views of cheesesteaks in their natural habitat.
1 Penn Square
Philadelphia
Pennsylvania
215-280-3746
Philadelphia is no longer safe. That's because Fright Factory, a house of charnel horrors featured as one of America's scariest Halloween attractions on the Travel Channel, is reopening the portal to its haunted attractions from September 28 to November 3. The sinister site traps unsuspecting guests within four distinct settings, including a lab filled with horrible genetic aberrations, a mausoleum fallen into moldering disrepair, a mutinous asylum, and a physical manifestation of fear itself.
2200 S Swanson Street
Philadelphia
Pennsylvania
215-334-4678
Little Hands Art Studio's owner and teacher, Jessica Heisen, equips budding artisans with the supplies and know-how to explore their own creativity with delectable results. Heisen's classes for adults, children, and intergenerational duos guide students as they bake cupcakes and top them with decorations such as fondant, mini marshmallows, frostings in piped pastry bags, and cookies hit by a shrink ray. Beyond the regular classes, Little Hands hosts private birthday parties for youngsters and, on Thursday and Sunday nights, grownups-only workshops, which encourage participants to bring their own wine and mingle as they create pastry art that reflects their inner muses' 401(k)s. The studio also teaches children how to whip up afternoon snacks such as pastas and muffins, and conducts occasional beading and other art classes.
3502 Scotts Ln., Ste. 905
Philadelphia
Pennsylvania
215-801-2412
The flavor-savvy guides of Chew Philly Food Tours acquaint both visiting and veteran Philadelphia taste buds with the dishes that encapsulate the city's culinary heritage. During each 2.5-hour journey, groups visit family-owned restaurants, bakeries, and grocery stores— many of which have been around for decades—where merchants show off their specialties to curious palates.
Tidbits about local architecture, city history, and the philly cheesesteak's historic boxing victory against Chicago-style pizza spring from tour guides as tasters proceed with their 1.5-mile jaunt, which keeps feet moving at a moderate pace to accommodate guests of all ages and fitness levels. Once the last morsel has been devoured, groups disembark with a cache of coupons garnering discounts at the shops and eateries visited on the tour, so customers can return to toss pebbles at a bakery case to attract the attentions of the cupcake they have a crush on.
4360 Cresson St.
Philadelphia
Pennsylvania
800-838-3006
Bird-of-prey expert Mike Dupuy shares his love of the 4,000-year-old sport of falconry during exciting and informative demonstrations with his avian costars. A professional public speaker, Mike entertains his audiences with personal anecdotes and motivational speeches that use falconry as a metaphor to encourage them to follow their dreams. Guests also get to learn about each feathered raptor while it surveys the crowd for wild Energizer bunnies, and Mike encourages audience interaction by inviting volunteers from the audience to hold the falcon and try in vain to teach it to bark like a dog.
1212 Edge Hill Rd.
Abington
Pennsylvania
570-837-1551
Owner Nancy Nagle stocks a colorful rainbow of knitting supplies in her bright and eccentric gallery, which has become a go-to outlet for the local knitting community. To meet the demand, she constantly stuffs her shelves with new styles of material, ranging from traditional yarns to luxury fibers—banana, recycled silk, and Wookiee fur—to carry-along yarns with sequins, flags, and lash. Nagle's passion for fiber arts has introduced her to a community of artists who dye and spin some of her more than 20 brands of yarn. She uses the shop as a gallery to display the work of these local artists—including Philadelphia native John Stango—as well as share her own bold collection of woven work such as hats, shawls, and sweaters.
City Paper's A.D. Amorosi describes the two-floor Nangellini as a "doubly colorful" space as "bright and open as a bay window in Sag Harbor." Amorosi admires the gallery's art collection, and between the vibrant space's "faux-tin ceiling" and "matronly rugs," Nancy leads open and privately scheduled classes on knitting, crochet, and lace work. Classes cover all the basic techniques required for newcomers to begin creating their own woven pieces, such as scarves and felt toupees.
832 South St.
Philadelphia
Pennsylvania
US
215-413-5001
---