Things to Do in Ardmore
---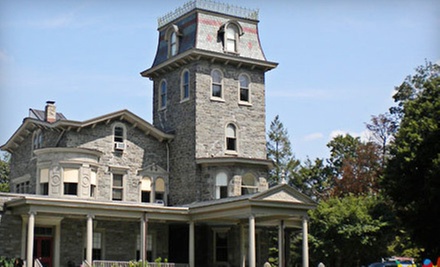 ---
Recommended Things to Do by Groupon Customers
---
Ever since the first giant pumpkin was carved into a carriage, people have wanted to travel in style. Philadelphia Trolley Works, a subsidiary of 76 Carriage Company, turns fairy tales into reality with a fleet of double-decker buses, motor coaches, horse-driven carriages, and their namesake trolleys. On any given day, the historic streets of Philadelphia pulse with trolley or horse-pulled tours of Independence Hall and the Rocky steps. Cinderella-inspired horse-drawn carriages and Victorian-style trolleys transport bridal parties to weddings, and jumbo-sized motor coaches can be rented for casino trips and cross-country air-guitar tours.
599 Market St.
Philadelphia
Pennsylvania
215-389-8687
Knowledgeable, friendly locals enlighten visitors on their city's rich history, art, culture, and dining scene during Philadelphia Urban Adventures' informative walking excursions. Following a philosophy of responsible travel—which aims to support local businesses whenever possible—the guides steer sightseers through intriguing neighborhoods and districts such as Center City, the 9th Street Italian Market, and the campuses of Drexel University and the University of Pennsylvania. Along the way, they make pit stops at local pubs, cafés, galleries, and food trucks, working to cultivate an authentic experience for all guests. They also dispense helpful tips, such as how to talk to locals and where to find good views of cheesesteaks in their natural habitat.
1 Penn Square
Philadelphia
Pennsylvania
215-280-3746
Philadelphia is no longer safe. That's because Fright Factory, a house of charnel horrors featured as one of America's scariest Halloween attractions on the Travel Channel, is reopening the portal to its haunted attractions from September 28 to November 3. The sinister site traps unsuspecting guests within four distinct settings, including a lab filled with horrible genetic aberrations, a mausoleum fallen into moldering disrepair, a mutinous asylum, and a physical manifestation of fear itself.
2200 S Swanson Street
Philadelphia
Pennsylvania
215-334-4678
Abington Kids Creative Arts Studio's lively instructors foster the burgeoning minds of youngsters with classes focused on building creativity and imagination. The team allows little ones aged 4–14 to disconnect from their phones, computers, and robot teachers to engage in fun, hands-on activities during afternoon open sessions.
Two-hour sessions allow kids to express themselves artistically and exhaust internal sugar reserves through drawing, molding pottery, playing music, and acting in theater performances. My Adult & Me sessions invite grown-ups to stay-and-play with their children, while the Drop Off Program's extended studio hours free up time for parents to run errands or triathlons. As children exercise their brain biceps, adults can relax and indulge in complimentary coffee and tea.
Abington Kids Creative Arts Studio also hosts summer camps to occupy up to 15 youngsters at once when school is on break and their Miami beach house is being renovated. Weekly themes range from Fantasy Week to Music Week to Puppet Week, each filled with crafts and fun projects.
1134 Easton RD.
Abington
Pennsylvania
215-572-7200
Little Hands Art Studio's owner and teacher, Jessica Heisen, equips budding artisans with the supplies and know-how to explore their own creativity with delectable results. Heisen's classes for adults, children, and intergenerational duos guide students as they bake cupcakes and top them with decorations such as fondant, mini marshmallows, frostings in piped pastry bags, and cookies hit by a shrink ray. Beyond the regular classes, Little Hands hosts private birthday parties for youngsters and, on Thursday and Sunday nights, grownups-only workshops, which encourage participants to bring their own wine and mingle as they create pastry art that reflects their inner muses' 401(k)s. The studio also teaches children how to whip up afternoon snacks such as pastas and muffins, and conducts occasional beading and other art classes.
3502 Scotts Ln., Ste. 905
Philadelphia
Pennsylvania
215-801-2412
In 1953, Rabbi Mortimer J. Cohen commissioned famed architect Frank Lloyd Wright to design the Beth Sholom Synagogue, which remains the only synagogue he masterminded during his illustrious career. Listed as a national historic landmark in 2007, the Beth Sholom Synagogue draws visitors with its unique construction and educational visitor center, which is nestled in one of the synagogue's social spaces. The visitor center allows guests to acquaint themselves with Wright's creative process and partnership with Rabbi Cohen through interactive kiosks, displays of Wright's architectural sketches, and excerpts from the pair's online chat logs.
8231 Old York Rd.
Elkins Park
Pennsylvania
215-887-1342 x157
---