Shopping in Arlington
---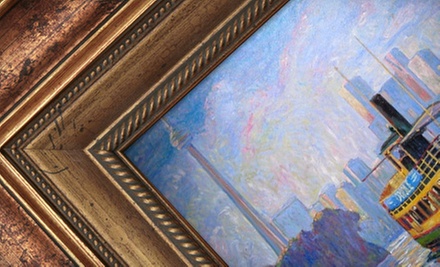 ---
Recommended Shopping by Groupon Customers
---
La Muse gives customers a gift option that doesn't require careful strategizing with a claw crane and a decapitated piggy bank's worth of quarters. Operating under the mantra of "Gifts with Purpose," La Muse offers an inventory of heartfelt, handcrafted items, including jewelry, personalized gifts, quote- and saying-adorned gifts, and home décor, all from American artists. Wrap wrists in copper cobras with the bracelets of Sergio Lub ($22–$52), bring life-affirming levity to the walls of your man-cave with the mixed-media art of Kelly Rae Roberts ($14.99–$39.99), or class up catapulting coffee grinds into filter forts with a stainless-steel and tumbled-glass coffee scoop ($15.99) from Laurel Johns. Other items include bath and body products, area photographs, and comical figurines and pictures.
108 N Patrick St
Alexandria
Virginia
Zelaya Shoes of Bethesda is a footwear palace housed beneath a cheery pink awning. Prices at Zelaya range widely; pick up a pair of Sweet Caroline Yellow flats from Chinese Laundry for $39 or a luxurious pair of Daquelo taupe suede booties from Chie Mihara for $349. Keep your torso firmly attached to your hips with a black suede zipper-detail belt from J.J. Winters for $165.
4940 St. Elmo Ave.
Bethesda
Maryland
Dalton Brody provides an upscale boutique atmosphere nestled in a cozy storefront of mottled stone and regal green awnings. The shop is stuffed to the rafters with crystal and glassware, painted serving trays, candles, handbags, picture frames, and much more. Fill your home with the mingling aromas of lavender and rosemary from a petite air essence incense-like air freshener ($45), or dappify the gentleman of your choosing with a pale-green American–sailboat tie ($75). For the homosapien who has everything, leather money clips ($38) come in a variety of grains and colors, while a small photo album bound in gentle green-and-pink floral tapestry ($34) will hold a variety of memories, images from the future, and souls. Dalton Brody also stocks numerous gifts for new moms and their babies; perk up a nursery with a pink piggy bank ($52) coated in white polka-dots.
3412 Idaho Ave. NW
Washington
Washington D.C.
The Denim Bar serves up frothy mugs of stylish designer denim to the mid-Atlantic's chic shoppers, with an array of men's and women's jeans and more. Gents can comfortably cover regrettable calf tattoos with a pair of Naked & Famous slim guy jeans in black selvedge ($125), while ladies can gussy up gams with Acne Hex in Prod skinny jeans ($149). Other designer brands on tap at Denim Bar include AG, Nudie Jeans Co., Citizens of Humanity, 4 Stroke, and Sugar Cane & Co. For customers desiring non-denim duds, Denim Bar also offers apparel that hasn't been mined from the earth's natural jeans deposits. Bedeck your torso in the spirit of modal jazz with a Friend or Foe John Coltrane T-shirt ($48), or coax catcalls from cumulus clouds with the Three Dots Desert Night bandeau dress ($115). An assortment of accessories rounds out the Denim Bar inventory, with socks, sunglasses, and jewelry tempting fashionistas and stylesters alike.
4939 Cordell Ave.
Bethesda
Maryland
At ModernRugs.com, you'll find a variety of thoughtfully constructed floor art by contemporary designers such as Calvin Klein, Martha Stewart, and Nani Marquina, and master crafters from around the world. The site's enormous selection of colorful groundsheets offers a respectful covering for even the most shamefully exhibitionistic tile or wood panel. Designer Thomas Paul gives soles something to tread softly upon with the 3'x5' coral-cream-orange rug ($289), whereas a 2'x3' Soho-style Crinkle CRK-1602 Black Shag ($115) rug tickles toes with soft felted wool tresses that are just the right color for spilling dark-colored liquids or hiding dark chocolate truffles. ModernRugs.com also offers an array of child-themed floor drapes so that you can instill a love of statistics in your squirt's subconscious by adorning her room with the 2'x3' Numbers Game rug ($249).
4 Delford Ave.
Silver Spring
Maryland
When a customer walks into Celine de Paris, owner Sharon Amar hopes they feel like they've just stepped off a private jet into a boutique located in a swanky European metropolis. To cultivate this chic vibe, he fills his boutique with upscale lingerie, clothing, and accessories culled from overseas retailers such as A jour and Hristy. Amar and his staff ensure a personalized shopping experience by pairing each customer with apparel that flatters their body type, such as gowns with deep-v necklines and sheer blouses that reveal actual hearts of gold. The boutique also assists customers in finding the perfectly fitting bra by taking measurements and letting customers try on various styles.
1614 Wisconsin Avenue
Washington
District of Columbia
202-298-0025
---