Theme & Amusement Parks in Arlington
---
Theme & Amusement Park Deals
---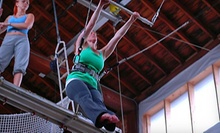 After experienced instructors lead brief ground demonstrations, students practice swinging on a flying trapeze
---
Recommended Theme & Amusement Parks by Groupon Customers
---
Not only is the Seattle Aquarium the ninth largest of its kind in the United States—with more than 22 million visitors since its opening in 1977—it is also an integral center for marine conservation and education. The exhibits display stunning creatures of land and sea, and staff biologists study the aquatic tenants to conduct critical research on giant Pacific octopuses, sixgill sharks, sea otters, and other indigenous animals.
Though the Seattle Aquarium is an advanced center for research, it isn't all serious business and otters wearing lab coats—it also hosts numerous interactive exhibits and displays to please young and old alike. The Marine Mammals exhibit puts visitors up close with sea otters, playful river otters, harbor seals, and fur seals. The Pacific Coral Reef exhibit displays visually stunning and vibrant tropical fish, and the 120,000-gallon Windows on Washington Waters exhibit provides a floor-to-ceiling view of hundreds of Puget Sound fish, including salmon, lingcod, rockfish, and wolf eels.
The Seattle Aquarium also stays actively involved with the community. The aquarium's biologists partner with local divers to take an annual octopus census, and each year the center trains more than 150 volunteers to teach visitors about the ecosystems of local beaches.
1483 Alaskan Way
Seattle
Washington
Traxx Indoor Raceway measures out adrenaline in seconds. It takes a go-kart just 23 seconds to careen around the indoor 1/5-mile track once, and 45 seconds for it to crest the 1/4-mile outdoor track's hill and swoop around its smooth turns back to the starting line. Drivers can reach speeds of 35 miles per hour in the SODI GT2 gas-powered karts, so the track provides helmets, jumpsuits, and notes from their mother to keep the racers safe. All contests last 20 laps or up to 15 minutes, except for the Traxx 100, a monthly marathon when 10 drivers rumble around the outdoor track 50 times.
Although drivers on the main track must be at least 14 years old, the team is committed to spreading the excitement around. Kids aged 3–10 gear up and hop into electric cars, zipping around their own four-turn track under the watchful eyes of attendants. Among other carnivalesque distractions, the colorful facility boasts an arcade and a 24-foot climbing wall to thrill jaded teenage thumbs, as well as a checker-themed banquet hall that seats up to 150 people for parties and team-building events.
4329 Chennault Beach Rd.
Mukilteo
Washington
With hands gripped to the wheels of karts capable of cresting 45 miles per hour, up to 12 racers hum around the hairpin turns and straightaways of K1 Speed's indoor track during adrenaline-spiking sprints toward the podium. This brand of excitement can be found at all 15 locations, where racers eschew the fumes and inflammatory skywriting of gas kart exhaust for European, eco-friendly electric karts designed to instantly accelerate out of curves, which are bordered by safety barriers that absorb impacts. To keep everyone in the chase, dialed-down junior karts (available at select locations) safely carry tiny drivers between the height of 48" and 58".
2207 NE Bel-Red Rd.
Redmond
Washington
GameWorks fosters friendly competition between kids and adults by surrounding pizza, draft beer, and half-pound burgers with a mosaic of interactive pursuits. Each location holds more than 150 arcade-style games, which include racing and shooting challenges from Sega as well as lower-tech classics such as pinball.
1511 7th Ave.
Seattle
Washington
206-521-0952
From three locations, Family Fun Center & Bullwinkle's Restaurant foster lifelong memories for kids and their caretakers as they bond over bouts of miniature golf, laser-tag shootouts, and bumper-car derbies. Visitors taller than 58 inches challenge each other to go-kart races, while smaller thrill seekers practice Napoleonic siege techniques at the indoor fun fortress. Outside, human slingshots hurl visitors safely through the air in harnessed flights, and indoor rollercoaster simulators re-create the twists and turns of amusement-park rides or malfunctioning monorails. After perfecting swings at 18 holes of mini golf or 25-pitch batting cages, visitors chow down at the Bullwinkle-themed restaurant, feasting on crowd-pleasing park fare such as pizza, burgers, salads, wraps, and corn dogs. Attractions vary by location.
7212 220th St. SW
Edmonds
Washington
US
425-774-4263
The ability to swim allowed humanity to explore the seas, discover pearls inside oysters, and evolve arms devoid of inflatable muscles. Wave Aquatics Centers' instructors understand the importance of such a skill, aiming to impart it within children and adults alike across the community. Working as a nonprofit organization fueled by the common purpose of providing students of all ages with a slew of programs and lessons, the staffers share their wisdom in Juanita and Redmond High School pools. They train their charges in competitive swimming, maintaining three teams, including a year-round Masters-level team taught by professional coaches and reformed mermaids.
10601 NE 132nd St.
Kirkland
Washington
425-936-1627
---