Arvada Outdoor Activities
---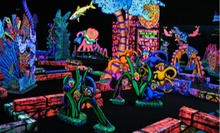 Golf balls tumble down turf in 18-hole indoor glow-in-the-dark course themed around various settings such as medieval times and rain forest
---
Recommended Outdoor Activities by Groupon Customers
---
The staff of Family Shooting Center maintains a public outdoor range, where shooters of all skill levels can hone their firearms proficiency. A day in the trapshooting area challenges sportsmen with pedestal traps, ATA automatic traps, and five-stand sporting clay stations. Alternatively, pistol and rifle ranges offer marksmen targets up to 100 yards away. The facility's multitude of shooting styles also includes an archery range that lets bowmen hone hunter's vision sharper than Davy Crockett's, even after he got LASIK.
To further develop responsible firearms operators, instructors lead classes that range from basic safety courses to private instruction for law-enforcement officials. Safety and camaraderie are further encouraged through trapshooting leagues and special rates for Boy Scouts. When hunger starts affecting concentration, an onsite vendor refuels guests with fare such as hot dogs, pulled pork, and gourmet bratwursts made from game meats.
4201 S Parker Rd.
Aurora
Colorado
303-680-5401
Ducking behind a rusty old car, the paintballer peers through the windshield as he preps his next move, knowing all too well that opponents lurk behind the barrels and old cars littering the rest of the 65-acre outdoor field. Meanwhile, at an indoor facility, players traverse an astroturfed airball field or weave their way around a scenario field's walk-in tanks and barricades. Elsewhere, the pro shop equips competitors with gear ranging from name-brand markers to bulletproof easels. In the coming months, American Paintball Coliseum plans on enthralling visitors anew by renovating its outdoor location into 14 different playing fields, adding a concession stand to its indoor facility, and adding a laser tag option to its fields.
4100 Grape St., Suite 2
Denver
Colorado
303-298-8573
The winds of winter were approaching and the members of the Baltimore Bocce League were looking for an indoor activity that stayed true to the irrefutable equation of rolling balls at targets. Allured by skee-ball's friendly competition, simple game play, and mesmerizing concentric circles, they established the Baltimore Barskee League.
The successful Baltimore league eventually spawned a Denver chapter. The Denver Barskee League partners with local bars that sponsor and host each season's games. The matches typically last 15 minutes and are followed by discounted specials on bar fare and celebratory games of flip cup. Its members also stage charity kickball games throughout the year.
17th Ave. and Colorado Blvd.
Denver
Colorado
410-952-7436
Campus Cycles owners Mark Velat and Bobby Verenna grew up in the cycling world. Mark has been riding and racing for more than 30 years now, and Bobby broke into the retail end back in sixth grade. At their shop, patrons reap the rewards of their expertise when shopping from shelves of sturdy bikes and gear from brands such as Giant, Cannondale, and Electra, in addition to children's two-wheelers and tricycles. Their service department's technicians recalibrate bikes with tune-ups, and fit specialists match individuals with the ideal cycle. Patrons can also visit on demo days when big-name manufacturers show off their latest products and let riders take them out for test-drives on nearby mountain trails or paved roads. Meanwhile, the store's Get to Know Your Bike classes give riders basic repair and maintenance skills so they can remedy minor damage incurred when tires pop on fiberglass banana peels littering the road.
7310 W Colfax Ave.
Lakewood
Colorado
303-237-1115
---