Things to Do in Arvada
---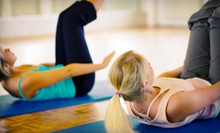 Sweat it out in these challenging group fitness sessions led by a former Israel Defense Forces commander
---
Recommended Things to Do by Groupon Customers
---
Denver Patio Ride's party bus moves through the River North arts district and downtown by way of pedaling—any willing pub-crawlers can power the party forward as the sober driver steers and brakes. After jump-starting at Billy's Gourmet Hot Dogs on Larimer and Broadway, the bus cruises at a low-key 5 miles per hour, stopping at a smorgasbord of bars, many of which pour $5 specials of one shot and one beer. Guides infuse jaunts with historical tidbits, trivia, and prizes, while the solar-powered sound system's iPod hookup allows pedalers to blast their personal collection of upbeat audio books. No weather other than rain or snow prevents tours, and the bus's capacious storage space accommodates any party accessory except beer, which is not allowed on the bus. Revelers can rent out the whole bus for large parties, or buy seats on a weekly schedule of public pub-crawls.
2445 Larimer St.
Denver
Colorado
720-626-1715
Agates, amethysts, and luminous glass beads come alive in the settings that The Colorado Bead Company's jewelry instructors help students design— elegant yet whimsical loops of wire, antique-looking chains, earring hoops that recall delicate dreamcatchers. Classes bring out the jewelry artist in kids, adults, and even first-time crafters who get to experience the thrill of walking out clad in the necklaces they've just designed. The shop glistens with strands and packets of such exotic baubles as freshwater pearls, hypoallergenic beads, and Swarovski crystal beads, ready to be incorporated into a new project or used to make a pair of maracas sound classier. Shoppers browse in a bright, open space lined with huge windows, hardwood floors, and airy flower prints.
1245 E Colfax Ave., Suite 100
Denver
Colorado
On a trip to Britain, Chelly Vitry was determined to stop at an authentic apple press. She was eager to sample Scrumpy—a British version of hard cider—and see how it was made. Despite days of searching, however, she couldn't find a press that would allow her visit. With Denver Gourmet Tours, Chelly guides small groups on the same kind of hands-on culinary experience she sought in Britain. During her excursions—which change seasonally—Chelly and her guests spend three hours strolling Denver's streets, meeting food specialists, and trying the food at four to six culinary hot spots such as food trucks, sweet shops, and craft breweries.
Along with her main tours, Chelly customizes culinary trips, designs gastronomic team-building activities, and hosts events such as progressive dinners and tasting parties. She also fills her guests with newfound culinary skills during hands-on cooking classes, where they learn to craft cupcakes, bake bread, or grow pizzas in their garden.
1610 Little Raven St.
Denver
Colorado
US
At The Denver Fly Shop, masters of fly-fishing's elusive art lead classroom instruction, field sessions, and guided trips with a proficient grasp on the sport's intricate ins and outs. Through classroom sessions, the crew teaches students how to tie essential knots and how to mimic the movement of insects. They also offer in-depth knowledge on locations where fish have been known to hangout and mingle with delinquent trout-school dropouts. Their casting lessons familiarize anglers with their gear during two-hour sessions that take place indoors during winter months and on the banks of Smith Lake in Washington Park when spring sets in. Once their intro lessons are complete, students can put their newfound proficiencies to the test during guided fishing trips to some of Colorado's most abundant waterways.
There is also a comprehensive fly-fishing shop with over 3000 different fly patterns to complement fly fishers' ventures beyond their intro lessons. Guided tours are also offered to explore the area.
1699 S Colorado Blvd.
Denver
Colorado
303-736-9320
---