Parties & Events in Asbury Park
---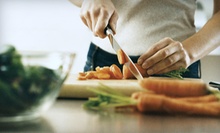 Chefs guide students through preparation of three-course meal in variety of cooking styles, such as Thai and Italian
---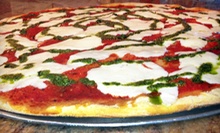 Groups of two, four, or six sample salads, garlic bread, pizzas, rice balls, and desserts
---
Recommended Parties & Events by Groupon Customers
---
Parker's Flowers has been catering to the romantic, congratulatory, sympathetic, apologetic, "just because," and seasonal-affective whims of Burlington County for more than 75 years. Whatever the occasion, be it birthday, boss, or baby related, Parker's will passionately provide you with the proper petals pronto. In addition to classically vibrant floral arrangements such as the Cherish Spring ($55–$75), Perfect Love ($75–$100), and Here Comes the Sun ($40–$50) bouquets, Parker's offers modern and tropical designs, fruity and fulfilling gift baskets, and a wide range of unique house plants and orchids.
602 Parry Ave.
Palmyra
New Jersey
Ovando follows the Gregorian calendar's lead with a seasonally changing array of fresh-cut flowers. Peruse Ovando's secret garden of seasonal arrangements, white blooms, and orchids arranged by owner Sandra de Ovando in stylish minimalist designs. The Romance in Red arrangement ($150+), housed in an ice vase, conveys amorous affection better than a cherry popsicle. The Floating Flower Ball ($125+) is a planet of petals ideal for a home, office, or top-secret surface-of-the-moon astronomy station. Be Prince Charming with the Lady Slipper orchid ($100), or wake up from a slumber of plastic petals with the fresh blooms of the Sleeping Beauty ($95+).
337 Bleecker St.
New York
New York
Keil Bros' garden center and nursery is heartily stocked with a plethora of seasonally changing plant products hailing from a number of regional growers, including Chesapeake Nursery and Monrovia Nursery. With the summer solstice recently passed, the center's verdant and sprawling inventory is now focused on helping the mid-season gardener. Ready-to-go planters ($25–$50) and pre-arranged hanging baskets ($15–$25) keep green thumbs green and pristine fingernails clean while also adding opulent oxygen sources to homesteads. Come the auburns of autumn, Keil Bros turns its gardens over to organic goodies such as apples from the Hudson Valley, ornamental cabbages, and pumpkins just begging to be brought to cackling life through blade and flame. Year-round, the center also provides essential tools and lawn-care goods from brands such as Toro and Lawn-Boy.
210-11 48th Avenue
Bayside
New York
For more than three decades, Barry Silverman and the bloom arrangers at PC Floral Designs have been orchestrating custom arrangements and baskets for special occasions. They emphasize individual customer satisfaction with their PC "personal touch" approach, approaching each pot, vase, and basket like it's the first one they'd ever laid eyes on. They carefully help clients select the proper petals for their recipient, grouping cymbidium orchids for a tropical plant–lover or arrange a token of appreciation to send to compassionate bosses, well-behaved relatives, and other fictional characters. They also specialize in surrounding brides with favorite blooms, including pew arrangements and elegant huppahs.
41-03 31 ave
astoria
New York
718-274-7673
As the name suggests, the artistic minds behind Petals & Paper channel their inspiration into two kinds of unique creations: modern floral arrangements and custom invitations. Designers craft each bouquet according to the client's needs and tastes, arraying bridal bouquets into vintage or contemporary designs and crafting corsages, headpieces, and fresh flower rings to match students' prom dresses or gym shorts. Stationery experts can customize missives to reflect any occasion, from baby announcements adorned with animal silhouettes to wedding invitations accented with bright hues and beach themes. Aside from its services, Petals & Paper also tutors pupils in the art of flower arrangement, imparting novices with the knowledge to avoid classic mistakes, such as pairing a bird of paradise with a posy of salmon.
14 S Main St.
Yardley
Pennsylvania
267-392-5763
Juicy tidbits of chocolate-dunked fruit arrive on the doorsteps of family and friends, done up in colorful bouquets and candy boxes by the skilled fruit arrangers at Edible Arrangements' more than 1,100 franchises worldwide. The company's in-house chocolatiers drizzle albion strawberries, daisy pineapples, and tomatoes getting in touch with their fruit roots in a trio of chocolate flavors. Once properly chocolated, the workers organize the preservative-free sweets into lush arrangements that resemble flowers in bloom. Customers can choose to plop their bouquets in a variety of vessels, including vases, mugs, and sports- or holiday-themed containers that add a personal touch to the edible gifts. Alternatively, customers can opt to adorn gifts with the cheery, red lids of candy boxes, nestling 12 chocolate-dipped morsels inside to build anticipation and determine if loved ones have x-ray vision as they guess whether fruit will come dusted in shredded coconut or drizzled in white chocolate.:
100 St. Marks Pl.
Manhattan
New York
212-982-7200
---