Shopping in Asbury Park
---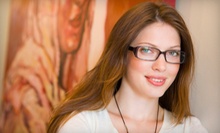 Bold and colorful or subtle frames from Fendi, Coach, and Dolce and Gabbana encase eyes in stylish sight enhancers and sunglasses.
Use Thursday 10:00am - 6:00pm
---
Recommended Shopping by Groupon Customers
---
The artists at Montage Clothing Inc. specialize in sharing their garment-customizing craft with others. Intimate workshops at the studio ensure one-on-one attention from instructors teaching how to emblazon graphics onto garments or use Adobe software for image design. Students wishing to start their own printed clothing lines can also benefit from the class, with tips for avoiding common pitfalls such as printing their own face onto all their clients' garments.
The shop simultaneously practices what its staffers preach, with the capability of custom-screening images in up to six vibrant colors onto as many as 10,000 pieces of clothing for clients. An authorized dealer of Ryonet screenprinting supplies, the shop traces the brand's high-quality ink over everything from personal orders to the seeds of new fashion lines.
565 Broad Hollow Rd., Suite 7E
Farmingdale
New York
888-913-5827
The practice of ayurveda holds fast at the core of Herbal Destination, put there by a trio of female owners who use the philosophy of traditional Indian medicine to enhance their clients' lives through natural skincare products, healing supplements, and a yoga DVD. The store's herbal-care solutions include a paraben-free muscle oil rub and soothing Stress Hrx pills, and all of the offerings are formulated and blended at advanced facilities in India. The eco-conscious factories reflect the healing spirit of Ayurveda by boasting gardens that shelter endangered herbal plants, where dedicated gardeners protect the flora and gently shape them into polar bears and Sumatran tiger topiaries. Each Ayurvedic formula contains a mixture of three or more herbs and arrives sealed in blister packs of 60 soft gels or capsules to maintain freshness and potency. Customers who opt to focus on their skin can try the store's all-natural, four-piece skincare line that pampers skin with an apricot anti-wrinkle night cream, an herbal moisturizing cream, a deep-cleansing scrub, and a cucumber eye cream. As part of its commitment to sustainability, Herbal Destination's team wraps all products in eco-friendly and recyclable packaging.
2387 New York Ave.
Huntington Station
New York
US
631-421-1700
The employees at Aztec Florist shudder at the idea of casually stuffing flowers into a box—their arrangements are devotedly crafted and delivered by hand to Ewing customers or painstakingly shipped to houses nationwide. The family-owned-and-operated shop's emphasis on pleasant service matches its investment in variety, which is reflected by an expansive stock of bouquets, gift baskets, and plants. Blooms fit into the traditional categories of birthday gifts and romantic gestures, as well as simple themes such as Make Someone Smile. The Flowers in a Gift collection groups stems into unique containers, including a fire engine that rolls and repels hungry bees with a siren frequency that only they can hear.
205 Scotch Rd.
Ewing
New Jersey
609-530-1118
Lush greenery and orderly rows of pink and red mixed annuals create a gardening wonderland at The Shed Inc., a complete garden center and nursery staffed by landscape-design experts. Along with shrubs, trees, and flowers, the center stocks lawn ornaments to help customers populate their ideal yard paradise and re-create favorite Night Court scenes with stone fairies. Shovels, pruners, and hand tools line shelves alongside fertilizers and fungicides, and a stock of topsoil and mulch prepares even the most barren landscapes to nurture new growth. A propane filling station also stands by, equipping grills to sizzle up some burgers or decorate a neighbor's pool toys with black stripes.:m]]
328 Glen Cove Road
Glen Head
New York
516-676-5595
Inmotion Clothing's staff stitches together friendliness and fluency in the wares they purvey to guide customers through an easy shopping experience. Throughout each of the store's two locations, an array of activewear—such as jackets by The North Face and Ugg gloves, hats, and boots—prepares explorers for journeys through the wilderness or stocking an industrial meat freezer. Inmotion also stocks dresses, cardigans, and sneakers ornamented with artistic images, as well as a number of specialty summer-camp items, including neon tees, shorts, and bathing suits.
617 Jericho Tpke.
Syosset
New York
US
516-364-1810
Alexandra's Boutique stays on trend by importing designer wares from international style centers including New York City, Miami, and Greece. Style-savvy staffers assist clients in piecing together personalized outfits that complement any body type, eye color, and complexion, from summery paisley prints to stunning gowns. Far from a mere collection of beautiful fabrics and baubles, Alexandra's serves as a nerve center for sociability and fun during wine-and-cocktail Ladies' Nights Out or birthday parties.
85 W Main St.
Somerville
New Jersey
908-541-1000
---