Shopping in Asbury Park
---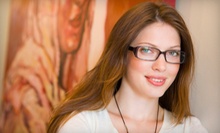 Bold and colorful or subtle frames from Fendi, Coach, and Dolce and Gabbana encase eyes in stylish sight enhancers and sunglasses.
Use Saturday 10:00am - 6:00pm
---
Recommended Shopping by Groupon Customers
---
Inside Ashley Furniture HomeStore's sprawling warehouses and showrooms, friendly staffers stock plush beds, sturdy end tables, and stylish home accessories. Expert designers craft these dwelling fillers, testing raw materials' durability and basic arithmetic skills before transforming them into classy furniture items that mesh with any decorating style. They build many tables and chairs to meet eco-friendly business standards, using recycled engineered wood to reduce landfill waste and slow down deforestation. Ashley also stocks nonwood items, including a selection of state-of-the-art body-cushioning mattresses from brands such as Sealy and Simmons.
For an additional charge, Ashley Furniture HomeStore transports its furniture using its own fleet of semi trucks and fighter planes, which ensure that comfortable couches and slick dining-room tables are never damaged and always fresh smelling. Each location is locally owned and operated, meaning staffers are friendly residents who know which couches best complement regional design trends and indoor weather patterns.
81 Trotters Way
Freehold
New Jersey
US
Whatever the customer's level of fishing familiarity, the experienced, knowledgeable fisherfriends at Ocean State Tackle will find the bait, tackle, and equipment necessary to bring home a trophy catch. The friendly, independently owned shop carries an extensive array of live, fresh, frozen, and brined bait to nab the belligerent bass and troublesome trout that haunt the sea-battered dreams of ancient mariners. Freshwater and saltwater bait specialists are on hand to consult addled anglers on the most effective sandworms ($6.50/dozen), bloodworms ($9/dozen), night crawlers ($3/container), and other spineless fish treats such as freshly packed local squid ($4). The store also features a wide variety of inanimate tackle such as medium-heavy shiners for bass of all mouth size ($9.50/dozen) and tackle such as braided Power Pro fishing line ($0.11/yard), featuring 30–80 pound test.
235 Ferry Street
Easton
Pennsylvania
US
Jerry's Artarama stockpiles a vast selection of art supplies for amateur and professional projects. Staff members roam the store, answering art questions and helping to track down hard-to-find supplies for any medium including wrapped canvases and invisible ink. The emporium also hosts workshops throughout the month to develop various painting techniques, as well as demos to meet and learn from instructors in a more informal setting.
2901 Brunswick Pike Rte. 1 S
Lawrenceville
New Jersey
609-530-8972
Once, not so very long ago, seeing well and looking good didn't necessarily go hand in hand. But as corrective-vision technology progressed, so did the demand for prescription frames that matched the public's growing interest in fashion and personal style. This burgeoning demand inspired Jack Cohen to start his own designer-eyewear business in 1927, and soon, he was selling fashionable eyewear up and down New York's Orchard Street from a humble pushcart. The concept was so successful, however, that he was soon able to open the first Cohen's Fashion Optical storefront on the corner of Orchard and Delancey. The near and farsighted from across the city flocked there, most to find frames that flattered their faces, and some because they misread the sign while looking for City Hall.
Today, there are more than 100 Cohen's Fashion Optical stores throughout the United States and Puerto Rico offering sunglasses, designer frames, and the most advanced prescription lenses and contact lenses available. State-licensed optometrists screen patients for problems and determine prescriptions with eye exams and then steer them toward staff trained to advise customers on which frames will best suit their face shape. Titanium, stainless-steel, and plastic frames bear logos from designers such as Prada, Calvin Klein, Gucci, Ralph Lauren, Dior, Cartier, Chrome Heart, Fred, and Ray-Ban, and a variety of lenses incorporate progressive, polarized, and transition technologies, or feature rose-colored glass to counteract pessimism. Customers can also shed frames in favor of contact lenses, with options that include disposable lenses, toric lenses for astigmatism, bifocal and multifocal lenses, and color lenses.
324 Smith Haven Mall
Lake Grove
New York
631-361-7310
The artists at Montage Clothing Inc. specialize in sharing their garment-customizing craft with others. Intimate workshops at the studio ensure one-on-one attention from instructors teaching how to emblazon graphics onto garments or use Adobe software for image design. Students wishing to start their own printed clothing lines can also benefit from the class, with tips for avoiding common pitfalls such as printing their own face onto all their clients' garments.
The shop simultaneously practices what its staffers preach, with the capability of custom-screening images in up to six vibrant colors onto as many as 10,000 pieces of clothing for clients. An authorized dealer of Ryonet screenprinting supplies, the shop traces the brand's high-quality ink over everything from personal orders to the seeds of new fashion lines.
565 Broad Hollow Rd., Suite 7E
Farmingdale
New York
888-913-5827
The practice of ayurveda holds fast at the core of Herbal Destination, put there by a trio of female owners who use the philosophy of traditional Indian medicine to enhance their clients' lives through natural skincare products, healing supplements, and a yoga DVD. The store's herbal-care solutions include a paraben-free muscle oil rub and soothing Stress Hrx pills, and all of the offerings are formulated and blended at advanced facilities in India. The eco-conscious factories reflect the healing spirit of Ayurveda by boasting gardens that shelter endangered herbal plants, where dedicated gardeners protect the flora and gently shape them into polar bears and Sumatran tiger topiaries. Each Ayurvedic formula contains a mixture of three or more herbs and arrives sealed in blister packs of 60 soft gels or capsules to maintain freshness and potency. Customers who opt to focus on their skin can try the store's all-natural, four-piece skincare line that pampers skin with an apricot anti-wrinkle night cream, an herbal moisturizing cream, a deep-cleansing scrub, and a cucumber eye cream. As part of its commitment to sustainability, Herbal Destination's team wraps all products in eco-friendly and recyclable packaging.
2387 New York Ave.
Huntington Station
New York
US
631-421-1700
---