Restaurants in Asheville
---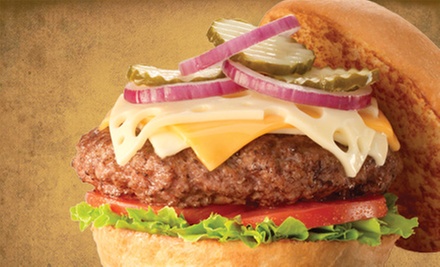 ---
Recommended Restaurants by Groupon Customers
---
The canvas ceiling ruffles slightly as a belly dancer twirls, creating a slight breeze with her upraised shawl. Lantern sconces cast shadows over the band while their hands pluck strings, pound drums, and blow raspberries. On the walls, ornate Middle Eastern patterns and silhouettes of onion domes surround the audience—their eyes flit to another dancer's fingers, now walking the edge of a golden sword. The spectacle has distracted them from the aromas at their table: scents of Syrian spices, housemade tahini sauce, and pomegranate molasses mingle in the air and only draw the diners back to their meals once the dancers have taken a bow.
These performances typify Friday and Saturday nights at Jerusalem Garden Cafe, a venue that strives for immersive authenticity. Incorporating cuisine from Istanbul, Lebanon, Cairo, and other locales, the menu whisks patrons away to the Mediterranean. Skewers of beef fillet and chicken breast depart the kitchen alongside lamb, salmon, and shrimp, whose seasonings build on the flavors of housemade hummus and baba ghanouj. Vegan and vegetarian options are also on hand to sate herbivorous appetites.
78 Patton Ave.
Asheville
North Carolina
Hailing from Germany, owner and chef Dieter Homburg rewards Asheville residents with a true taste of his homeland. According to the Mountain Xpress, his methods are scrupulous, and he brings "all the attention to detail, craft and freshness to sausage that his former countrymen in Germany might expect." In the kitchen of The Bavarian Restaurant & Biergarten, Homburg—affectionately referred to as 'Doc'—crafts nearly 150 pounds of sausages per week, each link cranked out with a medley of secret spices, Himalayan salt, fresh garlic, real cheddar cheese, and beer. A variety of schnitzels also pile onto plates. Sautéed wiener schnitzel comes with paprika lemon slices or crowned with münster cheese, mushrooms, and fried onions.
Pausing for sips of imported beers and wines, diners feast on hearty German plates inside a rustic dining room decorated by old beer mugs and tapestries. Guests can also get cozy outside in the 80-seat beer garden where two different species of docile bees pollinate malt and hops flowers.
332 Weaverville Hwy.
Asheville
North Carolina
The last of 11 children, Mark Tomczak has a passion for prepping and serving quality cuisine that began in elementary school, when he helped his mother feed his siblings during countless baking and cooking sessions. Mark initially embarked on a career path rooted in ceramic artistry at his studio, Muddy Creek Pottery. After stints as assistant and head chef at several restaurants, however, he combined his adoration of food with his sculptural skills to shape the neapolitan pies, pastas, and abundant eats of Fresh Wood Fired Pizza and Pasta.
Swapping his kiln for a handcrafted wood-fired pizza oven imported from Italy, Mark and his team bake pizzas and daily-made bread at temperatures of up to 800 degrees, the exact temperature of steam blowing out of a cartoon man's ears. Each hunk of handmade dough arrives adorned in organic ingredients culled at least once weekly from local farms, cooperatives, granaries, creameries, and the restaurant's own garden. Mark supplements his extensive pizza portions with pastas, lunchtime sandwiches, desserts made fresh daily, and a plentitude of gluten-free dining options.
100 S Ridgeway Ave.
Black Mountain
North Carolina
828-669-6999
During his childhood in Mexico City, Mauricio Abreu found respite from his four older siblings' shenanigans in his mother's kitchen. There, he absorbed the Latin culinary traditions that would later become the backbone of his restaurant's menu. Though he planned for a career as a graphic specialist, Mauricio's steady transformation into Chef Mo was as fortunate as it was fortuitous.
At Chef Mo's Restaurant & Bar, imaginative dishes bloom from this base of Latin influence. Mo crafts many of the platters and all of the desserts himself, labeling his signature additions as "Mo-made." He also habitually patrols the dining room to converse with guests, augmenting the warmth that radiates from his oven as it teeters after him out of separation anxiety. His creative fusion of Latin flavors with traditional Italian, French, and American dishes has coupled with the spot's genial atmosphere to earn two OpenTable Diners' Choice awards: Good for Groups and Neighborhood Gem.
900 Hendersonville Rd., Suite 201
Asheville
North Carolina
828-274-3533
For the past decade, Blue Sky Café owners Julianna and Mark Pletcher have continually added to a menu nearly as big and cheery as the restaurant's namesake. Cooks are proud of their hefty, hand-formed burgers and their chicken—each served in a dazzling array of preparations—but there are just as many health-conscious wraps and salads and vegetarian and vegan dishes. A recent development is a creative, sweet-and savory brunch service, where cheese and garlic turn grits into a bowlful of decadence, prosciutto and parmesan put the Sicilian in a Sicilian frittata, and the kitchen's all-day love of sandwiches is transposed into the Figgy-Honey: two slices of raisin-cinnamon toast clasping cinnamon goat cheese, honey, and fig preserves.
Kids get their own, more-flexible-than-usual menu, though they'll have to weigh whether to dig in or finish what they've been drawing with provided crayons on the paper placemats. A further draw for tots is the playhouse that stands on an oasis of a patio, whose tall wooden fence encloses hanging lanterns, huge umbrellas, and plants trailing from every wall as they toward their goal of trying the sweet-potato fries everybody keeps talking about.
3987 Hendersonville Rd.
Fletcher
North Carolina
828-684-1247
The brainchild of two husband-and-wife teams, Mark and Jenny Henegan and executive chef John Daniel Schwalje and his wife Dara, The Asheville Public fills its rotating menu of gourmet gastropub fare with locally grown produce, grass-fed beef, and other quality ingredients. Six kinds of house-made sausage encase meats and seasonings from around the world, from the far-flung merquez sausage's morroccan-spiced lamb and the boerewors's south african-herbed beef to the jambalaya's local mélange of marinated pork, all-natural chicken, crawfish, and chow-chow. Served alongside rich breakfast and brunch dishes or a la carte on an organic bun during dinner, sausages don house-made condiments and compete with organic greens and all-natural Angus beef burgers and steaks for stomach real estate. The Asheville Public's low-key interior fosters a homey vibe with wooden tabletops, chandeliers crafted from empty bottles, and armchairs wearing sweatpants.
175 Clingman Ave.
Asheville
North Carolina
828-505-1720
---