Ashland, CA Health and Fitness
---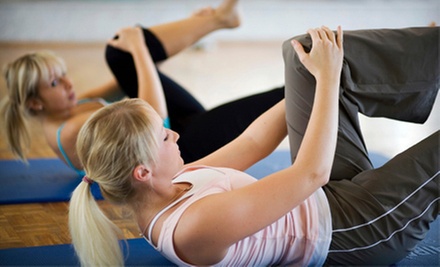 ---
Recommended Health & Fitness by Groupon Customers
---
Jeff Smith, a college swim coach and swim-club aquatics director, and Joan Smith, an NCAA all-American swimmer and triathlete, joined forces to open a swim academy that teaches youngsters how to swim safely while having fun. The pair operates two facilities, each with its own heated pool staffed by instructors who have all graduated from King's Swim Academy's training program. Their program begins with Parent and Me classes for kids as young as 6 months old, which introduce children to the water and teach basic skills such as kicking and changing their own diaper underwater. As students progress through the levels, they eventually learn skills such as freestyle swimming, backstroke, flip turns, and survival swimming. Instructors also lead a swim-technique and fitness class that prepares swimmers for swim team while promoting a healthy lifestyle and honing stroke skills.
57 E 40th Ave.
San Mateo
California
Emerald Hills Golf Course strings together nine par 3 holes that test short-game proficiency as players use shorter irons to propel their golf balls through course's frequent elevation changes. The sixth hole presents opportunities for holes-in-one with a downhill tee shot of just 120 yards into a bowl-shaped green, easily replicated from a backyard deck into an inflatable swimming pool.
Golfers hoping to shave strokes off their scores can work under the tutelage of the course's certified teaching professional, Chris Raddie. Players can then practice Chris's corrective advice after a lesson or before a round on the two practice greens or midsize practice cage, which can double as a penalty box for prevaricating scorekeepers.
Course at a Glance:
9-hole, par 27 course
Total length of 1,156 yards from the back tees
Course rating of 54.2 from the back tees
Course slope of 88 from the back tees
Two sets of tees per hole
938 Wilmington Way
Redwood City
California
650-368-7820
Boasting an extensive background in the art of dancing, Butterfly Yoga's teacher and choreographer, Pattie Stafford, channels her love of movement through the practice of yoga, Pilates, and Hot Hula fitness classes. Butterfly's courses encourage students of all experience levels and ages, from kids to seniors, to get fit, build self-awareness, and increase their ability to out-maneuver bendy straws. With an emphasis on a supportive environment and compassionate guidance, instructors seek to inspire self-exploration through movement and meditative quests to discover internal peace-sign tattoos. Additionally, Butterfly Yoga donates 3 percent of all profits to local organizations that work to help transform at-risk and incarcerated youth through the practice of yoga and meditation.
1880 S Grant St.
San Mateo
California
650-762-9642
Dr. Valerie Gilman specializes in restorative and aesthetic dentistry and helps patients maintain and beautify mouth bones with tailored, minimally invasive treatments performed in a relaxing atmosphere. During exams, Dr. Gilman sleuths through oral underworlds in search of cavities, gum disease, and ingrown milk mustaches and provides restorative services, such as tooth-colored fitting, crowns, and bridges. Gilman Dental Group also offers Invisalign, which fosters straighter smiles by outfitting patients with clear trays that can be removed for brushing and eating. Chair-side Opalescence also whitens teeth, gently coaxing out stains caused by consuming coffee, tobacco, and squid-ink smoothies.
1785 San Carlos Avenue
San Carlos
California
650-539-4785
Rise Chiropractic & Fitness's staff balance their serious fitness regimens with a laid-back studio setting that resembles a coffee shop. Inside, health and fitness professionals lead sociable group classes that introduce beginning and advanced Pilates techniques, TRX fusion workouts, and boot camps. Personal trainers whip clients into shape during private sessions, and massage therapists relax backs by massaging them, using chiropractic techniques, or by hiring an audiobook narrator to read the newspaper to them.
930 Central Ave.
Alameda
California
510-263-9162
Adrienne Moore, a former nationally ranked All American swimmer, and her husband Stephen founded AquaTech Swim School to shepherd babies, children, and adults into the world of swimming. Their team of instructors spends 40 hours studying the Mattos method, named for Adrienne's maiden moniker, which combines swimming skills with child-psychology skills. The CPR-, AED-, and first-aid-certified teachers continue their education and hone their advanced Marco Polo calls throughout their time at the school. Private, semiprivate, and group classes for children range from 6-month-olds' Tadpole curriculum to the advanced, team-focused Orca course, and the eight levels of kids classes are nuanced to include both "nervous" and "comfortable" beginner levels. The instructors help grownups get kicking during 60- and 90-minute private classes.
The Concord location's brightly colored facilities include an 87-degree indoor pool that's 4 feet deep, pirate-free, and specially designed for classes. A lesson-viewing area includes bleachers and a play station, and free WiFi is available for visitors who would rather surf than swim.
2227 Mariner Square Drive
Alameda
California
510-337-0200
---